Local
The best — and worst — social media reactions to 'The Embrace'
"Why'd you make it so complicated and confusing?"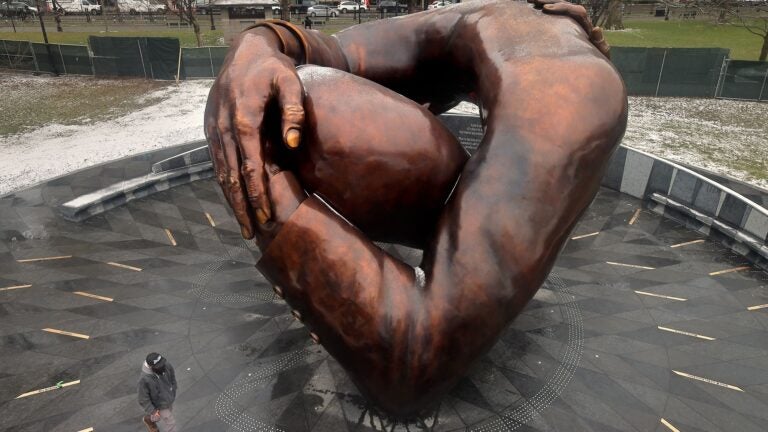 Boston's latest public art piece, "The Embrace," was unveiled on Boston Common Friday. The memorial is meant to honor Martin Luther King Jr.'s legacy, and depicts the embrace shared between King and his wife, Coretta Scott King, after King won the Nobel Peace Prize.
Since its unveiling, people have taken to Twitter to criticize what they say is an ambiguous design, noting that it's difficult to draw a parallel to the source image. One user summed up the problem, asking, "Why'd you make it so complicated and confusing?"
Others were quick to point out unintentional imagery when viewed from certain angles. One Twitter user wrote that the statue shows arms "hugging a giant turd."
Some say the raised arm looks like a penis, and one alleged the monument appears to show someone performing oral sex.
Even viewers who saw the monument in person have been turned off from the work after reading others' reactions, with one user commenting "send the meteor."
Despite the negative responses shared, there are plenty who have come to the art and artist's defense, reminding those of the image that inspired New York-based creator Hank Willis Thomas' "The Embrace," and the meaning it holds.
"It inspires me today and all days to embrace our common humanity and our common antiracist struggle against one of the existential threats to human existence: racism," tweeted antiracist researcher Ibram X Kendi, the leader of Boston University's Center for Antiracist Research.
One user commented that at one angle, "it looks like a hug forming a heart."
At the same time, a political conversation has resurfaced surrounding Boston's history of racism. "Public art and the decisions around it are political," Washington Post columnist Karen Attiah tweeted. "For such a large statue, dismembering MLK and Coretta Scott King is… a choice. A deliberate one."
She writes that a statue with "faces" and "expressions" would have better achieved the goal of memorializing the Kings.
In an ABC interview, when the artist was asked to respond to the fact that some critics find the piece "obscene," Thomas said, "I really feel like it's an attempt to take away from the incredible, awesome story of the Kings and the power of their embrace and the message behind this." He added that he's "very comfortable with different perspectives on a work of art."
Newsletter Signup
Stay up to date on all the latest news from Boston.com