Local
Mass. 12-year-old reels in 400-pound great white shark off Florida
"I was so happy. Once [we] knew it was a great white shark, we all screamed."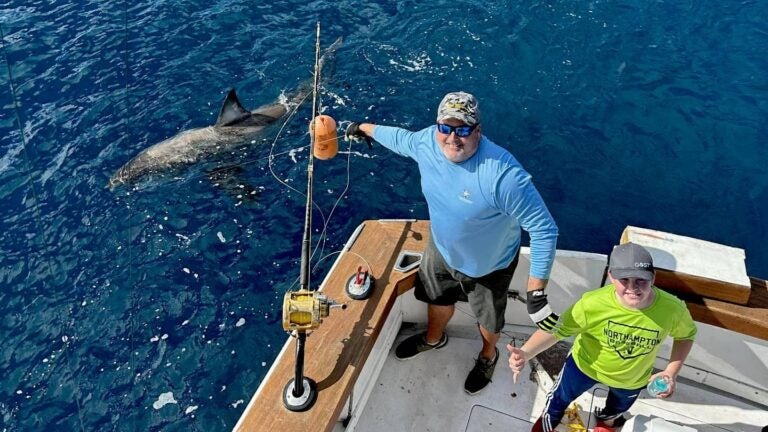 Campbell Keenan was expecting to catch a tuna, or maybe a grouper, during his Florida fishing trip Tuesday afternoon.
Instead, the 12-year-old from Southampton, Massachusetts, spent an hour reeling in and de-hooking an 11-foot-long and 400-pound great white shark on a fishing charter a mile off the coast of Fort Lauderdale.
"One of the things [I was thinking about] was bragging rights at my school, the other was I don't want this thing to pull me into the water," Campbell told Boston.com. "And the third thing is, 'What do I have at the end of my line? It seems huge.'"
Campbell was in Florida with his family for his sister's ice hockey tournament and to visit family when he, his mother, and two of his sister's hockey coaches decided to go fishing. And though the four almost chose not to go on the trip, at 8 a.m. they were on the water with two other crew members.
The group was on the water for about two hours and, by 10 a.m., "hadn't really caught much," Colleen Keenan, Campbell's mother, said. The crew then put down a stronger line, baited with blackfin tuna.
"The first mate told Campbell to get in the chair, and whatever was on the end of the line took it out like 300 yards," Colleen said. "And then Campbell started reeling, and it took about 45 minutes to get the fish close enough so we could see what it was."
It was only after Campbell had pulled the shark within 10 feet of the boat, an exhaustive workout, that the boat's captain announced that he had been fighting a great white.
"I was so happy. Once [we] knew it was a great white shark, we all screamed," Campbell said. "And we were literally jumping with joy. … I was just really happy to have a great white shark at the end of my line."
Campbell reeled in and de-hooked the fish. He named the shark "JanJan," after his sister's hockey coach, Janice Yang, who was on board during the catch, before tagging it and releasing it back into the water.
Though Colleen was "petrified" as her son reeled in the shark, looking back, she can't help but feel thrilled for her son.
"I was so happy for Campbell because he has loved fishing for so many years," she said. "He's learned patience through fishing, he's learned [so many] life lessons through the sport of fishing. He hasn't always caught the biggest fish, sometimes he hasn't caught any fish, so for him to have this happen, is just totally unbelievable."
Colleen and Campbell also want to use the attention they are receiving to bring awareness to great white sharks, who face vulnerability due to overhunting.
"We're hoping that [Campbell] stays humble through it all and maybe can spread some awareness about great white sharks and help preserve them in the ocean," Colleen said.
Newsletter Signup
Stay up to date on all the latest news from Boston.com