Local
Daughter of Rep. Katherine Clark arraigned after allegedly assaulting police officer
Dowell was arrested Saturday after police responded to an anti-law enforcement protest on Boston Common.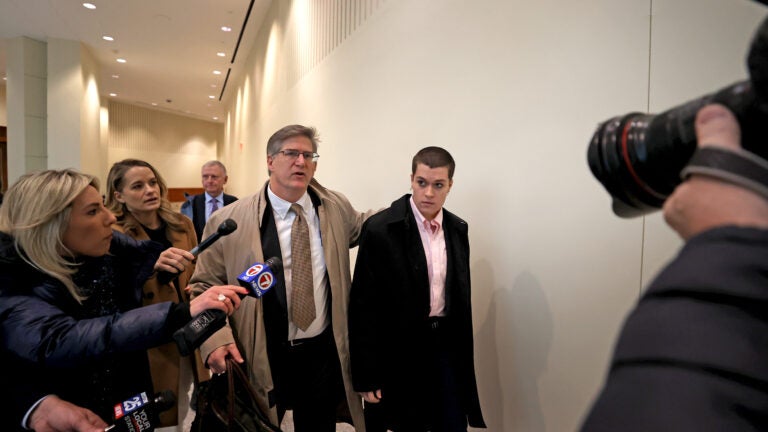 The daughter of Representative Katherine Clark, 23-year-old Riley Dowell, was arraigned Monday in Boston Municipal Court after allegedly assaulting a police officer and defacing a public memorial.
Dowell, who was arrested on Saturday, pleaded not guilty and was released on $500 cash bail, The Boston Globe reported.
Dowel was referred to by her birth name, Jared Dowell, at the arraignment, according to the Globe. Boston Police also used her birth name when detailing the incident that led to her arrest. Dowell was assigned male at birth but transitioned to female.
Prosecutors said that, as Dowell was being arrested, she flailed and struck an officer, causing a nosebleed.
The incident in question began around 9:30 p.m. Saturday, when police were called to the Parkman Bandstand Monument in Boston Common after receiving a report of a protest. Police said they found Dowell spray painting the monument with the phrases "NO COP CITY" and "ACAB," an acronym for "All Cops Are Bastards."
Officers were already on "high alert" Saturday regarding the possibility of an anti-police demonstration, according to a police report obtained by the Globe. The demonstrators were reportedly gathering to show solidarity with activists in Atlanta.
Protests turned violent there after law enforcement authorities killed a protester on the site of a public safety training center that activists refer to as "Cop City," the Associated Press reported. Officials said that the person was killed after they allegedly shot and injured a Georgia state trooper.
In Boston, Dowell and a group of about 20 people were seen walking through the Common toward Boylston Street, according to the report. Dowell was described as wearing a black jacket, blue jeans, red hat, and black face mask while carrying a backpack. Officers identified her and attempted to stop her, after which Dowell allegedly tried to flee. She flailed her arms and struck an officer during the ensuing struggle, according to police.
As this was happening, the group of protesters surrounded the officers and screamed profanities through megaphones while causing traffic on the nearby street to come to a standstill, police said.
The injured officer was taken to a local hospital, and authorities found the spray paint used to graffiti the memorial in Dowell's backpack, the Globe reported.
Clark, the House Democratic Whip, confirmed the arrest in a statement released Sunday.
"I love Riley, and this is a very difficult time in the cycle of joy and pain in parenting," Clark said in the statement. "This will be evaluated by the legal system, and I am confident in that process."
Police said they arrested another person, Andrea Colletti, 27, of Brighton on Saturday night. Colletti was charged with damage of property using graffiti, destruction of personal property, and resisting arrest. Police said she attempted to flee on foot, and was arrested after a brief struggle.
At an unrelated event in Watertown on Monday, Clark once again said that her family was going through a "difficult time." according to the Globe.
She also reiterated her support of police and her goals of making communities safer.
"If we are talking about the importance of police in our communities, it has been my work and my position and priority that every single person in every single zip code has . . . the assumption of safety in their communities," Clark told the paper. "That is the work that I've done. And police are critical partners in that work going forward."
Dowell is due back in court on April 19.
Newsletter Signup
Stay up to date on all the latest news from Boston.com