Local
Somerville, state police join search for East Boston woman as loved ones demand more attention to case
The 41-year-old mother of two was last seen in Somerville on Nov. 26, according to police.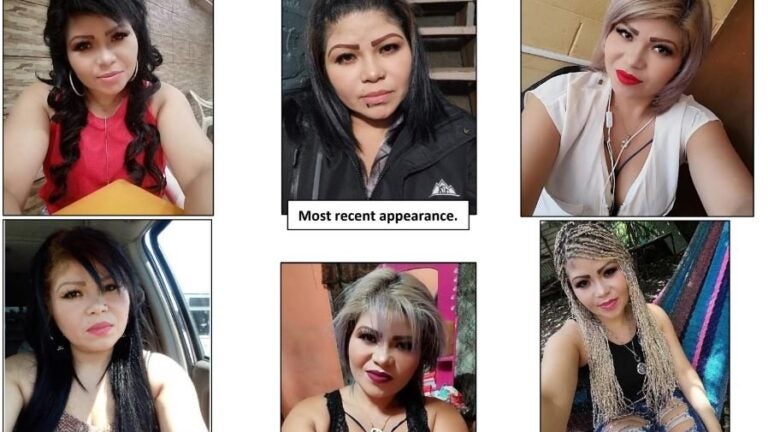 Two months after Reina Morales Rojas was last seen — and less than two weeks since police publicized her disappearance — a crowd gathered outside the East Boston police station Tuesday to demand more action in the search for the missing mother of two.
The 41-year-old East Boston woman was last seen getting into a car near Bennington Street in East Boston on Nov. 26, police previously said. She was dropped off in Somerville.
Some advocates have pointed to the Boston Police Department's delayed public response — the department didn't go public with its search until Jan. 12 — as a sign that authorities haven't done enough to find Morales Rojas.
"Why we are here today [is] because we don't know the status of this case of Reina," Lucy Pineda, executive director of Everett-based Latinos Unidos en Massachusetts (LUMA), said in a livestream of Tuesday's vigil.
She said Morales Rojas was a former police officer in El Salvador who moved to Boston in May and worked in the airline food industry. Pineda held a microphone to her cell phone at one point, allowing Morales Rojas's family members in El Salvador to address the crowd.
Citing other recent cases of missing women from around Massachusetts, Pineda asserted that authorities and media outlets have dedicated fewer resources and less attention to Morales Rojas.
"A lot of media, a lot of information, helicopters, state troopers, drones, breaking news [in the other cases], but what happened with Reina?" Pineda asked as those around her held signs reading "Latino Lives Matters" and "¿Dónde está Reina?"
The Boston Police Department did not immediately return a request for comment. However, Mariellen Burns, Boston police chief of communications, told The Boston Globe that the department "has been working to find Ms. Morales Rojas since she was reported missing at the end of November," describing the investigation as "very active."
Burns acknowledged that BPD could have publicized Morales Rojas's disappearance earlier, according to the Globe, but emphasized that police have interviewed a number of people and followed up on all leads so far.
On Tuesday, Massachusetts State Police said its detectives and Somerville police are assisting in the investigation.
Local authorities and elected officials also answered LUMA's call to meet with advocates and show their support.
Speaking during the vigil, East Boston state Rep. Adrian Madaro said he is confident that police are on top of Morales Rojas's case. He also noted that representatives were there Tuesday on behalf of Mayor Michelle Wu, state Sen. Lydia Edwards, and City Councilor Julia Mejia.
"We need to stand together as a community, to let Reina's family know and to let everyone in this community and elsewhere know that whenever someone goes missing, it doesn't impact just one individual, just that family — it impacts the whole community, … and we will do everything we can," Madaro said.
Morales Rojas is described as a 5-foot-5 Hispanic woman weighing around 145 pounds, with black hair and brown eyes.
Anyone with information on her whereabouts is advised to call 911 or Boston police detectives at 617-343-4328. Anonymous tips can be also made by calling the CrimeStoppers tip line at 1-800-494-TIPS or texting the word "TIP" to CRIME (27463).
Newsletter Signup
Stay up to date on all the latest news from Boston.com