Local
Rhode Island now has a fourth MBTA Commuter Rail station
The MBTA's footprint in the Ocean State is growing.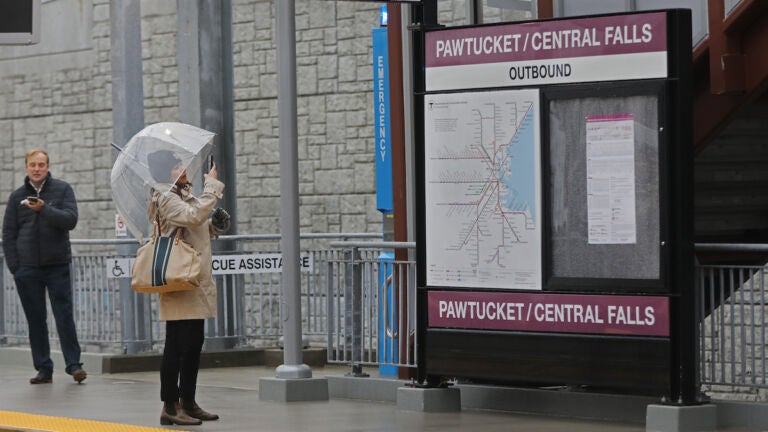 For years — decades — the trains kept rolling straight on through. But not anymore.
Decades after Pawtucket and Central Falls, Rhode Island, lost passenger rail service — even as MBTA and Amtrak trains kept riding the rails right on through them on daily trips between Providence and Boston — the two Ocean State cities are once again Commuter Rail destinations.
On Monday, MBTA Commuter Rail service launched a fourth stop in the nation's smallest state at a brand new, $63 million transit complex at 300 Pine St. in Pawtucket that officials say will connect the two communities to new economic opportunities.
"For us, it's an exciting time," Pawtucket Mayor Donald Grebien recently told Boston.com. "This has been on the table for about 20 years. … The impact to the community is going to be able to increase business [and] increase affordable and housing overall, and we're excited about that."
After four years of designing and construction, trains made their first stops this week at the Pawtucket-Central Falls Transit Center, where riders can also connect to several Rhode Island Public Transit Authority bus stops serving Pawtucket, Central Falls, and the Blackstone Valley.
The MBTA will make 40 weekday stop and 18 weekend stops at the new transit hub, located on the Providence/Stoughton Line. Passengers can snag a one-way ticket to Providence for $2.75 and one to Boston's South Station for $12.25.
The vast majority of funding for the project, $43 million, came through federal cash. Some of the state's congressional delegation began advocating for funding nearly two decades ago.
"This long-awaited station is a key link in a broader economic development strategy for Pawtucket and Central Falls. I am proud to have led efforts over the last two decades to deliver federal investments to complete this state-of-the-art transit hub," U.S. Sen. Jack Reed, who first landed a federal earmark for funding in 2004, said in a statement. "In addition to providing efficient, reliable transportation options for commuters, it will drive private investment, economic growth, and opportunity for the whole area."
The station, or rather a rail stop, is not necessarily new, in some ways, for the Pawtucket and Central Falls area.
Pawtucket's original train station was built around 1915, but the building was closed in 1959. (Still standing today, the deteriorated structure is beyond saving, according to Grebien, who said the station is currently in receivership as the city works through the legal process to potentially raze it.)
Although rail service continued, the state ultimately halted funding in 1981, thereby curtailing MBTA tops south of Attleboro.
Since then, the MBTA Commuter Rail has slowly extended back through the Ocean State, with stations constructed at Rhode Island T.F. Green International Airport in Warwick and Wickford Junction in North Kingstown in 2012.
With the latest addition, Pawtucket and Central Falls are now the first stop in Rhode Island for trains heading from points north — a location Grebien sees as an asset for attracting new residents searching for a lower cost of living than in neighboring communities.
"We're going to promote everything," he said. "We're a lower cost, lower expenses, lower homeownership here compared to Massachusetts or Providence. So we see growth opportunity here. We see people that are already moving in, using the rail, living here, and moving because we're a much better and less costly home environment. … To be the first stop, it's exciting."
Newsletter Signup
Stay up to date on all the latest news from Boston.com