Local
Support pours in for Amesbury 20-year-old severely injured after being trapped under Green Line trolley
Ava Harlow, a student at Bridgewater State University, is expected to need a prosthetic.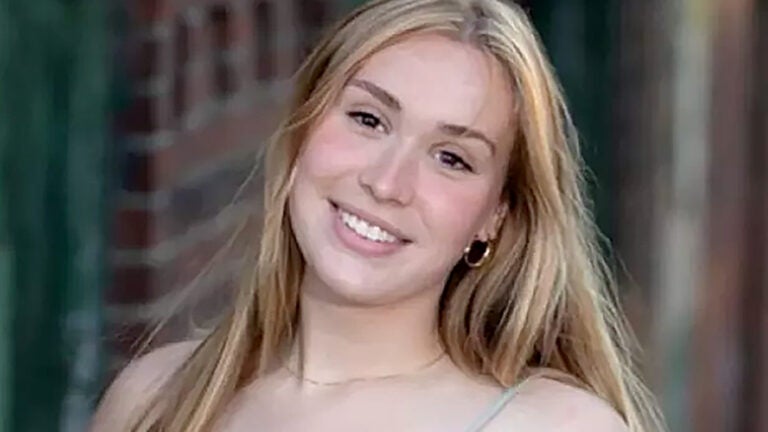 On Friday night, 20-year-old Ava Harlow of Amesbury was seriously injured after becoming trapped under a Green Line train. She is expected to need a prosthetic due to leg injuries suffered in the incident. Now friends, family, and others are rallying to support the young woman's recovery.
The incident occurred approximately 11:30 p.m. Friday night. Transit Police detectives have concluded that Harlow was injured after falling into the path of a trolley at the BU Central stop, The Boston Globe reported.
Harlow was reportedly with a group of friends at the time. Most of the group exited the trolley at the stop, but two of Harlow's friends reportedly remained on the Green Line, unaware that the rest of the group had gotten off. Harlow tried to get her friends' attention just as the trolley was pulling away from the stop. Knocking on the trolley window, she took a step in the direction that the trolley was traveling and lost her balance. Harlow was then dragged under the vehicle, the Globe reported.
The Boston Fire Department posted an image of the scene just after 1 a.m. on Twitter. A group of specially trained firefighters extricated her, with help from Boston Emergency Medical Services, Boston police, and Transit police. Some of the firefighters who helped save Harlow's life plan to meet with her relatives when they are ready, a Boston Fire Department spokesperson told the Globe.
The road ahead for Harlow appears daunting. In one of two GoFundMe pages set up for her, a group of family friends referring to themselves as "aunties" shared a few details about her recovery.
"Ava was involved in a horrific accident where she was struck by a train. Thankfully she survived, but she has many very serious injuries and will require a prosthesis. We are hopeful for her recovery, but she will need several more surgeries and has a long, difficult road ahead of her," they wrote.
In the other GoFundMe, a group of people who attended Amesbury High School with Harlow described how special their friend is.
"Ava always made everyone laugh every day at school and is a great friend that has anyone's back," they wrote.
As of Wednesday night, the GoFundMe created by Harlow's "aunties" had raised just under $17,000. The GoFundMe created by her high school friends had raised more than $33,700. Both fundraisers set goals of $150,000.
Harlow is a junior at Bridgewater State University studying criminal justice, the Globe reported. She made the Dean's List this past fall.
BSU is collecting "items of inspiration" from students and staff, the Globe reported, to show their support of Harlow.
"Ava has had a positive impact on her circle of friends, suite mates, and many of her fellow classmates here at BSU," Vice President for Student Life Joseph A. Oravecz said in a statement to the Globe. "As a criminal justice major in her third year of studies, her commitment to public service and justice is evident as she embodies our motto 'Not to be Ministered Unto, But To Minister.'"
Andrew Harlow, Ava's father, told The Boston Herald this week that the incident could have been prevented. He did not comment on whether the trolley operator or the MBTA was at fault, but did confirm to the paper that he has retained legal representation. He did not specify whether or not he planned to take legal action.
"He could have saw that she was banging on the friggin' side of the car and not pulled away," Harlow told the Herald. "They have mirrors. They have horns. They're supposed to toot the horn before they take off."
But have said that the incident is likely not the result of errors by the MBTA.
"This incident does not appear to be the result of any mechanical or MBTA employee failure," Transit Police said in a statement to The Daily News of Newburyport.
Harlow grew up in Amesbury. In high school, she excelled in basketball and field hockey, her family friends wrote. A member of Saint James Episcopal Church in Amesbury, she worked at The Natural Grocer in Newburyport and Bath & Body Works in Seabrook, they wrote.
"She will need a lot of support in the months ahead (travel costs, therapy, in-home care, etc, etc) and we'd like to ease the worries of the family," her "aunties" wrote. "Thank you for helping Ava and her family during their darkest hour. Your support means more than you know."
Newsletter Signup
Stay up to date on all the latest news from Boston.com