Local
A R.I. girl wrote to local police asking them to investigate Santa's existence. Their findings are convincing.
"Yes, Scarlett, there is a Santa Claus."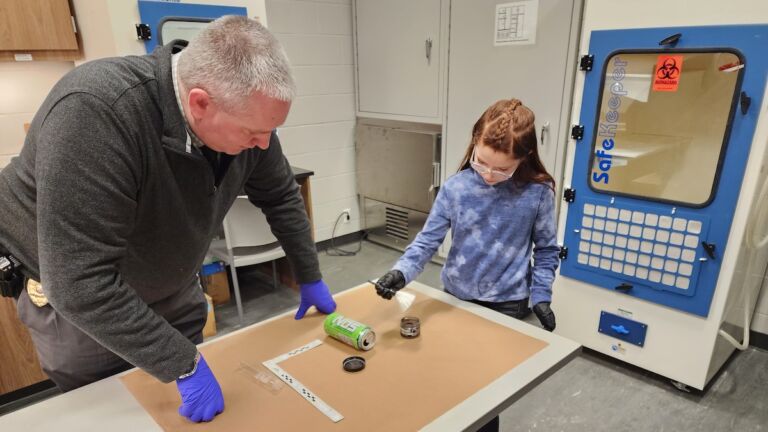 Following a weeks-long investigation, police in Rhode Island just about confirmed the existence of Santa Claus and his nine reindeer on Wednesday, capping a probe spurred by evidence — a half-eaten cookie and carrot — collected by a 10-year-old Cumberland girl on Dec. 25.
At a press conference, Cumberland Police Chief Matthew Benson outlined the forensic testing process and subsequent investigation since Scarlett Doumato first wrote to authorities late last year.
And police were able to make some convincing conclusions.
"Yes, Scarlett, there is a Santa Claus," Benson said, quoting New York Sun editor Francis B. Church.
Benson read aloud from a piece Church published in 1897 in answering another inquiring little girl at that time, who asked Church, "Is there a Santa Claus?"
"He exists as certainly as love and generosity and devotion exist, and you know that they abound and give to your life its highest beauty and joy. … How dreary would be the world if there was no Santa Claus! It would be dreary as if there were no Scarletts," Benson read. "There would be no childlike faith, then no poetry, no romance to make tolerable this existence. We should have no enjoyment, except in sense and sight. The eternal light with which childhood fills the world would be extinguished.
"Nobody sees Santa Claus, but that is no sign that there is no Santa Claus. The most real things in the world are those that neither children nor men can see," he added. "Nobody can conceive or imagine all wonder there are, unseen and unseeable, in the world."
Police first highlighted the case on social media on Jan. 20 and shared Doumato's initial letter.
In a press release, authorities said they forwarded the evidence to the Rhode Island Department of Health Forensic Sciences Unit for DNA analysis and located video surveillance footage showing a reindeer in her neighborhood the night of Dec. 24.
Benson said Wednesday further investigation found footage another neighbor captured, which shows nine reindeer on camera, including one that appears to have "a bit of a glow."
In a Jan. 23 tweet, the Rhode Island Department of Health wrote testing showed there were no complete DNA matches to anyone listed in the Combined DNA Index System.
"Interestingly, there was a partial match to a 1947 case centered around 34th street in New York City," the department wrote. "Ultimately, we would need additional DNA samples from other known Santa encounters to make a more definitive match."
The department went on to write that although officials were not able to definitively confirm Santa's presence at Doumato's home, "We all agree that something magical may be at play."
However, health officials did find the presence of DNA "matching closely with Rangifer tarandus, more commonly known as reindeer," the department said.
With that, Cumberland police continued their investigation by following leads on a person of interest, who Benson described as an older male, seen wearing a red jacket and red hat in the area on Dec. 24.
Investigators contacted police in North Pole, Alaska, who confirmed a resident there matched that description, according to Benson.
The individual traveled to Cumberland Police Headquarters, where he was caught on security camera footage wearing matching clothing, photos provided by Benson at Wednesday's press conference show.
As he spoke with police, the man requested a glass of milk, which investigators then analyzed for further DNA, Benson said.
Testing was again inconclusive, but police also recorded fingerprints from the individual, Benson said.
Fingerprint testing was unable to make a match in the system, but investigators did note patterns resembling snowflakes were found in the prints, according to Benson.
Doumato's story has gone viral in recent weeks and attracted national media attention, including through a segment on "The Drew Barrymore Show," Benson played for reporters on Wednesday.
Though the investigation was all but conclusive on Santa's confirmed existence, Benson boasted about the joy Doumato's curiosity brought to people from all over.
"What you have achieved in the past few days on an international level is truly unparalleled," Benson told Doumato, who attended Wednesday's announcement with her family. "Undoubtedly, you will someday grow to understand the enormity of what your simple inquiry and actions provided so many. Most importantly, however, is that you achieved exactly what Santa Claus represents. You brought a smile to millions — and I do mean millions — with your small gesture of humanity and a sense of wonder."
Jolene Alves, captain of administration for the Cumberland Police Department, told The Boston Globe Doumato told her she wants to be either a police officer, an investigator, or a forensic scientist when she grows up.
"I said thank you for bringing in your evidence and letting me work on it," Alves told the newspaper. "That was awesome. You did a great job packaging all that, and you got a bright future ahead of you. And I just wanted to emphasize how important she is to us. And that one little thing she did just brought us all right back to where we needed to be right now."
Newsletter Signup
Stay up to date on all the latest news from Boston.com