Local
'Critical maintenance' will result in lane closures on the Sagamore Bridge. What to know.
The restrictions will begin March 1.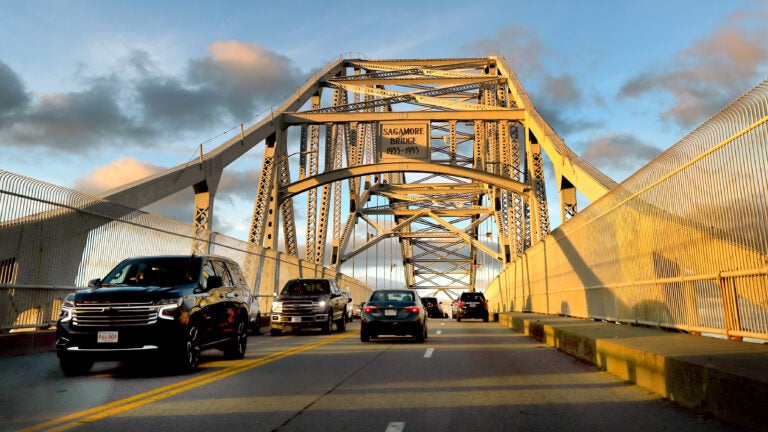 Drivers traveling across the Cape Cod Canal can expect some disruptions along their route starting next month.
More on the Cape bridges:
Starting March 1, the four lanes on the Sagamore Bridge will be reduced to two, one open in each direction, to allow "critical maintenance work" to take place, the U.S. Army Corps of Engineers announced Wednesday. The lane closures will be in place 24 hours a day until the work is completed.
The Sagamore, and the neighboring Bourne Bridge, have long been slated for replacement but efforts to move the rebuild project forward continue to hit funding setbacks.
The Army Corps of Engineers said drivers should expect delays during the morning and afternoon peak travel times while the lane closures are in place through May, with the repair work taking place "weather permitting."
"This maintenance work is critical to maintaining the structural integrity of the Sagamore Bridge, a vital component to the transportation system of Cape Cod, the Islands and southeastern Massachusetts," the agency said. "Work will include concrete and pavement repairs on the bridge roadway, repair of deteriorated steel supports, maintenance of bridge joints, and repairs to the concrete abutment structures. Work crews will also perform maintenance work on the bridge lighting and drainage systems during this timeframe."
The Sagamore and Bourne bridges, which both opened in 1935, were labeled "functionally obsolete" by the Army Corps of Engineers in 2019. The same year, the Massachusetts Department of Transportation found both bridges had exceeded their design life and required "substantial regular maintenance to function reliably."
On Tuesday, Senators Elizabeth Warren, Ed Markey, and Rep. Bill Keating sent letters to MassDOT and the U.S. Army Corps of Engineers, urging the agencies to work closely together to secure federal funding for the project.
"The Bridges are vital assets for the Cape Cod economy and surrounding communities, but they are in desperate need of replacement," the lawmakers wrote to the Army Corps of Engineers and White House Office of Management and Budget. "With more than 35 million vehicles crossing the canal each year, the Bridges are also the sole access point for vehicular traffic to and from Cape Cod and serve as essential routes for general transportation, tourism, and evacuations in case of an emergency … Today, the Bridges pose a significant risk to the accessibility, economy, and health of the Cape Cod region."
In a statement, Warren said the administration of former Gov. Charlie Baker "dropped the ball on prioritizing state support to replace these critical bridges."
"I'm working alongside Governor Healey, who is keenly focused on securing federal dollars, to win investment from the bipartisan infrastructure law," Warren said. "MassDOT and the U.S Army Corps need to better coordinate for a more competitive grant application in the next cycle."
Newsletter Signup
Stay up to date on all the latest news from Boston.com