Local
Policy change allowing homeless people access to South Station during extreme weather to begin this weekend
Homeless residents will also be offered transportation to shelters, according to Gov. Maura Healey.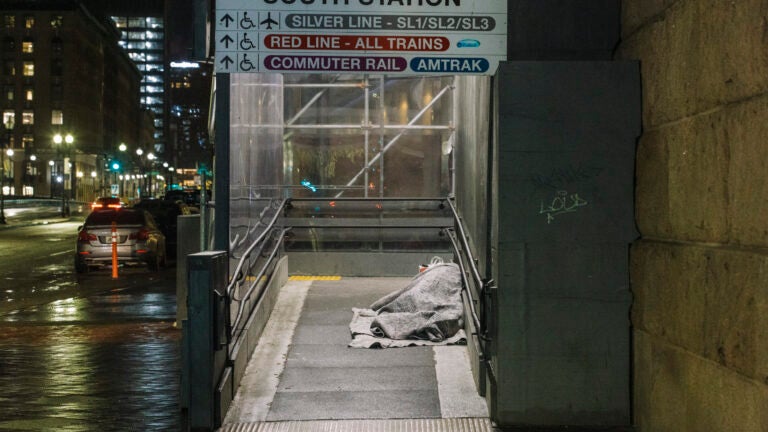 Boston is expected to see dangerously frigid weather on Friday and Saturday, prompting officials to declare a cold emergency and roll out steps to keep vulnerable populations, like the city's homeless residents, safe during the blast of arctic air.
Among those precautions is allowing homeless individuals 24-hour access to South Station on Friday and Saturday night, a reversal of a previous policy that pushed unhoused people out of the station at 11 p.m.
Gov. Maura Healey announced that she was moving to change the practice earlier this week during an appearance on"Boston Public Radio," after reading reporting in The Boston Globe documenting the practice and learning more about the situation.
The station was used as a refuge during extreme weather up until 2015, when the 11 p.m. cutoff was implemented. In his new book, "Rough Sleepers," author Tracy Kidder described witnessing how people were kicked out of the station as he followed Dr. Jim O'Connell, founder Boston Health Care for the Homeless, and his colleagues working to provide support to homeless residents.
On Thursday, a spokesperson said the Healey-Driscoll Administration plans to use its authority on a "case-by-case basis" to keep South Station open during extreme weather conditions.
"We have been in close contact with local leaders and service providers to make sure people are being taking care of during the extreme weather, including having providers available to offer transportation to shelter for those who want it as well as other resources," Healey said in a statement. "We encourage anyone who needs a place to stay to accept this offer and spend the night at a safe, warm shelter rather than at the station."
Mayor Michelle Wu on Wednesday declared a cold emergency, announcing that warming centers will be activated throughout the city and that some homeless shelters will have extended hours.
For a cold emergency to be declared in the city, forecasts must call for wind chills to hit -10 or lower for one day or more. Cold advisories are declared when wind chills are expected to drop to zero degrees or lower for a day or more.
Newsletter Signup
Stay up to date on all the latest news from Boston.com