Local
Mass. fighter jets had a role in shooting down suspected Chinese spy balloon
F-15 Eagles flew from Barnes Air National Guard Base in Westfield to support the mission, officials said.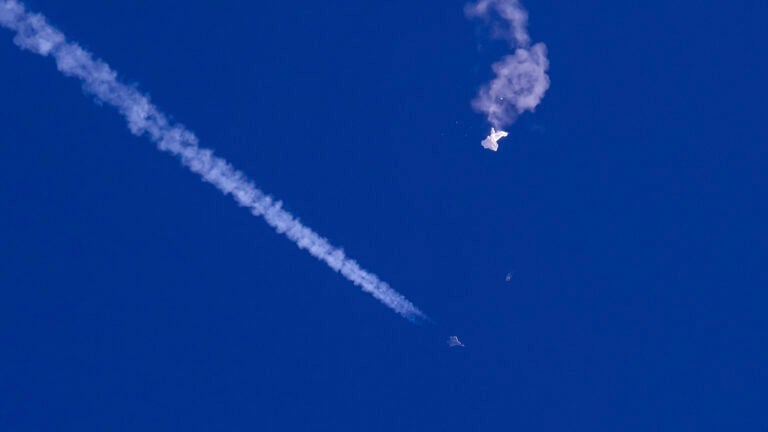 Fighter jets from a Massachusetts Air National Guard Base were part of the mission to shoot down what national defense officials suspect was a Chinese spy balloon off the coast of South Carolina on Saturday.
F-15 Eagles flew from Barnes Air National Guard Base in Westfield to support an F-22 Raptor fighter from the 1st Fighter Wing at Langley Air Force Base in Virginia, which fired the missile that struck the balloon, according to a transcript of a press conference held Saturday provided by Defense Department officials.
"We had tanker support from multiple locations, including units that supported from Oregon, Montana, Massachusetts, South Carolina, North Carolina, etc.," a senior military official said.
One AIM-9X Sidewinder missile struck the balloon at 2:39 p.m. six miles off the Carolina coast at an altitude of 58,000 feet, officials said. The balloon was between 60,000 and 65,000 feet at that time.
The balloon was first detected on Jan. 28 when it entered U.S. airspace near the Aleutian Islands, according to the Air Force. The balloon then traversed Alaska and Canada before re-entering U.S. airspace above Idaho.
On Wednesday, President Joe Biden authorized the military to shoot down the balloon as soon as the mission could be carried out without risk to civilians.
"This was the first available opportunity to successfully bring down this surveillance balloon in a way that would not pose a threat to the safety of Americans, which our military assessed to be the case when it was approximately six nautical miles off our cost," a senior defense official said Saturday.
"There are no indications that any people, including U.S. military personnel, civilian aircraft, or maritime vessels were harmed in any way," the official continued. "While we work to execute this plan to bring down successfully over U.S. territorial waters, we also took immediate steps to protect against the balloon's collection of sensitive information, mitigating its intelligence value to the PRC."
On Sunday, Navy divers searched for debris from the balloon in a recovery effort expected to take several days.
Newsletter Signup
Stay up to date on all the latest news from Boston.com