Local
Mayor Wu renews call for state to help city address needs around Mass. and Cass
"We need the state to help on this front."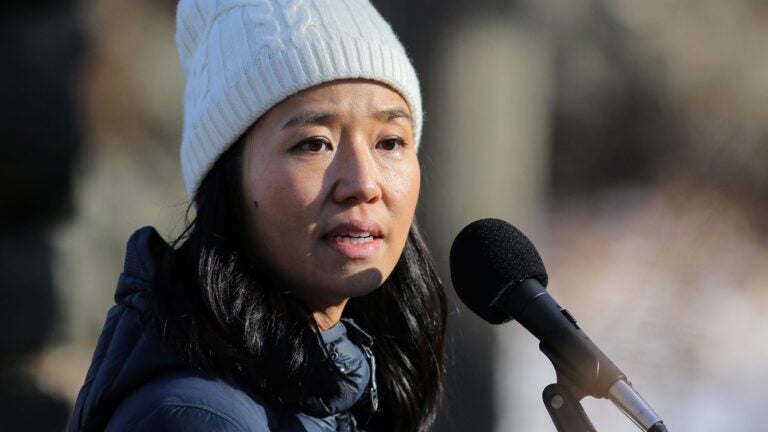 Mayor Michelle Wu is renewing her call for the state to assist the city as it works to address the ongoing humanitarian crisis around Mass. and Cass.
Last year, the Boston mayor called on state leaders to create 1,000 new units of low-threshold housing outside of Boston, saying the city has been unable to meet the increased need for services despite its ongoing efforts to address the confluence of addiction, mental health, and homelessness crises in the area. Former Gov. Charlie Baker and administration officials responded to Wu's call to action by outlining how the state has already been involved in the crisis and stating that it is actually the city that needs to do more.
During a Monday appearance on Spark FM's "Saucy & Friends in the Morning" show, Wu once again pointed to the progress made through the city's approach of standing up low-threshold supportive housing to get people off the streets and out of encampments and encouraged the state to follow the model in other Massachusetts communities.
"I'm going to continuing renewing our call — we need the state to help on this front," Wu said. "People are coming in from all across the state and even beyond. And the right thing to do, the effective thing to do — we see how it works — is to have this system that we've set up in Boston, set up in other parts of the state as well."
Typically, "low-threshold" refers to placing minimal requirements on individuals seeking access to services, removing or reducing barriers such as a mandate of sobriety, for people to receive harm reduction care or housing.
A spokesperson for Gov. Maura Healey did not immediately respond to a request for comment on Tuesday.
Asked last year about the back-and-forth between Wu and Baker over the issue, Healey said the "state has done an awful lot," but the new governor has so far offered few details about how she plans to approach Mass. and Cass, instead saying that it is a "subject of ongoing discussion."
Wu said on Monday that her administration's goal for the area of Mass. and Cass continues to be that all the city streets remain useable for the general public and that they don't just become a "designated place where people who have nowhere else to go can go."
"It's gotten a lot, lot better," she said of the situation. "A year and couple months ago, we had encampments all around the Newmarket triangle area, just multiple parts of the city where people were living in very dangerous conditions. After several hundred housing units were created with support services, more than 400 people now have been connected to housing in some way."
The mayor said in the last year, close to 90 people have moved all the way through the transitional housing that was set up to having permanent housing.
Wu said the numbers around Mass. and Cass continue to go down, but she acknowledged that it doesn't always "feel" or "look like that."
"This is a challenge that has happened over many, many years and we're still getting our systems in place, but we now have case management happening, we have weekend coverage, we're working with every possible person who wants to get connected to housing," she said.
Wu pointed out that one of the factors that resulted in the encampments developing in recent years, directly across the street from a shelter with empty beds, was that people didn't feel the shelter system was working for them, for reasons ranging from a lack of services for substance use to an inability to store belongings to just not feeling safe.
That's why she said the city is also working to transform its shelter systems to be "more like the kind of individualized, safe, tailored treatment, rather than a place where you risk everything to be out of the cold for a couple of hours."
"That's been a major piece of it," Wu said.
Newsletter Signup
Stay up to date on all the latest news from Boston.com