Local
Rare Steller's sea eagle spotted in Maine — again
The eagle is known for its 8-foot wingspan and bright yellow beak.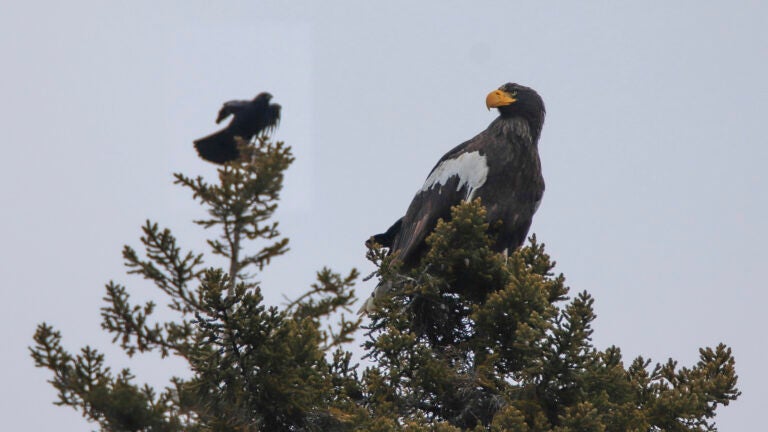 A rare eagle has returned to Maine after a spate of spottings last year.
The Steller's sea eagle was observed on Maine's midcoast between the end of 2021 and beginning of 2022. After almost a year, the bird is back — the eagle was spotted Feb. 4 in Georgetown, Maine.
The sea eagle is one of the world's largest raptors, with a wingspan of 8 feet and a weight of up to 20 pounds. There are only a few thousand worldwide, and that number is declining, Nathan Webb, Maine Department of Inland Fisheries and Wildlife division director, told Boston.com.
Webb called the eagle's visit a "unique situation," as the raptor is native to Asia, namely China and Russia. But this eagle has made stops in Maine, Massachusetts, and Newfoundland, among other North American locations.
"Due to markings on its wings, it's believed to be the same individual spotted around North America," he said, explaining that the eagle has called the continent home for "well over a year."
Birdwatchers gathered in Maine Tuesday to try and catch a glimpse of the rare bird, known for its bright yellow beak and dark feathers. The Maine Audobon Society tracks daily sightings on its blog, "Rare Bird Alert."
The eagle's Maine visit could be thanks to state conservation efforts aimed at other raptors. Maine's midcoast, which the eagle is known to frequent, boasts abundant prey, vast land, and a large population of bald eagles. Webb said the dynamic between the two eagle species could be contentious.
"We don't know how the interaction plays out," he said. "They have similar ecology, and catch similar prey. There's definitely some potential for competition."
But Webb said the true reason why the rare eagle chose Maine is unknown.
"That's one of the neat things about working in wildlife. We often don't know the answers," he said. "Only the eagle knows."
Newsletter Signup
Stay up to date on all the latest news from Boston.com