Local
Students rally for climate action, meet with legislators
"We really just want to have some answers."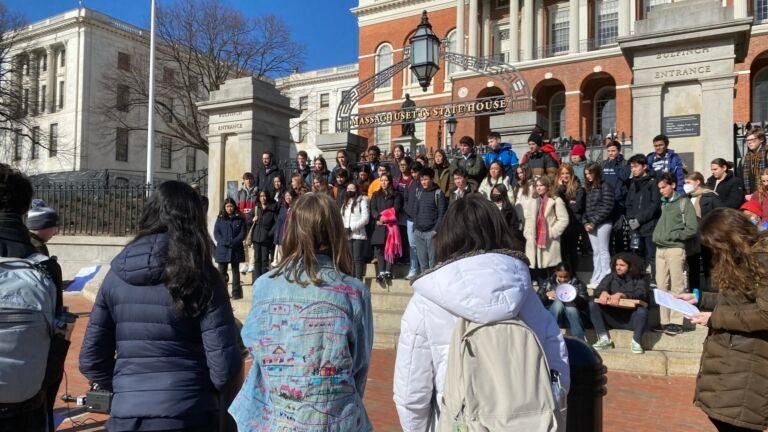 A group of around 70 high school and college students from across Massachusetts gathered outside the State House Tuesday afternoon before meeting with legislators to discuss climate action bills.
Students came from multiple climate action organizations, including Our Climate, a nonprofit dedicated to helping young people advocate for climate justice, like with the Tuesday event. They met with over 20 legislative offices starting at 1 p.m. to promote the climate bills they wanted to see implemented, including the Zero Carbon Renovation Fund, said Eben Bein, the New England coordinator for Our Climate.
"There's a tendency amongst legislators to say they are doing things for the next generation without actually consulting the next generation," Bein said in an interview, adding that the day of lobbying helps make young voices heard.
During his speech, Bein said the students were ready to pitch specific bills to the Legislature, and not just a "generic ask."
"I think the Legislature doesn't know what's coming for them," Bein said regarding the meetings today.
A handful of students gave speeches in front of the State House starting at 12:25 p.m., including Sebastian Lemberger, a sophomore at Phillips Academy in Andover. In his speech, Lemberger spoke about the need for the Legislature to open its doors and make meetings public.
"We vote these people into power because we want to see our needs represented in our government, but when these committees pass legislation behind our back, we don't see our interests represented," he said, adding that "we just watch policy pop into existence."
In an interview after the rally, Lemberger said he was excited to speak with legislators about two initiatives, the Zero Carbon Renovation Fund and the Polluters Pay Bill.
The Zero Carbon Renovation Fund aims to direct American Rescue Plan Act funds toward the state's carbon neutral 2025 plan, and the Polluters Pay Bill would require companies that meet a certain pollution threshold to pay damages to the state. Lemberger said the latter is what he's most interested in discussing because he's "really big on corporate accountability."
Anaya Raikar, another student speaker and a sophomore at Winsor School in Boston, was also present to lobby for the Zero Carbon Renovation Fund.
"I hope that the legislators I speak to will eventually commit to co-sponsoring the bills, or at least giving their public support for them because that would be great," she said in an interview.
Her speech centered on promoting the fund, which seeks to allocate $300 million of ARPA dollars to climate action plans.
"If Massachusetts truly wants to create any effective climate action, we must acknowledge each part of the process in achieving that goal," Raikar wrote in her speech, which she shared with Boston.com. "Let's take the first step today by urging our legislators to work towards a carbon neutral Massachusetts with us.
Other students present also shared their lobbying goals in interviews, as well as why they got involved. Anke Shact, a junior at Weston High School, said she was presenting on the same bill as Raikar and that her mom inspired her outlook.
"My mom has always told me that climate change was her generation's issue, but it's my generation's problem now to solve," Shact said. "It's happening every day in real life and every second that goes by."
Jonathan Lan, also a junior at Weston, was there to ask questions about sections that were cut from an education bill in last year's session. He said he and other students did work to draft an updated bill to push this year, so he's particularly invested in the outcome.
"We were left confused, because there was no communication with us on what happened to these bills," Lan said. "We really just want to have some answers."
Weston sophomore Tomas Li attended to do outreach about air pollution, and said he has been personally affected by the issue. As a child, he was hospitalized for breathing issues.
"I feel like this bill is so important because it finds the communities that are most affected by air pollutants and it helps address their pollutants and decreases them," Li said.
Newsletter Signup
Stay up to date on all the latest news from Boston.com