Local News
Lobster fishers sue to block closure meant to aid whales
The closure, enacted Feb. 1, blocked off about 200 square miles of Massachusetts Bay from lobster fishing until the end of April.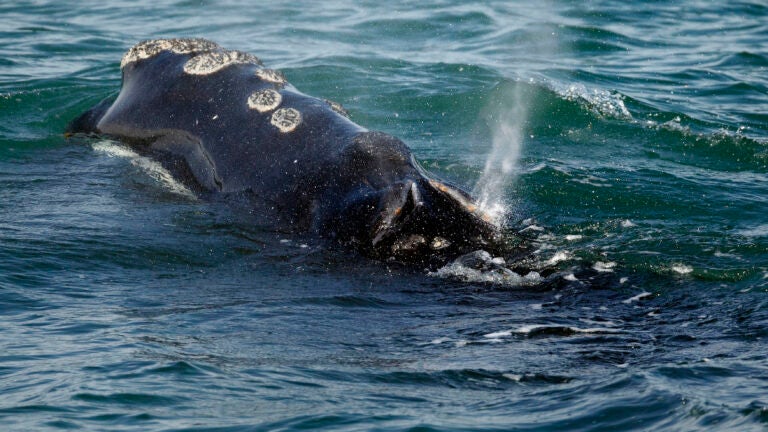 PORTLAND, Maine (AP) — A group of Massachusetts lobster fishers has sued the federal government over an emergency closure of fishing grounds that is designed to protect a vanishing species of whale.
The closure, enacted Feb. 1, blocked off about 200 square miles (518 square kilometers) of Massachusetts Bay from lobster fishing until the end of April. The National Oceanic and Atmospheric Administration said the closure was necessary to protect North Atlantic right whales from dangerous entanglement in fishing rope.
The whales number only about 340 in the world and return to the waters off New England every spring. But the Massachusetts Lobstermen's Association contends the closure is illegal and will cause economic harm to the industry, and sued the federal agency in court this month.
The fishing group is waiting to hear about a court date, said Beth Casoni, its executive director. The group said in court filings that the closure harms and an industry that is "essential to Massachusetts's culture, heritage, identity and economy," and the court should reopen the fishing grounds.
"This action isn't warranted, it's overreaching and quite frankly it's unacceptable," Casoni said.
A spokeswoman for the National Oceanic and Atmospheric Administration declined to comment on the lawsuit because it's still in court.
The Massachusetts Division of Marine Fisheries has said the closures are important "to protect seasonal aggregations of right whales from potential entanglements in buoy lines." Some environmental groups have also cheered the restriction because they see it as essential to protecting the whale, which has declined in population in recent years.
Lobster fishing in the U.S. takes place mainly off of Maine and Massachusetts, with some lobsters also coming to the docks in New Hampshire, southern New England and farther south. The industry is dealing with economic pressures, such as recent decisions by some retailers to stop selling lobsters because of concerns about the threat to whales. It's also coping with proposed new fishing restrictions designed to protect the whales along the East Coast.
The industry is also more productive than it has ever been. U.S. lobster fishermen caught nearly 135 million pounds of lobster worth about $925 million in 2021. Lobster fishers never topped 100 million pounds in a single year until 2010.
About 110 million pounds of lobster came to the docks in Maine in 2021 and about 17 million in Massachusetts.