Local News
School 'swatting' incidents continue with spate of hoaxes
At least a dozen more Massachusetts schools received threats Tuesday morning in another batch of hoax calls.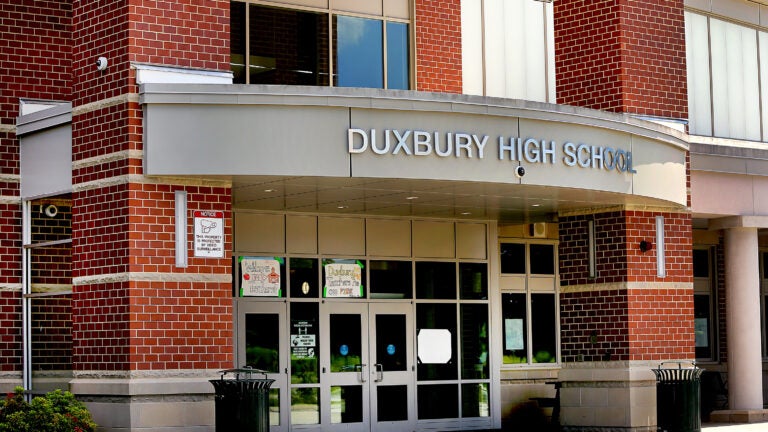 For the second day in a row, several Massachusetts schools received phone calls threatening shootings and bombings. Police say that all of the threats were fake.
Duxbury High School, Cohasset Middle and High School, Hingham High, Middlesex School, Monument Mountain High School, Clinton High School, Greenfield High School, The Edgartown School, Harwich Elementary School, Chicopee High School, Bellamy Middle School, Springfield High School, Ipswich Middle School and High School, and Fall River Public Schools all received threatening hoax phone calls Tuesday morning.
The calls — made to at least 12 schools — come the day after at least six schools received similar threats Monday morning. Tuesday also marks the fifth anniversary of the Marjory Stoneman Douglas High School shooting in Parkland, Florida.
The FBI and Massachusetts State Police are actively investigating the threats, and could not comment on if the calls were connected.
"The FBI is aware of the numerous swatting incidents wherein a report of an active shooter at a school is made and is working alongside our law enforcement partners in identifying the source of the hoax threats," FBI Boston Division Spokesperson Kristen Setera said in an email Tuesday.
"Due to the ongoing investigation, we are unable to provide more details. However, it is important to note that law enforcement is going to use all available resources to investigate a school threat until we determine whether it is real or not…We urge the public to remain vigilant, and report any and all suspicious activity and individuals to law enforcement immediately."
Duxbury
First responders arrived at Duxbury High School Tuesday morning to a call reporting an active shooter. Following the response, the Duxbury Police Department called the threat a "vicious hoax," and stated "there was no active shooter."
Cohasset
The South Shore regional dispatch center received a call at 10:15 from someone threatening the Cohasset Middle and High School campus. First responders arrived at the school and confirmed the call was non-credible, the Cohasset Police Department said in a tweet.
Hingham
In Hingham, just west of Cohasset, the South Shore Regional Community Center received a similar call from someone at 11:30 threatening to shoot people at Hingham High School, the Hingham Police Department said in a statement. First responders arrived at the scene and determined that there was no immediate threat.
Concord
In Concord, first responders arrived around 10:15 at Middlesex School in response to a "swatting" threat, according to the department. Concord Police stated that they "conducted a comprehensive search of the school campus, including buildings and dormitories, and the surrounding neighborhood and turned up no threats."
Clinton
In Clinton, police responded to a call reporting a person with a firearm and possible explosives near Clinton High School. In a joint statement from the Clinton Police Department and the Clinton School District, officials said there was no immediate threat and lifted the district's lockdown restrictions at 11:50 a.m.
In a follow-up Facebook Post, Clinton Chief of Police thanked first responders, students, and the district's families.
Great Barrington
In Western Massachusetts, Great Barrington police arrived at Monument Mountain High School in response to a threat. Great Barrington Police said that the threat was non-credible, and that parents were able to pick up their children.
Multiple other schools in Fall River, Dedham, Chicopee, Greenfield, Harwich, Edgartown, Ipswich, and Springfield reported receiving similar threats. Officials say that these calls were all hoaxes as well.
The recent threats come as several schools across the country have received calls reporting active shooters and bomb threats. But as real threats continue to plague schools, such as the recent shooting at Michigan State University where three people were killed, departments say they will continue to respond regardless of the prevalence of hoaxes.
Newsletter Signup
Stay up to date on all the latest news from Boston.com