Local News
Brockton Hospital will remain closed until May following 10-alarm fire
The reopening will begin with limited inpatient services, with more services to be phased in later.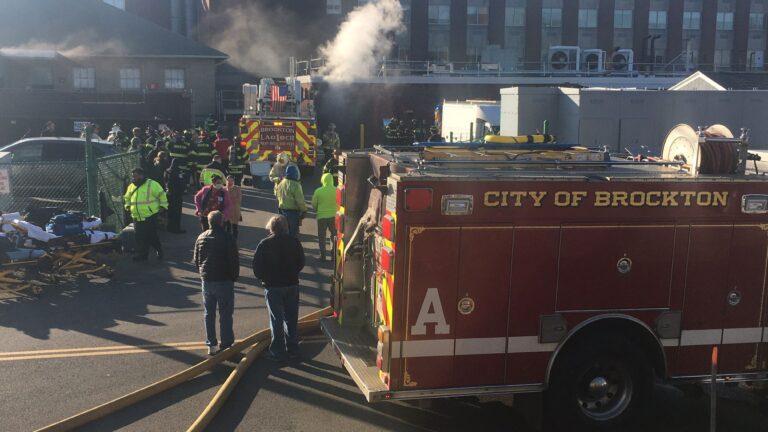 Brockton Hospital will likely remain closed until May following a massive electrical fire that broke out earlier this month.
The hospital will reopen with limited inpatient services in approximately three months, according to a statement released Thursday by the hospital's parent company, Signature Healthcare.
A fire broke out in the hospital's transformer room on the morning of Feb. 7, prompting the evacuation of nearly 180 patients and an emergency response that required 77 ambulances, 31 fire engines, seven ladders, and six wheelchair vans. No injuries or deaths were reported. Brockton Mayor Robert Sullivan said it was the city's first-ever 10-alarm fire.
The subsequent hospital closure has strained area medical facilities caring for displaced patients.
"The fire emergency at Brockton Hospital has dramatically impacted our staff and the community over the past nine days," the hospital said in its update. "Signature Healthcare's mission remains unchanged, to support our community and deliver medically necessary services to all in need regardless of status or ability to pay."
Hospital officials said they devised a three-phased timeline to bring back medical services. The first phase includes expanded access and hours at ambulatory locations that offer cardiac testing, MRI, CT, ultrasounds, radiology, and more. Hospital officials will also open two new urgent care centers over the next two weeks — one at 110 Liberty St. and another at 650 Centre St.
The second phase includes reopening limited inpatient services and the remaining hospital services will resume in the final stage. Those medical services will be specified once damage assessments, evaluations, and supply chains have been thoroughly reviewed, officials said.
The timeline is contingent on supply chain access and necessary materials, officials added.
"Signature Healthcare owes tremendous gratitude to our state and local officials, government agencies, regional healthcare organizations, and affiliates for their unwavering support of these goals," the hospital said. "We are immensely appreciative of our staff and the help of our community partners in our shared goal of safely reopening Brockton Hospital services."
Anyone interested in donating to fire recovery efforts can do so through Signature Healthcare's website.
Newsletter Signup
Stay up to date on all the latest news from Boston.com