Local News
Worcester police to implement body camera program
"By deploying body-worn cameras, I hope that we are making a statement and sending a message: that we want to strengthen transparency and trust."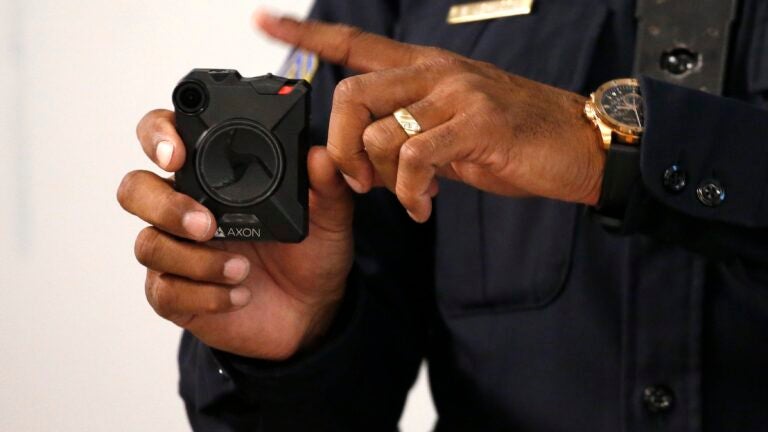 Hundreds of Worcester Police officers are set to begin using body cameras on Feb. 27.
The citywide program was detailed by officials Tuesday. It is being touted as a major step towards increasing trust between the public and police.
"By deploying body-worn cameras, I hope that we are making a statement and sending a message: that we want to strengthen transparency and trust," Worcester Police Chief Steven Sargent said at a press conference, according to footage posted by WCVB.
In total, 300 cameras were purchased by the department from Axon Enterprises Inc., MassLive reported. The company will also be providing 16 hours of training for officers.
The cameras are turned on by hitting a large front-facing button twice, and a red light indicates that recording is in progress. Recording is stopped when the button is pressed for about four seconds.
The cameras will be stored in charging stations inside the station, and batteries for the cameras last between 12 and 16 hours, according to MassLive. While the cameras charge, video stored on them is uploaded to an online evidence database.
Worcester City Councilor Khrystian King applauded the use of body cameras.
"It's certainly a step in the right direction," King told WCVB. "I think what you'll see with this technology is Worcester having the ability to take a look at law enforcement procedure, law enforcement operations, and we're going to have the ability to implicate and exonerate."
The plan to implement body cameras within the city's police department has been in the works for years. A pilot program initially ran from May to November 2019. During that time, more than 7,700 individual videos were generated and about 1,100 hours of video were captured. Officials evaluated the pilot program's results in 2020, and engaged in community outreach in 2021, according to NBC Boston.
Using body cameras will have a number of benefits, police said.
"We expect to see many benefits… including enhanced police transparency and accountability, improved police training, assistance with investigation of complaints, and assisting with de-escalation," Sargent said in footage posted by NBC Boston.
The use of body cameras is increasing in police departments across the state. Last week, Cambridge City Manager Yi-An Huang said that officers there will wear them.
Huang's comments came after the death of 20-year-old Arif Sayed Faisal. The UMass Boston student was fatally shot by police on Jan. 4. A witness told police that Faisal appeared to be cutting himself with a knife during the incident, officials said. Police first tried using a "less-than-lethal sponge round" on Faisal.
Lowell Police will also begin using body cameras soon. The department was awarded grant money in November to fund the purchase of the cameras.
The Baker-Polito Administration announced nearly $2.5 million in grant funding the same month to outfit officers with body cameras throughout Massachusetts.
"The investment we're making in these programs today will help create safer communities for years to come," former Gov. Charlie Baker said in a statement at the time.
Newsletter Signup
Stay up to date on all the latest news from Boston.com