Local News
Vermont college students object to all-digital library, sports shift
"The physical library is not a privilege, it's my right."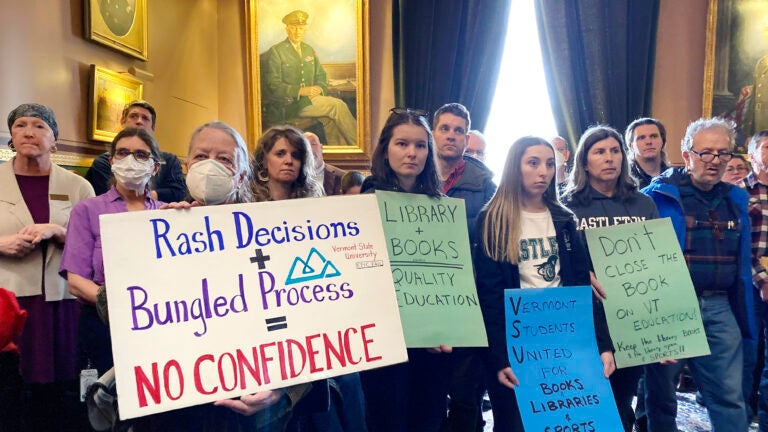 MONTPELIER, Vt. (AP) — Students angry about a plan to switch to an all-digital library at three Vermont state colleges and to restructure athletics took their cause to the Statehouse on Tuesday, hoping lawmakers could help reverse the schools' decision.
Northern Vermont University, which has campuses in Johnson and Lyndon, Castleton University and Vermont Technical College in Randolph will merge into a single Vermont State University this summer.
The Vermont State Colleges System, which has struggled financially for years, announced early this month that the Vermont State University library will shift to an all-digital format, effective July 1. The change in athletics will come in 2024, when the Johnson campus will switch from the NCAA to United States Collegiate Athletic Association as well as club sports. The Randolph campuses will also consist of club sports.
At a Statehouse news conference Tuesday, some student athletes said they would have to transfer to other schools to continue to play in the NCAA, leaving their coaches, friends and college community. Other students questioned the decision to remove the physical library collections they say they rely on to learn. The decisions have created mistrust between students and the administration and will ultimately hurt enrollment, students said.
Vermont Technical College student Gavin Bourdeau said he has no access to the internet where he lives and uses the books in the library to study. While the administration said the digital format will make books more accessible, Bourdeau said it will actually make them less accessible for people like him.
"I think converting the schools' libraries to an entirely online program will further drive people away from the library not towards the library," he said. "There are books on these shelves that will never be digitized. These books will be lost and their knowledge will be lost with them."
Devon Harding said as a learning disabled student at Castleton University, "the physical library is not a privilege, it's my right."
"My disabilities cannot be accommodated digitally. Eye strain, difficulty tracking lines, blue light effects on ocular health, struggles to focus. These are not problems a screen can help with," she told the crowd. "Furthermore, I can't afford all my text books without the library."
Earlier this month, incoming Vermont State University president Parwinder Grewal apologized in a message to students and faculty for how the information was shared.
The Vermont State University senior leadership voted "to be bold and embrace an all-new digital library" and didn't vote to close the libraries, he wrote. He also noted that the university has a budgeted $22.6 million loss this year.
"We voted to work with each campus to transform the library space — where there will be a credentialed librarian — with study spaces for individuals and groups, shared technology areas, and places for community building," Grewal wrote. "Higher education is changing. And digital libraries are the way of the future."
Faculty from the three Vermont state colleges announced last week they voted no confidence in the board of trustees over the library and sports decisions.
The executive board of the Vermont School Library Association said it was "appalled" by the decision to "eliminate their print collections, repurpose their physical spaces, and lay off librarians."
"We believe that all Vermont students should have access to robust and well-funded library programs that include access to professional librarians who work in partnership with faculty and in support of students," it said in a statement last week.