Local
Owners of late Boston Marathon dog Spencer announce the death of his 'soulmate,' Penny, just a week later
"Rest Easy Sweet Penny. You are with your soulmate Spencer with your frisbees and ball. You are forever in our hearts."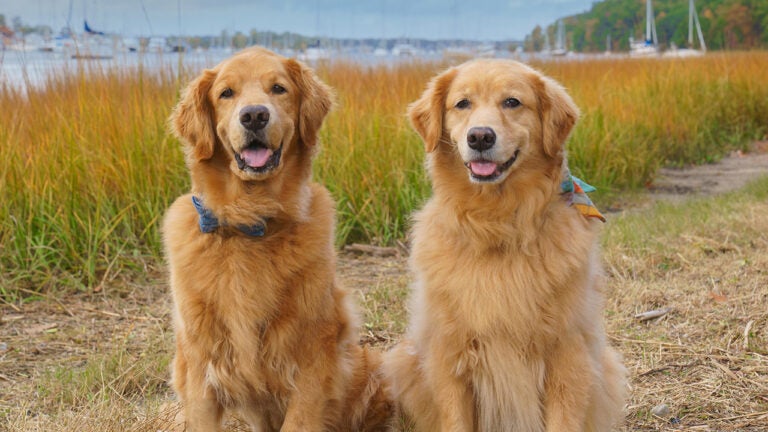 The owners of Spencer, the official Boston Marathon dog who passed away earlier this month, announced that their other beloved golden retriever, their "precious Penny," died Saturday, just eight days after her "soulmate."
"The enormous pain of losing our Spencer only a week ago is now compounded with the loss of our precious Penny," owner Rich Powers wrote on social media. "Penny was the sweetest pup who liked to make a difference."
Powers noted that Penny had appeared grief-stricken following Spencer's passing on Feb. 17 from liver cancer at the age of 13, and the family had done everything they could to keep the 10-year-old busy so she could keep her mind off losing her favorite companion.
Spencer, who was named the official Boston Marathon dog last year, and Penny were known fixtures along the race day route. Spencer went viral in 2018 for braving the rainy weather to proudly hold flags in support of Boston Marathon runners.
In January, artist Tom Mosser unveiled a painting of Spencer, commissioned by the family, which showed Spencer in his element, holding flags along the Boston Marathon route.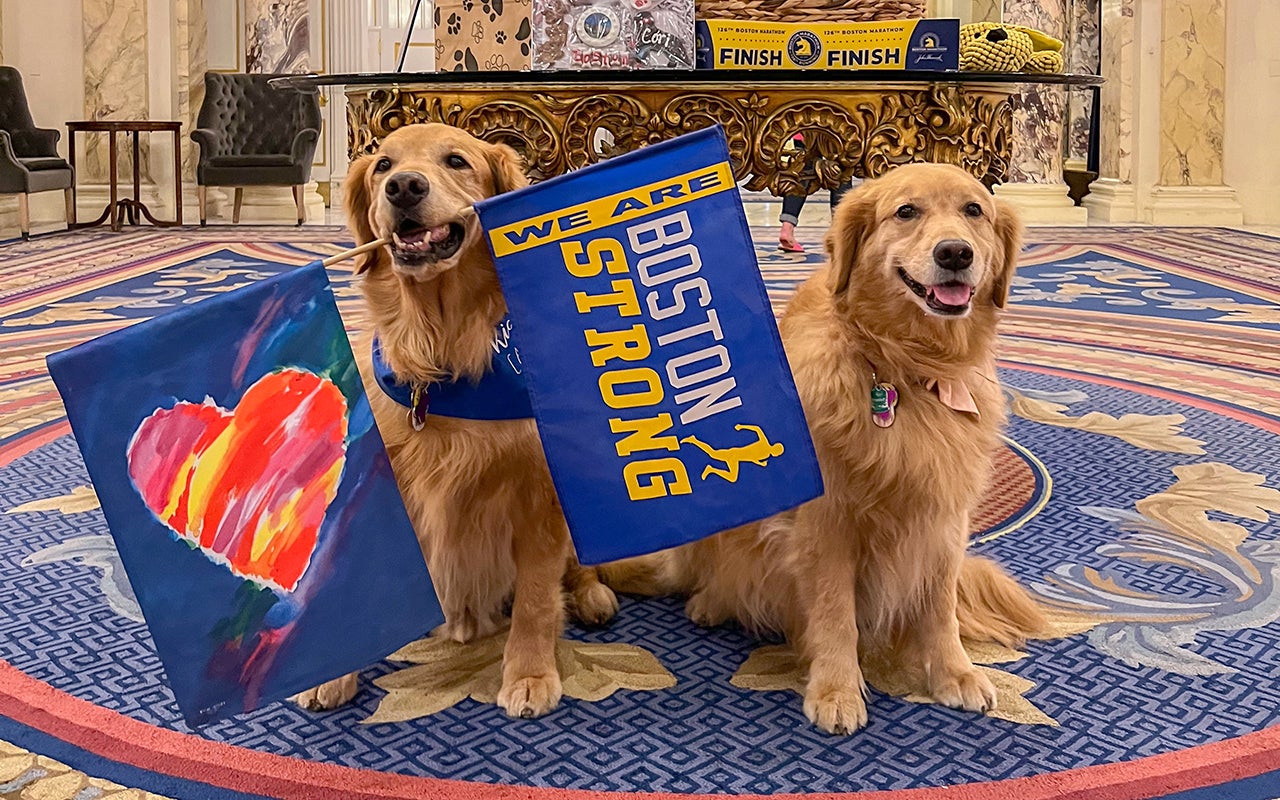 The family organized a playdate for Penny on Saturday morning "to cheer her up," but it was then that they noticed they appeared to be "witnessing more than just grief."
"We felt that there was a lot of fluid in her abdomen," Powers wrote. "To err on the side of caution we took her to the emergency room."
Though Penny was able to walk on her own, the veterinarian determined that she had a tumor on her spleen and she was bleeding internally, her owner said.
A chest x-ray and ultrasound of Penny's abdomen revealed hemangiosarcoma tumors had spread to her liver, and surgery would not have given Penny much more time, Powers said.
Without the surgery, Penny would die in less than 12 hours, the vet told the family.
"We made the difficult decision to help her pass while she was comfortable," Powers said. "We held her, thanked her, and told her we loved her until her last breath. We are beyond devastated. We are in a fog of disbelief. It feels like a terrible dream.
"To lose 2 amazing pups in 1 week is a level of grief we are not prepared to handle," he continued. "Rest Easy Sweet Penny. You are with your soulmate Spencer with your frisbees and ball. You are forever in our hearts."
Powers went on to thank everyone who has supported "this special duo" over the years. He also noted that hemangiosarcoma, a deadly canine cancer, "is a silent killer and more common than you would believe," which is why the family has "been donating heavily to find a cure."
Powers invited people to donate to the Morris Animal Foundation at fundraise.morrisanimalfoundation.org/golden-retriever-lifetime-study/SPENCERSSP.
Newsletter Signup
Stay up to date on all the latest news from Boston.com