Northampton to use pandemic relief dollars for 'Teenage Mutant Ninja Turtles' manhole covers
Four custom manhole covers will be incorporated into an upcoming Main Street redesign.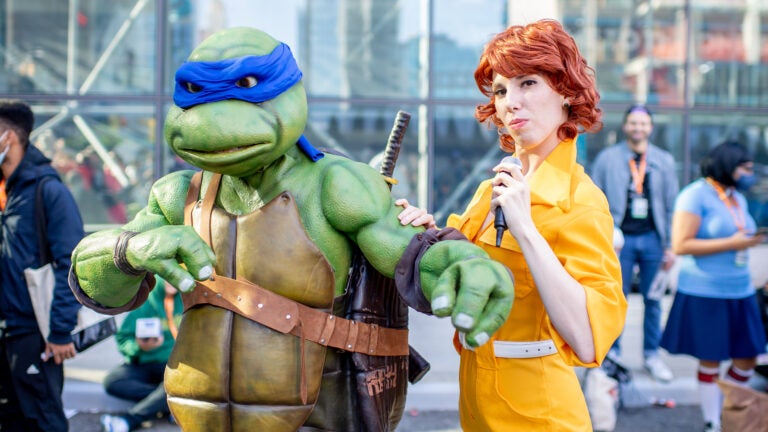 A series of manhole covers in Northampton are about to get a fresh coat of super-powered paint thanks to thousands of dollars in pandemic relief funds. 
This week, the city announced how it plans to spend $4 million it received under the American Rescue Plan Act (ARPA). A total of $20,000 will be used to create four custom manhole covers with art depicting the "Teenage Mutant Ninja Turtles." This public art display is intended to be a tribute to the famous "heroes in a half shell," which were created by Peter Laird and Kevin Eastman while they lived in Northampton in the early 80's. 
The TMNT franchise began as a simple comic book about four wisecracking, anthropomorphic turtles who use nunchucks and similar weapons to fight the forces of evil. It is now one of the most popular media brands in the world, spawning multiple movies, video games, TV shows, and more. 
The goal of Northampton's TMNT tribute is to "invigorate downtown arts" by integrating the custom covers into the city's upcoming Main Street renovation. 
In total, the city will receive about $21.7 million in federal money. ARPA was signed into law in March 2021, opening the door for states, counties, and municipalities to receive $1.9 trillion. 
Last February, Northampton Mayor Gina-Louise Sciarra designated $4 million of Northampton's ARPA funds for "community-directed" projects, according to a release. City officials received 98 project submissions, and 61 projects were selected to receive funding, including the TMNT tribute. 
The other projects that won funding include efforts to reduce food insecurity, support small businesses, help veterans, and improve COVID safety in public spaces. 
"I am truly proud of these grant awards for community recovery and confident that the mix of projects selected will serve Northampton well using these one-time resources," Sciarra said in a statement. 
The decision to use some of this money for a project like the TMNT tribute has not sat well with everyone. In a Twitter post, The Massachusetts Fiscal Alliance wrote "never let them tell you we need to raise taxes" in response to the news. 
The city has benefited monetarily from the franchise in the past. In 1991, The New York Times reported that Laird and Eastman had injected the local economy with somewhere between $2 million and $3 through public and private investments. Their dollars were used to fund a playground in Westhampton, a library and playground in Worthington, and projects for the Northampton Recreation Department. 
Former Mayor David B. Musante Jr. did ask the pair for $6 million to establish a trust to support art and music programs in Northampton schools, but that request was not granted, the Times reported at the time.
Loading...