Local
Bald eagle in critical condition following suspected rat poisoning
"Unfortunately right now the prognosis is guarded, but we're doing everything we can to try to help her."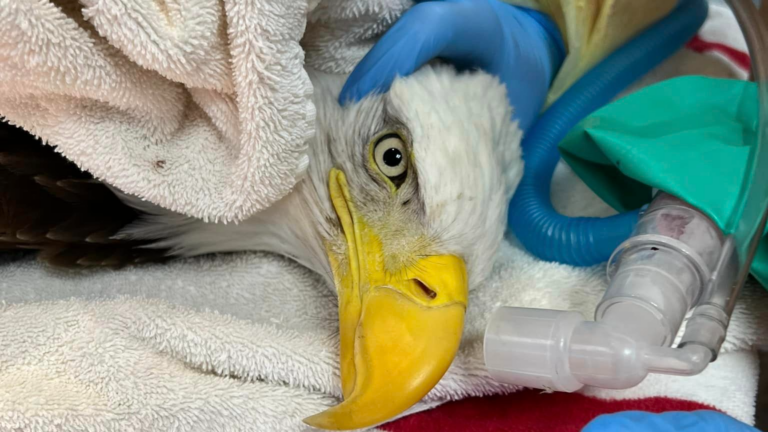 A beloved bald eagle is in critical condition after being rescued Monday in Arlington, said New England Wildlife Centers CEO Zak Mertz.
The eagle — "MK" — was found on the ground Monday at an Arlington cemetery, before being taken into NEWCS care at the Cape Wildlife Center, according to a Facebook post from NEWCS.
Veterinarians at the center were still working Tuesday to stabilize the female eagle, which Mertz said is "strongly suspected" to have rodenticide poisoning.
Her symptoms — lethargy and anemia, as well as slow blood clotting — lead the team to believe rat poisoning is the cause. Rodenticide acts as a blood thinner, and Mertz said the eagle's blood is clotting extremely slowly.
"We knew it was pretty bad," Mertz said when they first examined the bird.
Tests are currently being done in outside labs to determine if rodenticide is the cause. In the meantime, veterinarians are keeping a close eye on the bird, and one even stayed overnight to care for her Monday.
"Unfortunately right now the prognosis is guarded, but we're doing everything we can to try to help her," Mertz said.
MK popped up in the community in 2016 and has cultivated a following since. She and her mate, "KZ," are frequent visitors of the Mystic River Watershed. There is even a book about the bald eagles.
Last week at Faneuil Hall, "Owen the owl" was rescued by a trio and sent to Cape Ann Wildlife for recovery. He was confirmed to have been poisoned by rodenticide, and CAW posted on Facebook three days ago that he has had a "huge turnaround."
Diane Welch, a Massachusetts licensed falconer who assisted in trapping Owen, said that rodenticide is a serious problem for birds and can kill them.
"It's like bringing a tank to the boxcar derby," she said about the power of the pesticides to wreak havoc on the animals.
Welch said there are alternative methods of controlling rodent presence that do not involve harming them or the birds that prey on them.
"There are better ways," she said. "There are other options that don't go through the food chain like this does."
Mertz, of NEWCS, said their hospitals get between 50 and 150 cases each year of birds poisoned by rodenticide. While he can't be sure this type of illness is on the rise, he said there seems to be an increased identification of rodenticide as an issue.
"We're definitely getting more confirmed reports of rodenticide, and I don't know if that's because the substance is being used more, but I suspect it's because more people know about it, and more people are testing," he said.
Regardless, he added that it's good to get the word out about the poisoning.
"We're thrilled that this case, as sad as it is, is getting attention, but also that more people are waking up to the effects of how harmful these chemicals are," Mertz said.
Newsletter Signup
Stay up to date on all the latest news from Boston.com