Local
'Particularly devastating': Bald eagle 'MK' succumbs to poisoning after being rescued in Arlington
MK was adored by people across the Mystic River watershed.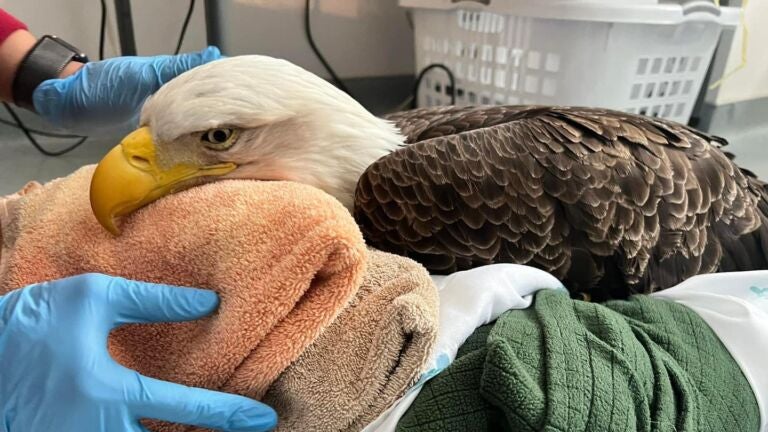 A beloved bald eagle known throughout the Mystic River watershed died Tuesday night after it's believed she ingested rat poison.
"MK" was rescued Monday and taken to the New England Wildlife Centers' (NEWC) Cape Cod hospital after she was found on the ground in an Arlington cemetery. When she got to the hospital, she was in bad condition, NEWC said Tuesday.
On Tuesday evening, MK appeared to spontaneously hemorrhage and began bleeding internally, NEWC said in a Facebook post Wednesday. Because of the poison, which acts as a blood thinner, her blood could not clot.
"After a valiant fight, her system was simply no longer able to keep up," NEWC wrote in the post.
MK's veterinary care team was by her side when it happened and did their best to save her, but they were unable to revive her, NEWC said.
"It was always hard to watch a patient in this condition, but MK was particularly devastating," NEWC wrote. "We know how well loved she is here in the Baystate and how many people her presence inspired to connect with our natural environments and the wildlife in them."
MK hatched in Waltham in 2016. She is survived by her mate, "KZ."
MK's death could be a 'wake-up call'
NEWC said it hopes that MK's death will serve as a "wake-up call" for people to stop using second-generation anticoagulant rodenticides, or "SGARS."
"It is time to restrict the use of these poisons. Rodent control does not need to come at the expense of our natural heritage and ecosystem," NEWC wrote.
NEWC is calling on locals to ask their state legislators to support bill HD 577 in the Massachusetts House of Representatives and SD 1144 in the state Senate.
These bills, put forth by Attleboro Democrat Rep. James Hawkins and Foxborough Democrat Sen. Paul Feeney, would require institutions to use other pest management strategies before using SGARs and increase monitoring of pesticide use.
"We will continue to fight for change and [more public] education," NEWC wrote.
Birds of prey ingesting SGARs has been an issue in Massachusetts. A 2020 Tufts University study found that all 40 red-tailed hawks that were part of the study tested positive for SGARs.
NEWC said previously that its wildlife hospitals treat 50 to 150 birds poisoned by SGARs each year.
Last week, "Owen," a barred owl, was rescued at Faneuil Hall after ingesting rat poison. Cape Ann Wildlife, which treated him, posted later that he was recovering.
Newsletter Signup
Stay up to date on all the latest news from Boston.com