Local
Advocates continue to push for safe injection sites in Massachusetts
"People die alone. If people are supervised, they don't die. So that's all we got to do."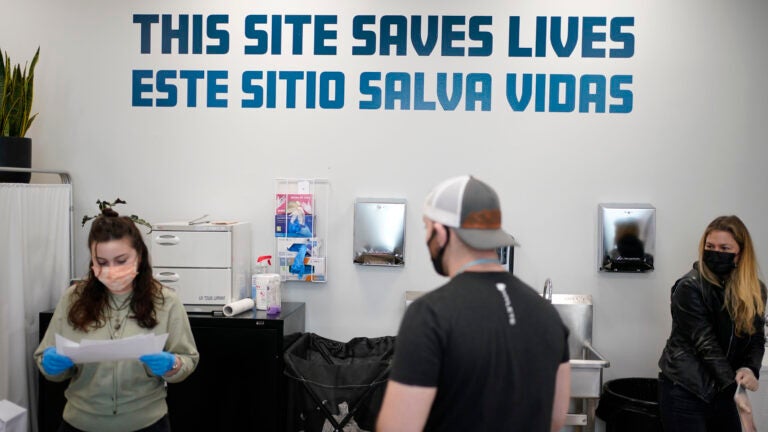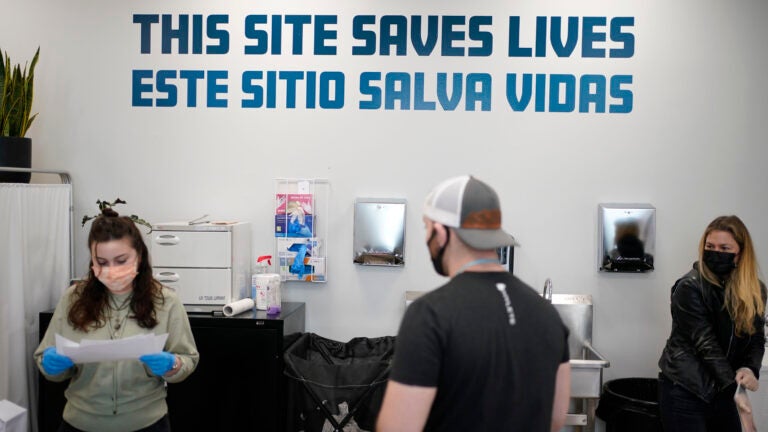 Advocates for safe consumption sites — also known as safe injection sites — are renewing their call for the establishment of the facilities in Massachusetts, pressing Gov. Maura Healey and other elected officials to take action and help prevent fatal overdoses as the opioid crisis continues to claim thousands of lives in the state each year.
SIFMA Now, a coalition of volunteers that has been pushing for safe consumption sites in the state for years, delivered more than a hundred studies supporting the efficacy of the facilities to Healey's office last week. The sites are locations where people can use drugs they've obtained elsewhere under the supervision of trained staff, who can then reverse overdoses if they occur.
The group is calling on the governor to take action in her first 100 days in office, urging her to use her executive powers to move forward the facilities, also known as supervised consumption or overdose prevention sites, in the state.
Jim Stewart, a steering committee member of SIFMA Now, told Boston.com he and other members of the advocacy group, which is comprised of people who use drugs, those working in harm reduction, medical professionals, and lawyers, among others, are concerned that efforts to establish the facilities in Massachusetts are "once again" only making "creeping" progress through the legislative process.
"We think it's scandalous that with thousands of people dying every year from overdoses that we are once again stuck in the beginning of a legislative process that in Massachusetts is a gruesome sausage grind," Stewart said. "Safe consumption, or overdose prevention, has been proven effective around the globe, most recently in New York. They save lives, they reduce injection-related infection. We don't understand why Gov. Healey, Speaker [Ron] Mariano, President [Karen] Spilka don't respond to this emergency for what it is — it's a life and death situation that there's a very simple and economical way to respond to it."
There are almost 200 safe consumption sites operating around the world, according to the Drug Policy Alliance. New York City opened the first such facility in the United States as part of a pilot program in 2021, despite a federal law, known as the "crack house statute," that makes it illegal to maintain a site for the purpose of using a controlled substance.
It was using the statute that the Justice Department, under the Trump administration, sued to stop the establishment of a safe consumption site in Philadelphia in 2019.
Dr. Mark Eisenberg, a member of SIFMA Now and a primary care physician at MGH-Charlestown Health Care Center with specialties in infectious diseases and addiction medicine, told Boston.com that he's disappointed that Attorney General Merrick Garland, even though he hasn't interfered with the New York sites, hasn't publicly stated that overdose prevention sites are not subject to the statute.
"If he did that, it would open the way for municipalities to open sites across the state without fear of confiscation of property or professionals losing their licenses," Eisenberg said.
The "hands off" approach under the Biden administration's DOJ may be clear, he said, but in the meantime, the statute is being used to prevent sites from opening around the country.
"These sites do not 'enable' drug use," Eisenberg said. "It is already happening but in unsafe, unsanctioned sites like alleyways and restrooms in fast food restaurants. However, they do 'enable' people to stay alive and safe until they may be ready to stop using drugs. We definitely need more treatment on demand, but for some people that isn't enough. Forced treatment does not work, so until people are ready to stop using, it's imperative to make it as safe as possible."
While former U.S. Attorney for Massachusetts Andrew Lelling promised under the Trump administration that any efforts to open the sites in the state would be met with prosecution. Rachael Rollins, the former Suffolk County district attorney and now current U.S. attorney, had been a vocal supporter of bringing the sites to Massachusetts. But hasn't spoken on the issue since taking on her new position, according to The Boston Globe.
A spokesperson for Healey said in a statement to Boston.com that the governor "believes harm reduction strategies are an important part of mitigating the opioid crisis."
"She supports allowing communities to decide what's best for their residents, including the option of setting up safe consumption sites, given the urgent need to help connect people with treatment services, address stigma and save lives," the statement read. "She will review any legislation that reaches her desk."
There have been legislative efforts to establish safe consumption sites going back years, and several leaders in communities across Massachusetts — including Somerville, Cambridge, Northampton, and Northwestern District Attorney David Sullivan — have expressed support and interest in opening the facilities.
Bills have been filed in both the state House and Senate as part of the latest legislative session that propose the establishment of a 10-year pilot program for overdose prevention sites, which would be required to have approval from the local board of public health and be licensed and regulated through the Department of Public Health. The proposals put forward that staff working at the sites would not face legal liability for providing services at the facilities and that entering or exiting the sites could not be the basis or a contributing factor for probable cause to "conduct a search or seizure."
Sen. Julian Cyr, who sponsored the Senate version of the legislation, said in a statement that piloting the overdose prevention centers would allow the state to "explore the utilization of this proven and effective resource in our efforts to address the substance use crisis."
"The overwhelming evidence shows that overdose prevention centers save lives," he said. "This harm reduction tool provides immediate help in the event of an overdose. Centers also build trust between people who use drugs and providers, which is essential to help individuals remain safe and access services."
Rep. Marjorie Decker, who co-sponsored the House version of the bill with Rep. Dylan Fernandez, pointed in a statement to the scale of the impacts of the opioid crisis, noting that "no one has to look far" to find a loved one who has been impacted by substance use and addiction.
"2021 was the deadliest year on record for opioid-related overdose deaths in Massachusetts, and last week we saw a surge in overdoses in Boston linked to fentanyl," she said. "Overdose prevention centers ensure that there are people and resources available to respond within those few crucial minutes, which often means the difference between life and death."
Fernandez said in a statement that it is "morally wrong" that overdose prevention sites continue to be banned in the state.
"These sites save the lives of our neighbors, friends, and family members, increase access to treatment, and lead to long-term recovery," he said.
Every day, seven Massachusetts residents die of preventable overdose deaths, according to Eisenberg.
It's not just fatal overdoses that would be addressed through the safe consumption sites, the doctor said.
"We remain in the midst of a rise in new HIV infection among [people who use drugs]," Eisenberg said. "Our hospitals are full of patients with life-threatening heart valve infections as a consequence of unsafe injection. All of these are preventable."
Kim Powers, who has been working with SIFMA Now and also runs Access Hope, a mobile harm reduction program on Cape Cod, said that even with all the work being put in across the state to reduce overdoses, the numbers aren't falling.
Which is why she and others have been pushing for safe consumption sites for "such a long time," she said.
Through Access Hope, she said she and her colleagues have supervised 741 people during their drug use and administered Narcan, the overdose reversal drug, 41 times, preventing death.
She said she started Access Hope after working for years in other harm reduction settings. She said she couldn't take the reality anymore that people were still — once they received services at needle exchanges, for example — going out and using and dying alone.
"People die alone," she said. "If people are supervised, they don't die. So that's all we got to do. We've got to figure out a way to have people in a safe space and supervise or shadow them so they're not dead. It's not hard. It's not a hard thing to do."
Both Powers and Stewart, the SIFMA Now steering committee member, argued that opposition to the sites is rooted in stigma about people who use drugs.
Public officials, Stewart said, have an obligation to challenge their constituents "to educate themselves and not become obstructive to the action that everybody that is knowledgeable about this feels is the way things have to go."
"It's not just that it is good to save lives, of course it is," he said. "But safe consumption sites, overdose prevention centers, where they're located, reduce the amount of injection-related detritus in the communities that host them … so there are benefits to the community as well."
Newsletter Signup
Stay up to date on all the latest news from Boston.com