Local
Video shows just how close falling ceiling panel was to hitting T passenger
The MBTA is conducting a systemwide audit of its stations after a falling ceiling panel narrowly missed someone at Harvard Station Wednesday.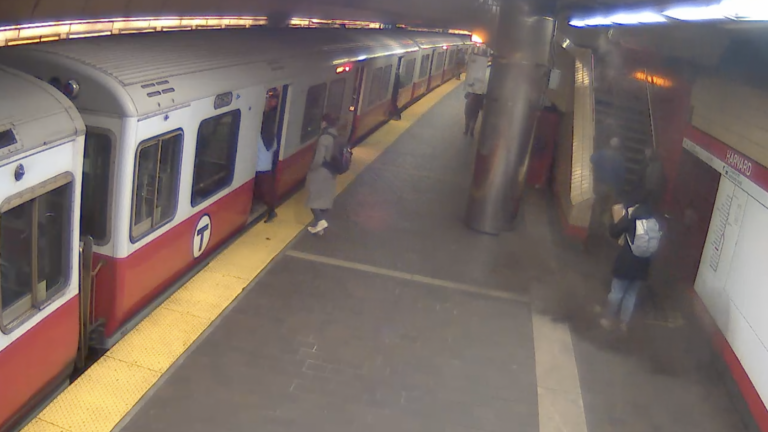 The MBTA's interim head has ordered several ceiling panels removed at the Harvard Square T station after a corroded panel fell Wednesday, narrowly missing a rider.
The aluminum panel weighed an estimated 20 to 25 pounds and fell about 10 feet, MBTA interim General Manager Jeff Gonneville said during a press conference Friday.
"I am extremely thankful and relieved that there were no injuries as a result of this accident," he said. "We take what happened very seriously, as we do with anything that could potentially impact the safety of our riders and our employees."
The T released video of the incident
The transit agency is "utilizing all our resources" to look into the incident, discover its cause, and implement any solutions necessary to ensure it doesn't happen again, Gonneville said.
He said preliminary observations indicate that the panel — which was wet at the time — fell because it was corroded. The ceiling panels don't contribute to the station's structural integrity but are there for aesthetics and to absorb noise, he explained.
The panels have been in place since about 1978, he said.
Engineers found no visible defects with the panels during a detailed safety inspection of Harvard Station in 2021, according to Gonneville.
Gonneville said he has directed T staff to permanently remove panels to ensure access to overhead structures, making inspections and maintenance easier. The agency has already removed about 10 panels at Harvard; there are around 400 to 500 panels in total at that station alone.
"Wednesday's panel failure is the most recent example of the work we have ahead of us to bring the systems back into a state of good repair and provide our riders with the service that they deserve," he said.
Some of the MBTA's other stations have similar drop ceilings, and Gonneville said the agency will conduct an audit to ensure "that we have all the visible means to be able to inspect these things systemwide going forward."
The goal, he said, is to finish the audit within a couple of weeks.
Asked about riders who may have concerns upon seeing holes in the ceilings of some MBTA stations, Gonneville replied, "Anyone that rides our system and knows the system is very familiar with the condition of our system."
He added: "So obviously aesthetics are important, but the safety of these stations, the safety of our system is of greater importance."
Newsletter Signup
Stay up to date on all the latest news from Boston.com