Local
Winner of $33 million Mega Millions jackpot ticket sold in Belchertown claims prize
The Skylark Group Trust of Wellesley chose a lump sum payment of $17,441,861.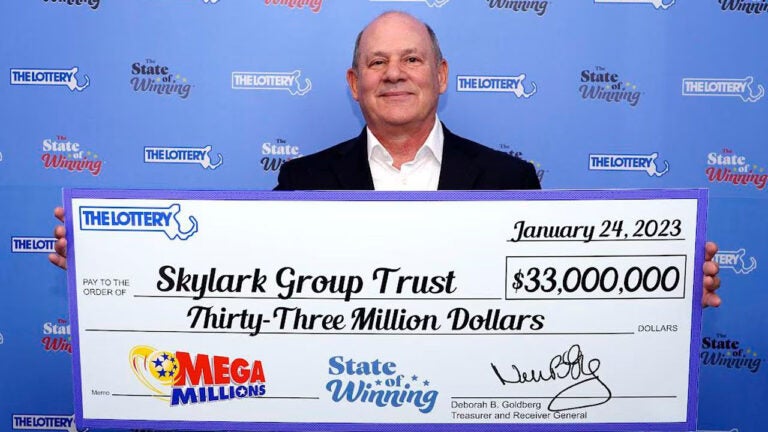 The Skylark Group Trust of Wellesley, the winner a $33 million Mega Millions ticket sold earlier this year in Belchertown, claimed their prize on Wednesday, according to the State Lottery Commission.
Represented by trustee David M. Lipshutz at Massachusetts Lottery headquarters in Dorchester, the trust chose a lump sum payment of $17,441,861 before taxes. The advertised jackpot was $31 million, which increased to $33 million after accounting for actual sales from all lottery tickets.
The Quick Pic ticket was sold on Jan. 24 as a part of the Mega Millions multi-state games at a Stop & Shop located at 40 George Hannum Street in Belchertown, according to officials.
The Stop & Shop will receive $50,000 for selling the winning ticket.
The winning numbers, 33-41-47-50-62 on MegaBall 20, were randomly selected by one of the vendor's machines, officials said.
A $31 million ticket sold sold in Woburn on Jan. 31 remains unclaimed, and paired together, the two tickets represent the second time in Mega Millions history where one lottery has had two jackpot winners in a span of three drawings, lottery officials said.
"These are the fourth and fifth Mega Millions jackpots won in Massachusetts since 2002, when the game expanded and its name was changed from The Big Game to Mega Millions," officials said.
Newsletter Signup
Stay up to date on all the latest news from Boston.com