Local
South Boston officials look to head off hate groups at St. Paddy's parade
Leaders are meeting with authorities soon to plan out security after neo-Nazis showed up at last year's festivities.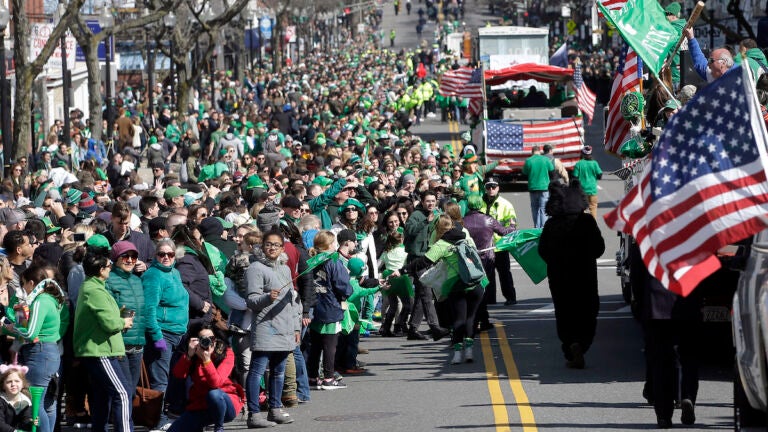 A cohort of South Boston elected officials are planning to meet with authorities ahead of the neighborhood's St. Patrick's Day Parade next week to make certain the festivities are "safe and inclusive" after a neo-Nazi group turned up to spread hate messages at last year's event.
Congressman Stephen Lynch, State Sen. Nick Collins, State Rep. David Biele, Boston City Council President Ed Flynn, and City Councilor At-Large Michael Flaherty wrote to MBTA Police Chief Kenneth Green on Saturday seeking to collaborate on a security plan for the public transit system on the day of the March 19 parade.
"In 2022, MBTA passengers and parade watchers had the unfortunate experiences of enduring the presence of the Nationalist Social Club (NSC-131), a neo-Nazi group with chapters based in the New England region," the letter reads. "We know that this group's members travelled into the capital city on public transit via our MBTA and Commuter Rail system. On Parade Day, they defaced public property on the T and in the city with a hateful propaganda. This along with the excessive transport and consumption of alcohol by underage individuals cannot be tolerated."
The officials also plan to meet with Boston police. The department is also working with Mayor Michelle Wu's office to ensure the parade is a "safe and welcoming event" for all residents and visitors, a city spokesperson told The Boston Globe.
"We want to make sure those who are coming in feel safe, and that those who want to come in and cause trouble [to] know that that won't be tolerated," Collins, the state senator, told WCVB on Saturday.
Transit Police Superintendent Richard Sullivan told the outlet his agency is "committed to ensuring all individuals coming into the St. Patrick's Day Parade via the MBTA feel safe and are free from any form of intimidation and harassment."
Members of NSC-131, identified as a white supremacist group by both the the Counter Extremism Project and the Anti-Defamation League (ADL), unfurled a banner along last year's parade route that read, "Keep Boston Irish."
The display received swift condemnation from local leaders and even from the Dropkick Murphys, the Quincy Celtic-punk rockers, after NSC-131 made a video compilation of their parade attendance using the band's music without authorization.
Hate group activity has been on the rise in the region in recent years.
Massachusetts saw the fourth highest levels of hate propaganda activity in America in 2021, according to a report released last year by the ADL.
According to the letter from South Boston politicians, the St. Patrick's Day Parade can draw over 1 million people to the neighborhood's streets each year.
Newsletter Signup
Stay up to date on all the latest news from Boston.com