Local
Suffolk County Sheriff Steve Tompkins agrees to pay fine for violating personal conflict of interest law for 2nd time
Tompkins created a paid state position for his niece so she could live in Massachusetts and assist him with child care, according to the state's Ethics Commission.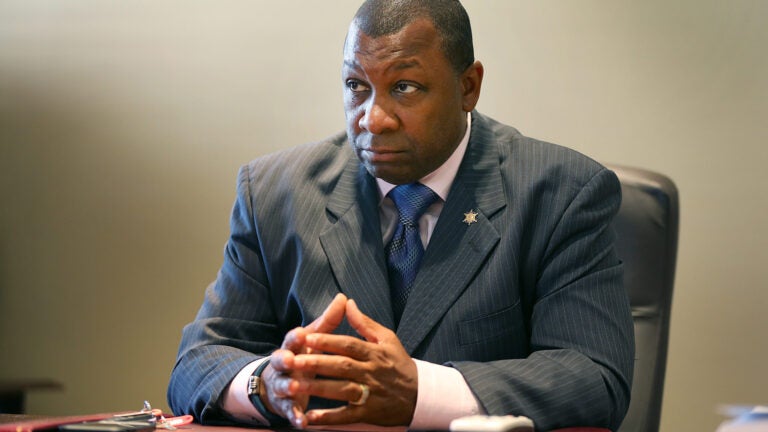 Suffolk County Sheriff Steve Tompkins has been fined for violating the state's personal conflict of interest law for a second time after officials say he created a paid position in the sheriff's department for his niece so that she could live in Massachusetts and help him care for his two children and for repeatedly asking subordinates to do personal errands for him during their paid public work hours.
Tompkins has admitted to the violations and paid a $12,300 civil penalty, according to the Massachusetts Ethics Commission. Previously, Tompkins signed an agreement with the commission in 2015 and paid a $2,500 civil penalty for invoking his position as sheriff when he asked store owners to remove his election opponent's campaign signs.
According to the commission, the latest violations the sheriff was fined for occurred during the timespan of 2014 to 2022. During that period, Tompkins asked employees in the sheriff's department to help him by caring for and transporting his children, as well as other personal errands, during their regular, paid public work hours.
"Tompkins' requests violated the conflict of interest law's prohibition against public employees requesting or receiving anything of substantial value that is not authorized by law and is given to them because of their official position," the commission said. "Tompkins' subordinates assisted him with his personal matters because of his position as Sheriff, their assistance was substantially valuable, and his request and receipt of their assistance was not authorized by law."
In October 2016, after Tompkins's wife passed away, his niece moved into his home to help care for his two children, according to the independent state agency. A month later, he created a position paying $45,000 a year in the sheriff department's external affairs division for his niece, which was not publicly posted and allowed her to stay in the state and help him with his children.
His niece was hired without interviewing with the division's chief or sending in a resume, according to the ethics commission. While working in the position until she resigned in 2018, she regularly left work with Tompkins's approval during regular business hours to provide transportation for his children.
The sheriff's actions financially benefited both himself and his niece, according to the commission, and it also violated the conflict of interest law since it created a situation where a "reasonable person" could conclude that Tompkins's niece and other subordinates who did his personal errands during their state work hours could "improperly influence him or unduly enjoy his favor as Sheriff."
The Suffolk County Sheriff's Department did not immediately respond to a request for comment.
Tompkins joined the Suffolk County Sheriff's Department in 2002 and was appointed to serve as sheriff by former Gov. Deval Patrick in 2013. He was elected in 2014 and re-elected in 2016 and 2022.
Newsletter Signup
Stay up to date on all the latest news from Boston.com