Local
As T inspects ceiling panels, woman who was almost hit by falling tile counts her blessings
The MBTA is inspecting similar ceiling structures systemwide and has removed about 100 panels at Harvard Station, the agency said.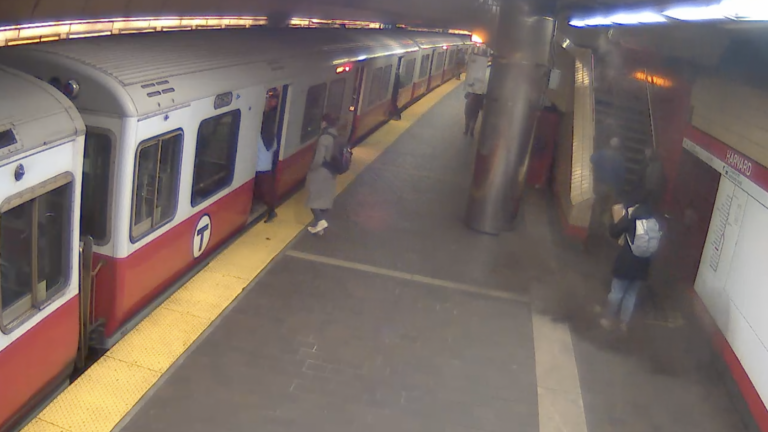 A Suffolk University student said she felt shock and gratitude after a falling ceiling panel narrowly missed her in the MBTA's Harvard Station last week, an incident that left a literal bad taste in her mouth.
The MBTA released video of the incident Friday, showing the panel — which T officials said weighed an estimated 20 to 25 pounds — missing 21-year-old Cianna Navarro by inches.
As the panel comes crashing down, a cloud of black dust can be seen erupting around Navarro's feet, dirtying her white sneakers.
A bystander turned around to ask her if she was OK, and after she opened her mouth to reply, Navarro tasted "a lot of dirt and debris that had fallen from the ceiling panel," she told The Boston Globe.
"At that moment I didn't really know what was going on, or what had fallen. I was kind of just frozen in shock," Navarro told the Globe. "It took me a few minutes of just standing outside to gather myself from what I had just experienced."
Watching the footage, she said she felt the shock all over again.
"As scary as it was, I can acknowledge that it could have been worse," Navarro told the Globe. "At the end of the day, I'm grateful the situation played out how it did because it could have been a lot different."
Watch the video below
Navarro told the newspaper that MBTA officials have not contacted her about what happened.
However, MBTA interim General Manager Jeff Gonneville said during a press conference Friday that the transit agency "take[s] what happened very seriously, as we do with anything that could potentially impact the safety of our riders and our employees."
According to Gonneville, preliminary observations indicated that the panel — which had been in place since about 1978 — fell because it was corroded. He directed T staff to remove panels as necessary and said the MBTA will conduct a systemwide audit of similar structures.
On Tuesday, the agency announced on Twitter that MBTA personnel and a structural engineering consultant inspected ceiling panels at stations between Central Square and Andrew over the weekend. As inspections continue, the T said it has removed about 100 ceiling panels at Harvard "out of an abundance of caution."
Newsletter Signup
Stay up to date on all the latest news from Boston.com