Local
N.H. teacher criticized for feminine attire and social media posts returns from paid leave
A parent was angered by an art teacher's clothing and social media posts made when they were a teenager. A subsequent investigation found the complaints to be 'unsubstantiated.'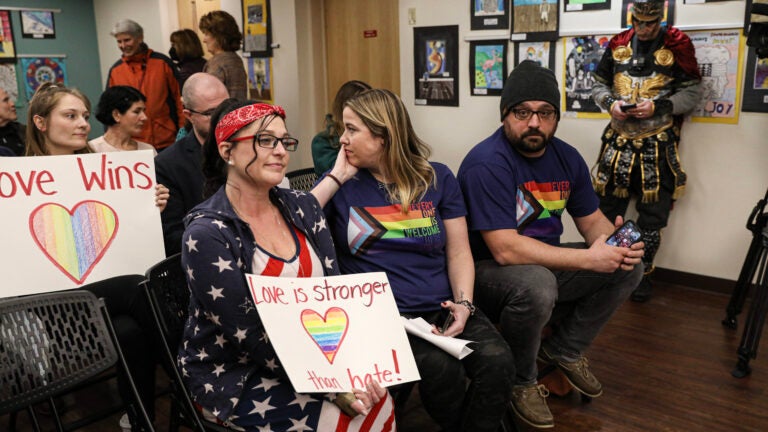 A New Hampshire teacher who was placed on leave after a parent voiced concerns about his clothing and past social media posts has returned to the classroom.
Silas Allard, an art teacher at Christa McAuliffe Elementary school in Concord, was placed on paid administrative leave for about a week. He returned to school this week, after an investigation by Superintendent Kathleen Murphy found the complaints unsubstantiated, The Boston Globe reported.
The complaints regarding Allard were brought to school officials by Michael Guglielmo. When picking up his daughter from school, Guglielmo saw Allard wearing what he deemed to be feminine clothing. Guglielmo complained to school leadership that Allard was "engaging in gender confusion and gender dysphoria," according to the Globe.
Guglielmo also complained to school officials about Twitter posts that Allard made as a teenager in 2016 and 2017. The posts reportedly contained sexually suggestive material and references to marijuana.
Murphy's investigation centered on these posts, and did not include a focus on Allard's attire. Murphy told the Globe that the Concord School Board has not entertained the idea of enforcing a dress code on teachers because it could be discriminatory.
"I appreciated all the letters and emails you sent to my office and after a thorough investigation, I found the social media complaints against Mr. Allard to be unsubstantiated. Mr. Allard's attire has at no time been an issue for the district," Murphy wrote in an email sent to parents Tuesday that was obtained by the Globe.
Guglielmo, who has a history of violent behavior and spent 17 years in prison, is also a prominent advocate for bone marrow donation, according to the Good Men Project.
He is also a member of We the People NH, a group of "concerned and fed up Patriots" who advocate against "government overreach, medical tyranny, corruption in our state, and mandates that threaten our god given rights and freedoms."
Guglielmo detailed the long saga that led to this point from his perspective in a document posted to Facebook.
"I complained to the Principal of the Christa McAuliffe Elementary school about the 260 pound [6′4″] bearded cross dressing art teacher and she replied that some of her students actually identify with him," he wrote.
For months, when Guglielmo picked up his daughter, he was angered by Allard's body language and actions. This included Allard crossing his arms in a confrontational manner, as well as "dancing around like a clown," "sashaying," and singing, according to the document.
Terese Grinnell, a registered nurse and activist who founded We the People NH, told Guglielmo to document the situation, she told the Globe. In early February, Guglielmo took a photo of Allard that was later posted to Facebook by We the People NH. In it, Allard can be seen wearing loose pink pants, open-toed sandals, a light blue sweater vest over a white shirt, and pink sunglasses. Allard appears to be pointing his cell phone camera at Guglielmo.
Allard filed a stalking temporary order of protection against Guglielmo on Feb. 13.
"A father of one of my students has been coming to the school when I am outside and intimidating me, being aggressive, and homophobic," Allard wrote, according to court documents obtained by the Globe. "In the past months he has been showing up wearing clothes with guns and profanity and giving me threatening looks."
Concord police served Guglielmo the order that evening, according to his written account. The next day, he pulled his daughter from Christa McAuliffe Elementary and intends to homeschool her instead, he wrote.
In 1985, Guglielmo was convicted on multiple counts of first-degree attempted assault of police officers after he engaged in a shootout with a SWAT team. Guglielmo, in his early 20s at the time, had broken into the home of a drug dealer that he intended to kill, according to Manchester Ink Link and the Good Men Project.
While in prison, he earned his GED and then a bachelor's in paralegal science through Ohio University, and a master's in political philosophy through California State University. He was accused in 2015 of grabbing a juvenile in a sexual manner at a Concord restaurant, WMUR reported. Those charges were later dismissed, and Guglielmo pleaded guilty to simple assault. In 2019, he was charged with assaulting a woman in his car and aggravated DWI, the Union Leader reported.
At a school board meeting Monday, multiple parents expressed their support for Allard and held signs reading "Love wins." They called for Allard's return to school, and urged school officials to condemn hate speech, transphobia, and homophobia, according to the Globe.
"We're here tonight to share our strong support for this teacher and ask that the district take all steps necessary to ensure that this teacher can immediately return," Gilles Bissonnette, a parent of a first grade student at Christa McAuliffe, reportedly said during the meeting.
Guglielmo was also in attendance, clad in a roman soldier's costume with a camera strapped to his chest.
"I am Caesar, Julius Caesar of Rome," he said at the meeting, the Globe reported. "Yes. I am also a female. Does anybody here believe that? That I am Julius Caesar? Anybody believes that? No, of course not. It's ridiculous. I'm not. I'm not a woman either."
The number of people that spoke in support of Allard at the meeting was far higher than those that spoke against him, the Globe reported. One of the parents who voiced their support of Allard was Madeleine Mineau.
"On any given day, I might wear steel toed boots, Carhartt work pants, a flannel shirt and a baseball hat or a hard hat to work. And the next day I wear a dress and high heels. There's nothing wrong with that. That's who I am and I have the freedom to do that at work. I'm just as much myself in the masculine outfit as the feminine outfit. My kids don't find anything confusing about that," she said. "I think our teachers also deserve the same respect and freedom to be who they are and to feel safe being who they are at work."
Newsletter Signup
Stay up to date on all the latest news from Boston.com