Local
North End restaurant owners claim they faced discrimination for being white Italians, in amended lawsuit over outdoor fees
The argument comes after a judge granted a motion to dismiss the case in October.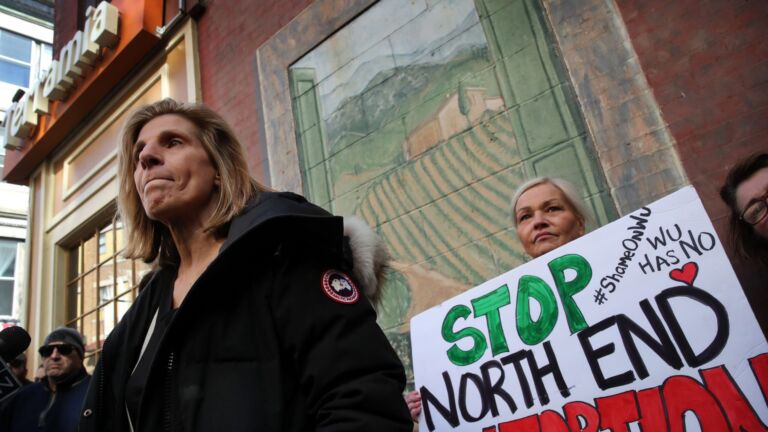 In an amended complaint filed in federal court Tuesday, the owners of five North End restaurants now allege they were discriminated against because they are white and have Italian heritage when Mayor Michelle Wu levied a $7,500 fee for outdoor dining permits for restaurants in only their neighborhood last year.
The cohort of owners include Jorge Mendoza-Iturralde, of Vinoteca di Monica; Carla Gomes, of Terramia Ristorante and Antico Forno; Jason and Kim Silvestri, of Rabia's Dolce Fumo; and Patrick Mendoza, of Monica's Trattoria.
The claim comes after a judge granted the city's motion to dismiss an initial complaint last fall.
The group first filed the lawsuit in May, alleging the fees were unconstitutional, largely because they were imposed only on establishments in their historic neighborhood.
Specifically, the plaintiffs wrote at the time Wu violated their rights to due process of law and equal protection and equal treatment, and that the mayor's actions violated the Commerce Clause of the U.S. Constitution and set up "unfair methods of competition" and/or are "unfair or deceptive practices" in "commerce."
But Wu had previously said the fees were needed to address the unique impacts outdoor dining poses in the North End, where table-lined narrow streets created traffic and parking problems for residents in years past, not to mention trash displacement and rodent issues.
Following backlash, Wu went on to announce flexible parameters for restaurateurs, including fees tailored to operating schedules, the ability to pay the sum in installments, and a hardship waiver process to account for factors restaurants face on a case-by-case basis.
In October, United States District Judge Indira Talwani granted the city's motion to dismiss the case, acknowledging its argument that the owners lacked legal standing.
Any injuries as a result of the fee would be suffered by their restaurants as corporate entities, and therefore, the plaintiffs could not claim their personal and individual constitutional rights were infringed, according to the judge's filing.
Three days later, the owners' attorney, Richard Chambers, Jr., filed a motion for an amended complaint, arguing instead that Wu, the first woman and person of color to be elected mayor, intentionally discriminated against the restaurant owners of the North End because they are white, Italian men.
The claim was filed in court again in a formal amended complaint this week.
"The common identity of a North End restauranteur is white. Male and of Italian heritage [sic]," the latest complaint states. "The Plaintiffs had a right to be treated the same as other restaurants in the City who were granted outdoor dining and not singled out to pay fees … to have outdoor dining because of their sex or national origin/ethnicity as appears in this case."
Plaintiffs cite Wu comments from holiday breakfast, city campaigns
As reason to believe the owners faced discrimination, Chambers cited Wu's comments at last year's St. Patrick's Day breakfast in South Boston, where the mayor quipped during a bit about snowstorms, "I'm getting used to dealing with problems that are expensive, disruptive, and white."
The annual breakfast is largely known as an event where local politicians take shots at one another and the latest headlines, in jest.
At the time, Wu had weathered her first major snowstorm in office and was receiving some blowback on her mandate for all city employees to be vaccinated against COVID-19, including from the local firefighters union.
At the holiday breakfast, Wu laughed she had made it through both "trial by snow, trial by fire … fighters union."
"I'm getting used to dealing with problems that are expensive, disruptive, and white," she said. "I'm talking about snowflakes, snowflakes, snowstorms … snowflakes."
That same month, Chambers also filed a lawsuit challenging the city's vaccine mandate for indoor spaces last March, seeking $6 million in damages for each of 16 people. The mandate was lifted, however, as COVID cases and hospitalizations dropped.
In the latest court filing, Chambers contends the North End and "white faced male or Italian Americans" were not represented in materials for "All Inclusive Boston," a campaign promoting the city's diversity and inclusivity, as Boston worked to attract its tourism industry back amid the pandemic.
Chambers points to a specific promotional video that "displays many people in various settings, though none being white male — outside a three second take on Red Sox players — or Italian American."
The lawsuit alleges Wu violated the owners' due process and equal protection and treatment rights as well as the commerce clause. The plaintiffs are seeking compensatory damages of $500,000 and punitive damages of $1 million.
A spokesman for Wu's office declined to comment about the amended complaint on Wednesday morning, but Wu was later asked about the lawsuit by a reporter following the City Council meeting that afternoon.
The mayor defended decisions made around outdoor dining in the North End and added she "won't back down from standing up for the people who live in our neighborhoods and putting our city's resources into ensuring that opportunity extends to everyone of every background, every community, every generation."
Wu's full response:
I won't comment on ongoing litigation that the city is involved in, but I will say that we stand fully behind decisions that are to ensure residents can live in their neighborhoods with the full range of ease of access and safety and opportunity.

Our small businesses, our restaurant community, is a key part of what makes Boston so special, and what makes people want to come visit our neighborhoods. We need to make sure, first and foremost, that Boston and every neighborhood is a place for the people who live there, and some of the conditions that we anticipate this summer — from what we have seen over the last few summers — make it so that we can't stand behind a proposal to take up the entire street this year. We are working with a committee of all different stakeholders and neighborhood residents and those who are invested in the neighborhood to think about what could be a solution for years ahead. But we'll continue to try to open up the streets wherever we can with activity and open-streets events and think about street redesign that can make sure we continue drawing people to every neighborhood.

But I won't back down from standing up for the people who live in our neighborhoods and putting our city's resources into ensuring that opportunity extends to everyone of every background, every community, every generation.

I heard there was some criticism included in that lawsuit about our efforts to support MWBEs, minority and women business enterprises. This is the wealth of the city that should go to every single one of our communities represented in our population, and it serves everyone when the dollars that we spend as a city directly create wealth in our communities and in our neighborhoods.
In its motion to dismiss the case last year, the city stood by the fees as a rational policy that addressed a neighborhood issue.
"It is reasonably conceivable that the collective impacts of temporary license expansion in the North End poses a significant quality of life burden in the form of aggregate noise, trash, traffic, difficulty of pedestrians navigating sidewalks, and parking loss that is different in magnitude and kind than experienced in other neighborhoods," the filing states. "In light of such a 'reasonably conceivable state of facts,' the City could have rationally chosen to regulate restaurants seeking to expand into the public right of way in the North End differently than it regulated restaurants in other areas that did not pose the same collective impacts on quality of life."
Last month, Wu announced the city will refine its approach to outdoor dining in the North End this year. Tables will be be prohibited from being placed in the street, and instead will be limited to patios and sidewalks with "adequate" width.
Newsletter Signup
Stay up to date on all the latest news from Boston.com