Local
Duxbury lights up the night sky to remember Laney Ladd, Clancy children
The "4 Angels Memorial," which went up last week, features four searchlights to represent the children whose lights were gone too soon.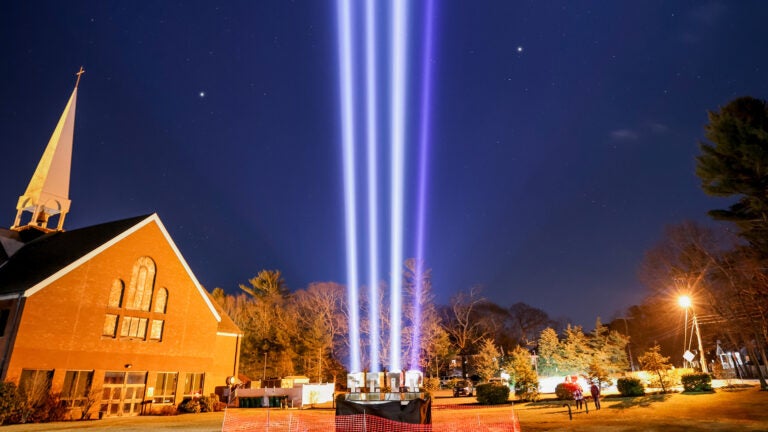 Hundreds poured into Duxbury's Holy Family Church for a candlelit vigil in late January, joining together in mourning and prayer for the Clancy family, whose three children were killed days earlier, allegedly by their own mother.
The violent tragedy sent shockwaves through Duxbury, rattling a community that was still reeling from another child's unexpected death a month prior.
"That was a rough evening," longtime resident Doug Handfield said of the vigil. "It was still pretty raw for everybody, and … it was nice to see everyone there just to support everybody."
There, the father of four heard a quote that took hold in his mind: "For there is always light, if only we're brave enough to see it. If only we're brave enough to be it," from poet Amanda Gorman's "The Hill We Climb."
The next day, Handfield sketched out a blueprint for a temporary memorial honoring the Clancy children — 5-year-old Cora, 3-year-old Dawson, and 8-month-old Callan — and 6-year-old Laney Ladd, who died Dec. 19 following a sudden illness.
The "4 Angels Memorial" went on display outside Holy Family last week, featuring four searchlights to represent the children whose lights were gone too soon.
The tragedies "affected a lot of people in the town," Handfield told Boston.com in an interview. "The town needed something positive. … I just thought it would be just a nice thing to honor all the kids."
He sought permission from the church, town officials, and the children's parents, Pat Clancy and Jeff and Erin Ladd. Handfield is also soliciting donations through a GoFundMe campaign to cover the rental and electricity costs for the memorial, which will remain in place through the end of March.
There are three white lights for the Clancy children, and purple for Ladd — her favorite color. On the first night, Pat Clancy's parents joined the Ladds in turning on the lights, illuminating the night sky in the children's memories.
"It was a tough night, but I'm glad they came," Handfield recalled.
He and Tim Heinstadt, who provides maintenance for the church, have been taking turns turning off the lights each night. So far, Handfield said the community's reaction has been positive.
"I think everyone's taking what they want out of it, but it's interesting," he said. "You go there, and even at 10 o'clock at night, I'll go some nights and people are just sitting in their cars watching it."
A woman approached him one night and explained that her daughter was best friends with Laney, Handfield recalled. She told him her daughter prayed at the memorial and said at bedtime later that night, "Those lights healed me."
"I just hope it helps a lot of people in town in different ways," Handfield said.
Newsletter Signup
Stay up to date on all the latest news from Boston.com