Local
These Roslindale homeowners go all out on St. Patrick's Day decorations
The family's over-the-top St. Patrick's Day decorations include an inflatable dinosaur decked out in a shamrock hat and holding a mug of beer.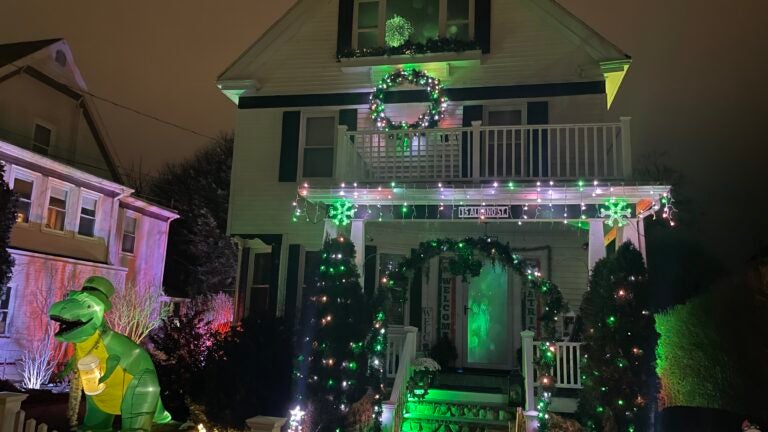 If St. Patrick's Day in Boston had an anthem, there's a good chance it would sound an awful lot like a Dropkick Murphys song.
So when Chris and Daisy Hugenberger decked out their Roslindale home with St. Paddy's decorations and needed a soundtrack for the accompanying light show, "I'm Shipping Up to Boston" was an obvious choice.
With the holiday fast approaching, the couple's home now lights up their neighborhood in shades of green.
Watch the Hugenbergers' St. Patrick's Day decorations in action:
Growing up in Wayland, Chris Hugenberger's family would go all out on Halloween decorations. When he and his wife bought their home eight years ago, they decided to keep up the tradition. It started with Halloween, then grew to include Christmas.
"I think maybe the first year or two, that was it," Chris Hugenberger told Boston.com in a recent interview. "And then it was kind of like, 'Well, maybe we can do something into, like, January?' And then it's like, 'Well, what about Valentine's Day and St. Patrick's Day?'"
He added: "We kind of keep stretching it out a little more every year."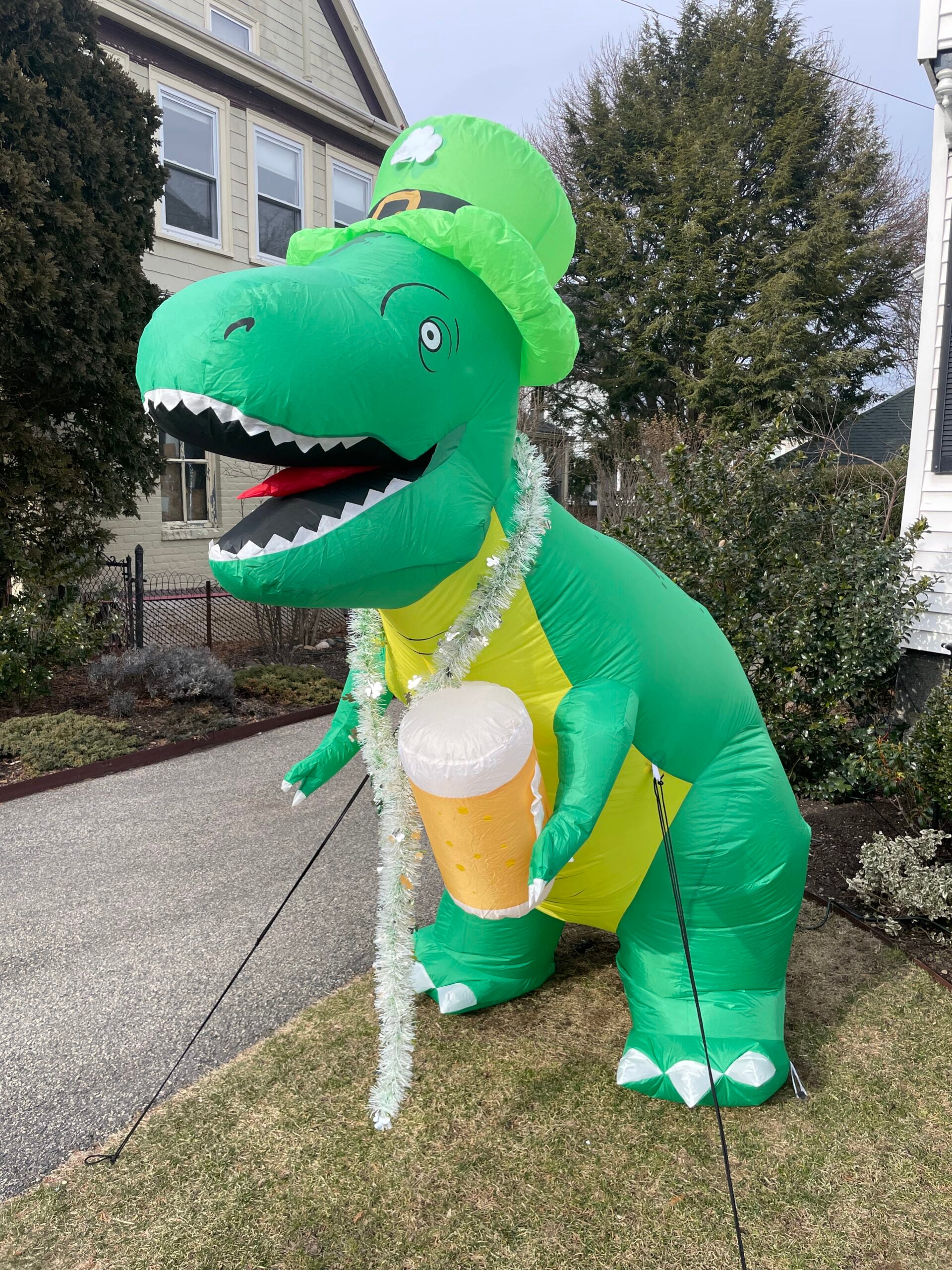 Over the years, their burgeoning collection of holiday decorations has grown to include a 12-foot skeleton, animatronics, fog machines, countless lights, and three inflatable dinosaurs — one for Christmas, one for Easter, and one for St. Patrick's Day, complete with a shamrock hat and a mug of beer.
They've put up St. Patrick's Day decorations for a couple of years now, but this is the first year they added music to the equation, Hugenberger said. Programming the lights to music can take anywhere between 20 to 40 hours, depending on the song's length and how elaborate the show is, he said.
This year's decorations will likely stay up for a couple of days after St. Patrick's Day, according to Hugenberger.
He said part of the fun of decorating is getting outside — Chris and Daisy both work from home — but there's also an element of neighborly bonding, especially during the early days of the pandemic.
"We see the neighbors and kids that will come by every day to kind of see our progress, because some of the decorations, especially Halloween, for instance, could take a whole month [to put together]," Hugenberger said.
This past year, the couple started using the added foot traffic to help their community by displaying a sign with a QR code to donate to their local food pantry.
"It's just trying to be kind of in that festive mood, whatever the holiday," Hugenberger said of his family's tradition. "It just gives people a distraction from all the craziness, especially during the whole pandemic. … It's just kind of a community thing."
The couple's 3-year-old is also beginning to get in on the action, and Hugenberger said he hopes his son will embrace the holiday cheer that has put their Roslindale home on the map.
"I'm hoping he'll get hooked to it just like I was with my dad, back in the day," he said.
Newsletter Signup
Stay up to date on all the latest news from Boston.com