Local
Boston fires police sergeant, officer who pushed back on Mayor Wu's vaccine requirement
Boston police Commissioner Michael Cox confirmed the terminations, citing misconduct and department violations.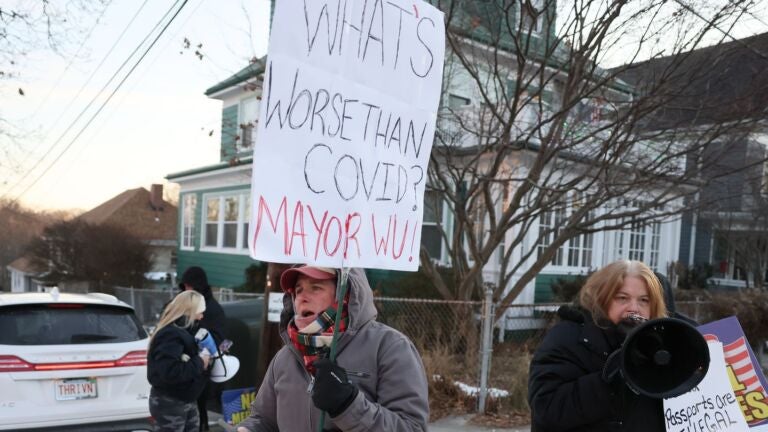 The Boston Police Department has fired Sgt. Shana Cottone and officer Joseph Abasciano, both of whom fought against Boston's COVID-19 vaccine mandate for city employees.
Cottone spearheaded pushback on the 2021 vaccine mandate and was among a vocal group of protesters who gathered outside City Hall and Mayor Michelle Wu's Roslindale home. A Massachusetts Appeals Court judge ultimately put the policy on hold indefinitely before enforcement could begin.
Boston First Responders United, an anti-COVID vaccine mandate group that Cottone leads, put out a statement on Twitter Monday night announcing the firings.
"The cases against both officers are both politically motivated and retaliation for speaking out in support of personal choice and freedom of speech," the group wrote, claiming that the firings came at Wu's direction.
"Boston deserves police officers who will speak out against injustice no matter the source, who will not blindly hold the thin blue line, but will speak truth to power, no matter what," the statement reads. "Boston also deserve[s] a Mayor who will support those very types of officers, not fire them."
Speaking on GBH Tuesday, Wu denied involvement in the decision to fire the officers.
"I support Commissioner [Michael] Cox's decision to move forward with termination for these officers," she said. "Each has a separate set of actions and misconduct that was detailed, investigated, thorough due diligence conducted, and decided through the internal affairs department that there were multiple violations of departmental rules that should lead to termination."
Boston.com has reached out to the Boston Police Patrolman's Association and the Boston Police Superior Officers Federation for comment.
What BPD said about the officers' firings
Cottone's time on the force was marked by a complicated mix of heroic moments and disciplinary action, The Boston Globe reported.
Cottone helped save an injured woman during the 2013 Boston Marathon bombings and drove toward a burning building in 2015 to help evacuate residents after spotting smoke while off-duty. She also had multiple internal affairs complaints sustained against her previously, one of them involving a drunken altercation, the Globe reported.
In a statement confirming Cottone's firing, Cox cited multiple violations of department rules and procedures. He said there were six separate internal affairs investigations, with charges including misconduct, neglect of duty, and violations regarding directives and orders, respectful treatment, statement of opinions, and conformance to laws.
"Cottone's conduct in these cases reflects a pattern and inability to adhere to the rules and procedures of this Department," Cox said in the statement. "These violations along with Cottone's disciplinary history render her unsuitable to continue her employment with the Boston Police Department and thus her employment has been terminated."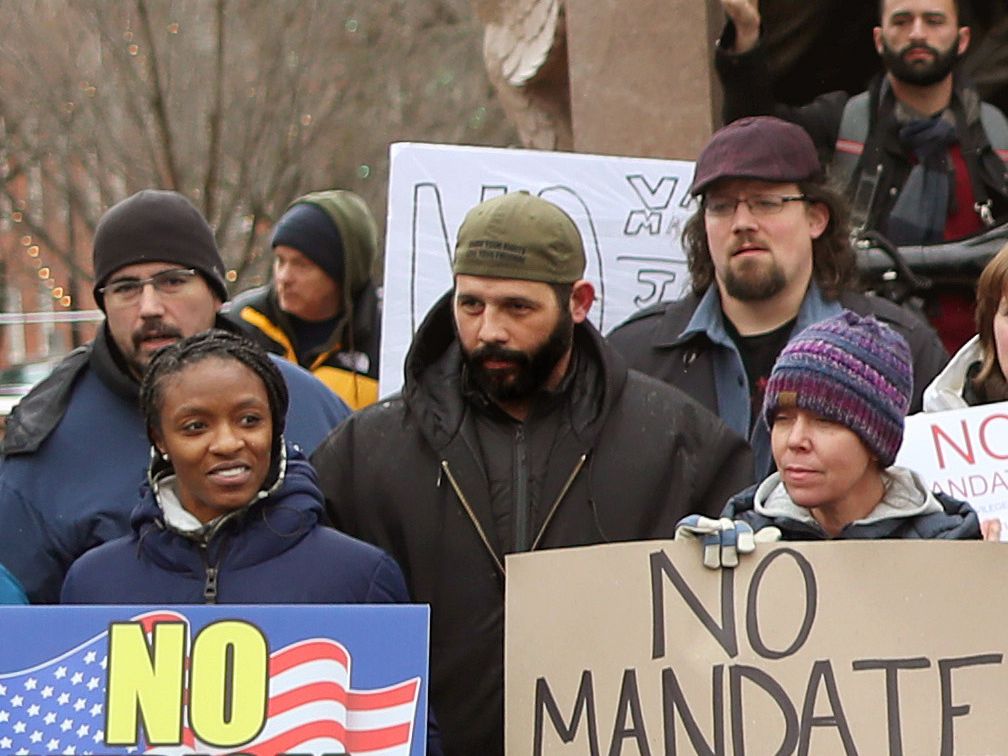 Abasciano, a retired Marine who served in Iraq, was photographed at an anti-vaccine rally at the Massachusetts State House in January 2022. However, Cox said in a separate statement that Abasciano's employment was terminated due to conduct and ethics violations.
"While in the Department's employ, Aba[s]ciano authored a series of social media posts that called into question his ability to provide police services in an unbiased and objective manner," Cox wrote. "Abasciano's conduct impairs the operation of this Department and its employees by diminishing the Departments' reputation and trust within the community."
The police department was investigating Abasciano — known for his affiliation with Back the Blue events across Massachusetts — for his presence at the Jan. 6, 2021 insurrection in Washington and for attacking former vice president Mike Pence on Twitter, the Globe reported.
Speaking on the politically conservative WRKO radio show "The Kuhner Report" Tuesday morning, Abasciano claimed he was fired over a tweet in which he used the word "patriots" to describe some of the Jan. 6 protesters. He called the police department's investigation a "witch hunt."
"At a micro level, my case is about political targeting … retaliation, and discrimination, but at a macro level, this is about the Constitution and free speech," he said.
Earlier in the show, Cottone alleged that the city had waged a "campaign of censorship."
She said she plans to sue the police department, the city, and "Mayor Wu personally."
"This is just the beginning," Cottone said. "It's on."
Staff writer Christopher Gavin contributed to this report.
Newsletter Signup
Stay up to date on all the latest news from Boston.com