Local News
New England sees nearly 100% increase in white supremacist propaganda
New England saw surges in propaganda against Black, Muslim, immigrant, Jewish, and LGBTQ communities.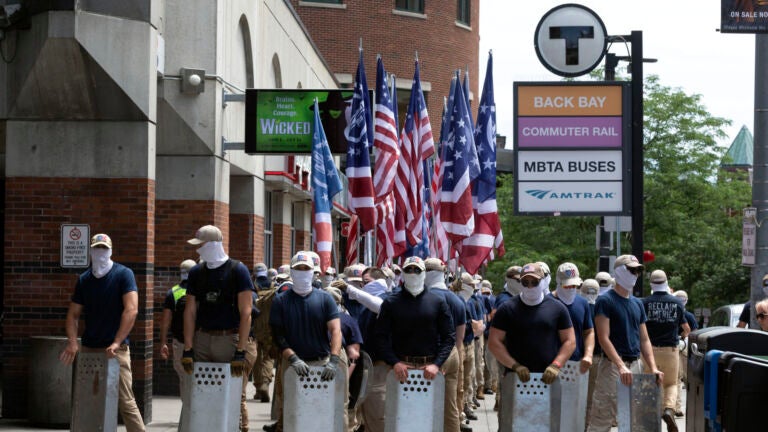 Last March, members of the National Socialist Club (NSC-131) donned black masks marked with neo-Nazi insignia during Boston's St. Patrick's Day parade. The 20-or-so people held up a sign that read "Keep Boston Irish."
The demonstration, which officials are actively preparing for ahead of the city's 2023 parade, was one of a historically-high number of white supremacist incidents in New England throughout last year. In 2022, Massachusetts, New Hampshire, Rhode Island, Vermont, and Maine saw a collective 96% increase in white supremacist propaganda, according to a new Anti-Defamation League review. The ADL characterizes white supremacist propaganda as marches, speeches, fliering, and events with antisemitic, racist, anti-immigrant, and anti-LGBTQ+ sentiments.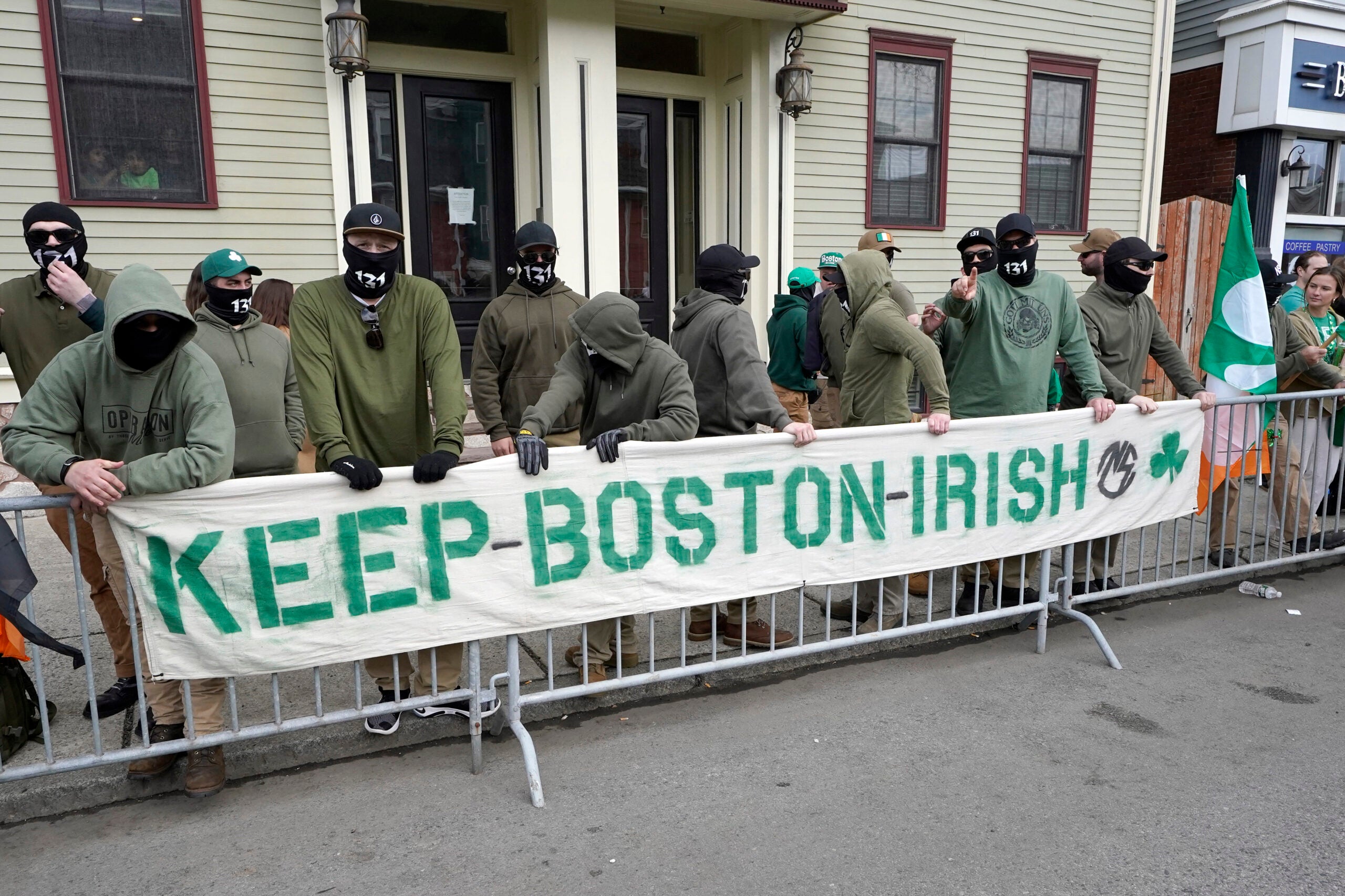 Statewide increases in white supremacist incidents
New Hampshire, with a population of about 1.4 million, saw a nearly 400% increase in hateful messaging, a total of 183 incidents. And Massachusetts, with a population of about 7 million, had the greatest number of incidents in New England, more than 450, up 72% from the previous year. The number of incidents in Massachusetts was second only to Texas. The U.S. saw a 38% increase across the country, a still-unsettling mark though considerably lower than the statewide increases in New England — a region with a long history of white supremacy.
Massachusetts – 465 incidents, up 72%.
New Hampshire – 183 incidents, up 383%.
Rhode Island – 142 incidents, up 74%
Vermont – 131 incidents, up 64%.
Maine – 30 incidents, up 50%.
White supremacist groups like NSC-131, the Goyim Defense League, and the Texas-based Patriot Front were responsible for the majority of the region's hateful speech and demonstrations, with Patriot Front inciting 909 out of New England's 951 incidents.
Whether it be through anti-immigrant protests, threats and marches, or entering and intimidating majority non-white neighborhoods, white supremacist groups who "maintain that their ancestors conquered America and bequeathed it to them alone," left a concerning mark across New England and the U.S at large.
Three quarters of Black Americans, in response to a 2022 poll, felt that white supremacist beliefs were a major threat to Black people in America in July and two-thirds thought it had become a bigger problem in the U.S. in the last five years. Additionally, 62% of Muslims in the United States reported feeling religion-based hostility in 2022.
"This is an issue that needs to be taken very seriously, and it does require a specific safety plan of action," Tanisha Sullivan, president of the NAACP's Boston branch said in July after a white supremacist rally in Boston. "This is not going to go away because we say that this type of ideology isn't welcome."
While communities across the region have been left battered and scarred by these surges, many are left pondering one question: Why?
"While it could be that more incidents are reported in the region, there are also other factors at play," Peggy Shukur, ADL New England Interim Regional Director, said in an email to Boston.com.
"NSC-131 and Patriot Front had concentrated activities in New England. In addition, recruitment efforts are also focused on campuses and New England is home to many colleges and universities. Finally, it appears that some groups select Boston for its symbolic value as where the revolution started and as a cradle of liberty. These groups traffic in stunts and photo ops, which may also contribute to the activity."
While these groups visibly use their propaganda to target specific groups, Shukur pointed out, they also use it as a means to recruit prospective members. Shukur added that media coverage of the groups often amplifies their message while limiting risk and backlash to members.
Antisemitism: "The vacation from history is coming to an end."
The ADL report also showed that national antisemitic propaganda more than doubled from 352 incidents in 2021 to 852 in 2022, part of a broader upswing in national antisemitism. And a recent American Jewish Committee (AJC) survey found that one in six Jewish people in the Northeast were targets of antisemitism from late 2021 to late 2022, with nearly 50% feeling more unsafe than a year ago.
Synagogues once open to the general public now require fobs to enter and prayer sessions are overseen by armed guards, Robert Leikind Regional Director AJC New England told Boston.com. Conspiracies theorizing that Jewish bankers started California's wildfires from Georgia Rep. Marjory Taylor Greene or that Jews want to get rid of white people, along with rejections of pluralism and the democratic free-flowing of ideas, Leikind says, have created a ubiquitous sense of vulnerability in the community.
"As that happens, the possibility of anti-Jewish attacks on Jewish people, attacks on Jewish communities, antisemitic speech, all of that becomes more and more part of the environment in which people are living in," Leikind said. "And part of Jewish history is a recognition that Jews can be accepted in a community and then very suddenly that can change. And that is the historic pattern. And so when people see that there's a sense that the world has become less safe, we assume the worst."
This repetition of antisemitism is familiar to Jews, Leikind pointed out. Seen continually as scapegoats from the spread of Christianity in 70 C.E. to centuries later during World War II, the periods of time where Jews lived without fear can be argued as historical exceptions, rather than the norm, Leikind said.
"What you will hear commonly said within the Jewish world is that the 'vacation from history is coming to an end.' That there is a return to the kind of antisemitism that brings no shame that existed before World War II here in the United States."
Anti-LGBTQ hate speech: A two-front war
As the Jewish community experiences a resurgence of historical prejudice, New England's LGBTQ+ community faces a similar battle. LGBTQ+ communities have been subject to legions of hateful propaganda, and even in the seemingly-progressive New England, homophobic legislation woven together with white supremacist propaganda has created a hostile environment for queer individuals.
"We're in a state of crisis that continues to escalate," Janson Wu, Executive Director of GLBTQ Legal Advocates & Defenders (GLAD) told Boston.com. "It's deeply concerning, particularly to families of young LGBTQ youth and kids who are being targeted by elected officials, targeted by neo-Nazi groups, targeted by conservative media."
In 2022, record numbers of anti-LGBTQ+ legislation were introduced in state legislatures throughout the country, and though almost none were passed in New England, Wu says the discussion and debate surrounding these policies has emboldened groups to take action against LGBTQ+ communities in the region.
Last year in Massachusetts, white supremacist groups protested libraries hosting drag queen storytelling events in Seaport and Jamaica Plain, and protests in Taunton and Fall River this year have created unsafe environments for LGBTQ expression at certain events. Neo-Nazi groups also held protests and marches last year in Lewiston and Portsmouth.
"It's actually more progressive, affirming areas that become natural targets for white supremacist activities," Wu said. "If a white supremacist group wants to protest a pride event, they know where to go. They'll go to Boston, they'll go to the nearest city that is hosting a protest. So it actually is a reason for us to be even more vigilant because we are a target.
Additionally, Wu says online bullying and physical literature distribution, two forms of propaganda often prompted by introduced legislation, have worsened an already devastating problem for the community's youth.
"A lot of [hate speech appears] online, but there's also pamphlets and leaflets that are increasingly being circulated in our public squares," Wu said. "There are signs and banners that are being posted in targeted places to make it clear that LGBTQ people are not welcome. And then of course, on the most extreme ends, we're seeing protests and disruptions at public libraries, where parents have brought their kids to listen to a story hosted by a drag queen. And so no place is insulated from this rise in white supremacist activities."
And for neo-Nazi and white supremacist groups, these activities are showing significant results. A national poll conducted between Oct. 23, 2022, and Nov. 2, 2022, by the Trevor Project, an organization focused on mental health and suicide prevention efforts for queer youth, found that 75% of LGBTQ youth, 82% of trans and nonbinary youth, reported "threats of violence against LGBTQ spaces." And 2021 numbers from New England specifically, while still haunting, are unsurprising.
Trevor Project 2022 Statewide Survey on LGBTQ Youth Mental Health
Massachusetts – 41% seriously considered suicide, 51% reported symptoms of depression
New Hampshire – 39% seriously considered suicide, 55% reported symptoms of depression
Rhode Island – 42% seriously considered suicide, 53% reported symptoms of depression
Vermont – 34% seriously considered suicide, 50% reported symptoms of depression
Maine – 43% seriously considered suicide, 58% reported symptoms of depression
"It is our community that will give us strength of resilience."
But the increased propaganda has also revealed a united front in New England, a widespread rejection of hate from communities across the region.
"In the face of ever-increasing propaganda activities in the region, we have witnessed communities uniting throughout New England to reject this hate. We also welcome efforts to hold these groups accountable for the harm they inflict on those targeted," Shukur said.
Both state and city lawmakers have taken several legislative measures against hate propaganda and white supremacist groups, community members have organized counter-protests, and targeted communities have shown prideful resilience through the hateful surges.
"We cannot allow our opponents to use fear to keep us apart," Wu said, paraphrasing drag queen Patty Bourrée, "It is our community that will give us strength of resilience. And no matter what, that's something that extremists can't take away."
Newsletter Signup
Stay up to date on all the latest news from Boston.com