Local
Everett superintendent sues mayor and School Committee, alleging sexism and racism
"Despite the seismic shift of its population, the discriminatory and retaliatory spirit of Everett is alive and well. But not for long."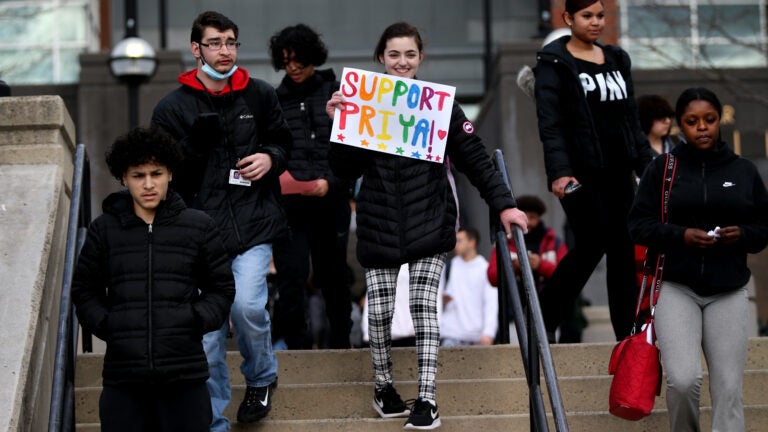 On Tuesday, Everett Public Schools Superintendent Priya Tahiliani and Deputy Superintendent Kim Tsai filed a lawsuit against Mayor Carlo DeMaria, the School Committee, and the city of Everett alleging numerous instances of racism, sexism, and retaliatory actions.
The lawsuit comes just two weeks after the Everett School Committee voted not to renew Tahiliani's contract. About a week ago, students walked out of class to show their support of Tahiliani and protest the School Committee's decision.
"Both Tahiliani and Tsai have been subjected to blatant and overt acts of discrimination and retaliation at the hands of Mayor DeMaria and his cronies. And it is ultimately Everett's school children who are forced to suffer. That's why the school children and their parents have taken to the streets to protest," the plaintiffs wrote in their complaint.
Tahiliani and Tsai, both women of color, accused DeMaria and the School Committee of discrimination because of their race, their gender, Tahiliani's decision to hire non-white administrators, and because Tahiliani and Tsai chose to participate in a Department of Justice inquiry into Everett's discriminatory practices.
The Everett superintendent has already filed discrimination complaints against Mayor DeMaria and other officials. The plaintiffs said that, in response, DeMaria ordered the installation of secret surveillance cameras in Tahiliani's office. The FBI removed those cameras and is currently investigating the "unlawful wiretapping activity," according to the complaint.
Tahiliani is Everett's first superintendent of color. She took over as the head of the city's schools in March 2020. Before her, Frederick Foresteire served as superintendent for almost 30 years. He was accused of assaulting women who worked for him multiple times, and pleaded guilty to two counts of indecent assault and battery last month.
DeMaria had relatively little involvement with the School Committee while Foresteire was in charge, but this changed soon after Tahiliani and Tsai were appointed, according to the complaint. Until that point, 100% of the school district's leadership team was white. That number decreased to 80% during Tahiliani's administration. Two new positions, Family Engagement Manager and the Chief Equity Officer, were created and filled with non-white candidates.
DeMaria, who has been in office since 2007, never tried to become a voting member of the School Committee until Tahiliani became superintendent, according to the complaint. DeMaria broke the law to make himself a School Committee member, the plaintiffs claimed.
"Tahiliani and Tsai were subjected to demeaning and racist comments, abusive and disparate treatment, and unjustified and highly subjective discriminatory and retaliatory attacks. Their main offense? Being women of color who refused to maintain a 'Whites only' hiring policy for district level jobs," the plaintiffs wrote.
During DeMaria's reelection campaign in 2021, he told School Committee members and district employees that they needed to "get [Tahiliani] out," according to the complaint.
The plaintiffs also accused DeMaria of providing significantly less funding to Everett schools during Tahiliani's administration than previously. Before Tahiliani's appointment, DeMaria consistently approved between $550,000 and $5.5 million to the school department over the minimum required by law. Since Tahiliani's first year as superintendent, DeMaria has not approved "one cent" over the minimum required by law, according to the complaint.
"DeMaria also refused to appropriate the school's Medicaid funds directly back to the schools during Tahiliani's Superintendency, despite numerous requests for those funds," the plaintiffs wrote. "This was never the case during her White predecessor's tenure. DeMaria cared not that his racist conduct hurt the students."
One School Committee Member, Michael McLaughlin, is also named in the complaint. Tahiliani and Tsai allege that he used public records laws to obtain interview notes for the hiring processes of multiple non-white people, but not for the white hires.
"McLaughlin's higher level of scrutiny on minority staff hires is demonstrative of his racial animus towards minorities," the plaintiffs wrote.
Tahiliani and Tsai noted in their complaint that 83.5% of Everett students are not white, 33% of Everett students are English Learners, and 67.7% of student families speak a first language other than English.
"They're not 'Everett enough.' That's what DeMaria and his cronies claim about Tahiliani and Tsai. That's code for 'they're not white like us.' Despite the seismic shift of its population, the discriminatory and retaliatory spirit of Everett is alive and well. But not for long," the complaint reads "Now, DeMaria and his crew will have to answer for their actions. Not from their hiding spot inside City Hall, but before a jury. Even if it's their last official act and costs them everything, Tahiliani and Tsai seek to ensure that Mayor DeMaria and his racist agenda must not come before equity and education in Everett."
Newsletter Signup
Stay up to date on all the latest news from Boston.com