Local
Antisemitic incidents rose in Mass. and around New England in 2022, report says
The Bay State saw a 41 percent increase over incidents recorded in 2021.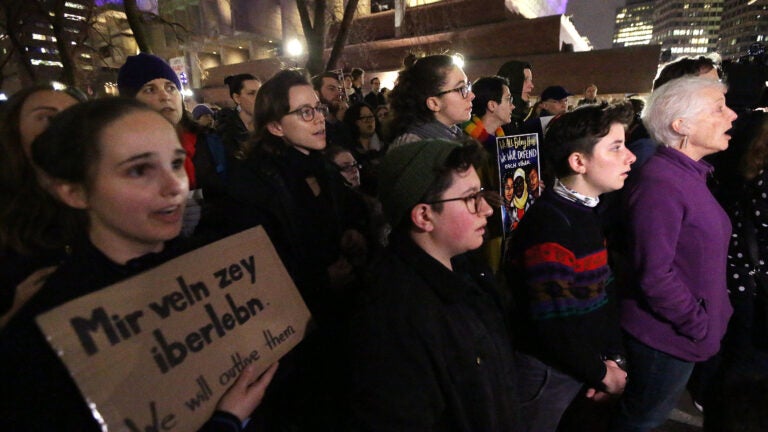 The number of antisemitic incidents in Massachusetts last year rose at a higher rate than incidents nationally, while the total number of incidents recorded in the Bay State, New Hampshire, Rhode Island, Maine, and Vermont hit a new regional high, a new report from the Anti-Defamation League says.
There were 152 recorded incidents across the commonwealth in 71 different cities and towns in 2022, up from 108 incidents in 2021 — a 41 percent increase, according to the ADL, which published the findings of its annual audit of antisemitic assaults, harassment, and vandalism on Thursday.
"Incidents of harassment increased by 38 percent (66 incidents in 2022, compared to 48 in 2021)," the ADL said. "Massachusetts also recorded four assaults, double the number recorded in 2021."
The Bay State saw the sixth-highest number of incidents among the 50 states, following New York (580), California (518), New Jersey (408), Florida (269), and Texas (211).  
The organization reported a total of 204 incidents in its New England region, covering Maine, Massachusetts, New Hampshire, Rhode Island, and Vermont last year — a 32 percent increase over 2021's total. Each state, except for Vermont, reported a year-over-year increase.
Nationally, the ADL reported 3,697 incidents, its highest total since it began collecting data in 1979.
"The continuing increase in antisemitic incidents in the region and across the country should dispel, once and for all, the myth that antisemitism is a problem of the past," Peggy Shukur, ADL New England interim regional director, said in a statement. "Behind every one of these numbers are people who have experienced the harm, fear, intimidation and pain that reverberates from each of these incidents."
The ADL recorded incidents at Jewish institutions and schools, non-Jewish schools, college campuses, public areas, private businesses, and retail establishments in the region.
"The number of New England incidents taking place in private homes in 2022 doubled [from 10 to 20], shattering the sense of safety and security expected at one's home," the ADL said. "These incidents include multiple swastikas at a home in Stoneham, MA and the etching of an antisemitic slur on a car at a home in Stow, MA. Swastikas and antisemitic slurs also marred the residence halls and other living spaces at Curry College in Milton, MA in 2022."
The audit comes on the heels of another ADL review released last week, which found white supremacist propaganda increased by 96 percent among the four New England states in 2022 over the previous year. The propaganda includes marches, speeches, fliering, and events with antisemitic, racist, anti-immigrant, and anti-LGBTQ+ sentiments.
Read the full findings from the ADL audit.
Newsletter Signup
Stay up to date on all the latest news from Boston.com