Local
Here's what the internal affairs report says about the police officer fired after protesting Wu's vaccine mandates
Former Boston police Sgt. Shana Cottone is accused of failing to assign a security detail to the mayor's home, among other allegations.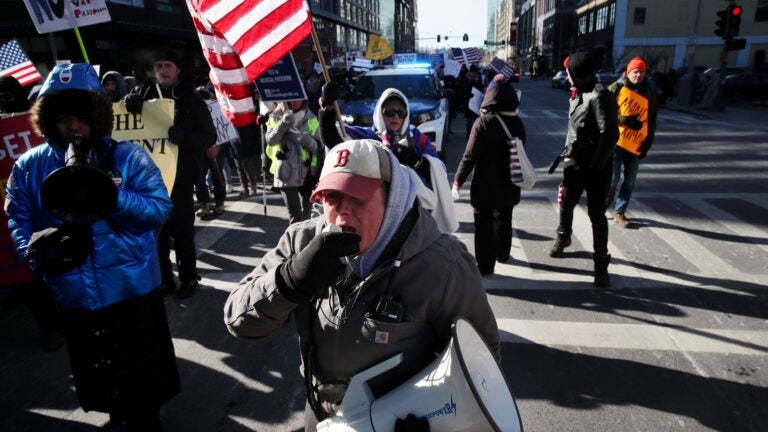 Former Boston police Sgt. Shana Cottone let her personal stance against Mayor Michelle Wu's COVID-19 vaccine mandates bleed over into her professional duties on several occasions in late 2021 and early 2022, according to an internal affairs report obtained by The Boston Globe.
Among the allegations outlined in the report: That Cottone, who was fired last week, failed to assign the mayor a protection detail, loudly protested in front of Wu's home, and once even followed Wu in her car.
Cottone joined the department in 2008 and was placed on administrative leave Jan. 8, 2022, according to the report. She spearheaded pushback on the 2021 vaccine mandate for city employees, though a court battle put the policy on ice before enforcement could even begin. The Wu administration ultimately announced last week that it was dropping the mandate for two major first responders unions.
Most of the allegations included in the Boston Police Department's report stem from Cottone's opposition to the mandate, and Cottone — during an appearance on the politically conservative WRKO radio show "The Kuhner Report" earlier this month — accused the city of waging a "campaign of censorship."
Cottone's attorney has said that she will appeal her termination through arbitration, according to the Globe.
The 38-page internal affairs report also describes incidents where Cottone was accused of disobeying an order not to record Wu's visit with officers in another district and of refusing to leave two pizza shops, in violation of the city's COVID-19 mandates.
"I find Sergeant Cottone's behavior throughout all these cases hindered the Department's continued efforts to build a trusting relationship with all members of [the] community at a time when policing is under increasingly intense scrutiny," Deputy Superintendent Richard J. Dahill wrote in the report.
'Rats get bats'
According to the report, when others in the department asked Cottone why she didn't assign officers to protect Wu's Roslindale home on Dec. 21, 2021, the former sergeant replied, "Oh what are we going to put a cop up [at the mayor's house] who's unvaccinated who [Mayor Wu] is going to fire next week, that's [expletive] rich."
Seemingly referencing the person who told department leaders about the lack of the assigned detail, the report notes that Cottone later asked a police captain, "who is the rat," and added, "rats get bats."
The report goes on to state that despite Cottone's alleged actions, there was no lapse in security coverage at the mayor's home.
While on duty days later, Cottone allegedly left her assigned area without obtaining backup coverage in order to go to another district where Wu was scheduled to visit with officers. There, according to the report, Cottone ignored multiple orders not to record the mayor's remarks, subsequently sharing her recording with friends.
The pizza shop incidents
In January 2022, while off duty, Cottone entered Penguin Pizza in Mission Hill with other people and refused to leave after being informed that the group was violating indoor mask and COVID-19 vaccine mandates, according to the report.
When an employee called the police, Cottone allegedly berated a responding officer, calling him a "smartass" and "a little turd."
That same day, Cottone and her group went to Pizzeria Regina on Boylston Street, again refusing to wear masks or show proof of vaccination, according to the report.
Officers were called to the scene, and Cottone allegedly told a fellow sergeant that he was corrupt and referred to officers as "naughty boys." She also, according to the report, referred to a restaurant employee as "baldy" and called the manager a tyrant and a liar.
Dahill, in his determination on Cottone's case, concluded that the former sergeant was "openly disrespectful and argumentative toward her colleague," the responding patrol supervisor, and "was appallingly belligerent and demeaning toward the responding officers, who are considered her subordinates."
Newsletter Signup
Stay up to date on all the latest news from Boston.com