Local
Alewife lobby reopens weeks after garage crash damaged roof, left car dangling over ledge
Crews constructed a temporary shoring tower to reinforce the station's roof and allow the lobby to reopen Monday, the MBTA said.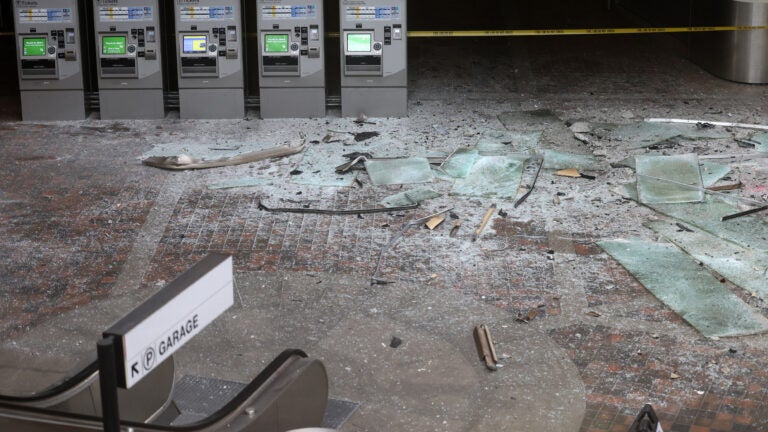 Weeks after a car crash in the Alewife parking garage rained debris onto the T station below, the MBTA announced Monday that the station's main lobby is once again open for business.
The main entrance and lobby reopened to Red Line riders at the start of service Monday morning, as did the fifth floor of the parking garage, according to an MBTA news release.
More on the Alewife crash:
The station's main entrance had been closed for repairs after a 29-year-old Medford man drove his car into a barrier on the fifth floor of the garage Feb. 4, knocking a 10,000-pound concrete barrier onto the glass ceiling below.
Only one person in the lobby was injured, suffering a cut on their hand.
MBTA Transit Police later said they believed the unidentified driver intentionally sought to harm himself. They pursued a criminal charge of operating to endanger and eight counts of assault and battery with a dangerous weapon.
The T partially reopened Alewife in the days following the crash, with riders entering the station through the Russell Field headhouse. The top floor of the garage remained closed to the public.
Meanwhile, crews constructed a temporary shoring tower to reinforce the station's roof trusses and allow the main entrance and lobby to reopen Monday, the MBTA explained in its release.
The shoring tower will remain in place pending permanent repairs, according to the T. Interim MBTA General Manager Jeff Gonneville previously estimated that the repairs to Alewife — which typically sees about 5,000 daily commuters — would cost at least $1 million when all is said and done.
An MBTA spokesperson did not immediately respond to emailed questions about the garage repairs and whether the T has made any design changes to help prevent future damage in the event of a similar crash.
Newsletter Signup
Stay up to date on all the latest news from Boston.com