Local
New lawsuit aims to eliminate 'quiet zones' at Mass. train crossings in the interest of safety
In many Massachusetts communities, train engineers are prohibited from sounding their horns as they approach pedestrian crossings.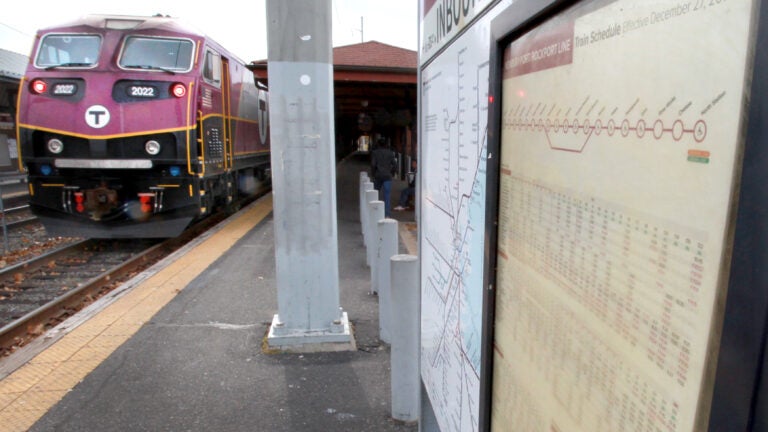 There is a growing push in Massachusetts to get rid of so-called "quiet zones," areas of train track where engineers are prohibited from blowing their horns as they get closer to pedestrian crossings.
A lawsuit was filed Monday that asks the state's highest court to lift the whistle bans and require trains to sound their horns to prevent tragedy, The Boston Globe reported. It was filed by two people who know firsthand the dangers that unsafe train crossings can pose.
One of those is Mark Layman, a former MBTA commuter rail engineer who struck and killed 16-year-old Andrew Cesa in Beverly in 1999. Cesa was struck in a quiet zone. Layman first saw him only 30 feet away, too late to make an emergency stop. Layman sounded his horn, but to no avail, according to the Globe.
In the years since, Layman has become a dedicated train safety advocate.
"The whole experience [of killing a pedestrian] never leaves you in a way that's very difficult to explain," Layman told the Globe. "Speaking with his family brought some peace, and I realize that I was never to blame, but you can't ever erase the image."
The other person behind the lawsuit is attorney Peter Brown, who has been concerned about the safety rules regarding train crossings since his best friend was struck and killed by a train in Beverly.
That friend, Emerson journalism professor Moses Shumow, was riding his bike across commuter rail tracks the morning of Oct. 22, 2019. Brown told the Globe that the train that killed Shumow did not sound its horn before the fatal collision.
"In dealing with my grief, I learned about train safety and rules and regulations," Brown told the paper. He and Layman "spent a lot of time together. I sat with him at the depot where Moses died and I cried with him. I'm blessed to have met him."
Now, their grief is being channeled into an argument that the existing whistle bans are not permitted under state law and federal train rules.
For communities like Beverly to get a quiet zone designation, they need to submit an application to the Federal Railroad Administration. Citizen objections are dealt with locally, an FRA spokesperson told the Globe. An FRA lawyer said in a 2022 letter to a lawyer representing Shumow's family that "pedestrian station crossings should not be included within quiet zones."
As of last October, the FRA listed 29 total quiet zones throughout Massachusetts. This includes 5 in Beverly. No other community has more than one.
"The whistle is charming if you hear it once, but not if you're living with it all the time," Geoff Beckwith, executive director of the Massachusetts Municipal Association, told the Globe. "It would be extremely disruptive to suddenly lose them. You would have entire neighborhoods where the quality of life would be impacted. This would affect hundreds of thousands of people… It's terrible these tragedies occur, but there's always a balance."
In January, 68-year-old Roberta Sausville died when her vehicle was struck by a commuter rail train near North Wilmington station. The MBTA said that human error was to blame, resulting in the crossing arms not coming down in time as the train approached, NBC10 Boston reported.
In response, the MBTA and Keolis, the MBTA's commuter rail operator, announced new safety measures. This includes the retraining of signal maintainers, new signage, and other new steps that employees are now required to take, according to NBC10.
In Beverly, an electronic message board now alerts passengers as to when a train is approaching, and the curb cut where Shumow rode into the station has been moved, according to the Globe. Brown called these changes "insufficient."
An internal MBTA safety group in 2020 listed Beverly Depot among 20 "problematic" stations, and called for more safety measures including the elimination of whistle bans, according to the Globe. An MBTA report listed 21 collisions between trains and pedestrians in 2019, including 17 deaths. There were two in Beverly, the most of any community.
Nick White, a Beverly resident who witnessed Shumow's death, called for safety improvements in a letter to The Salem News earlier this month.
"Moving on from the memory of watching Dr. Moses Shumow get hit crossing the tracks at the Beverly Depot train station back in October 2019, and then holding his hand while he took his final breaths is probably going to be impossible for me," he wrote. "What should not be impossible is making changes at the Depot to ensure this never happens again."
Newsletter Signup
Stay up to date on all the latest news from Boston.com