Local
How Boston is marking the 10-year anniversary of the 2013 Marathon bombings
The city will observe One Boston Day with two remembrance events, acts of kindness, and community service.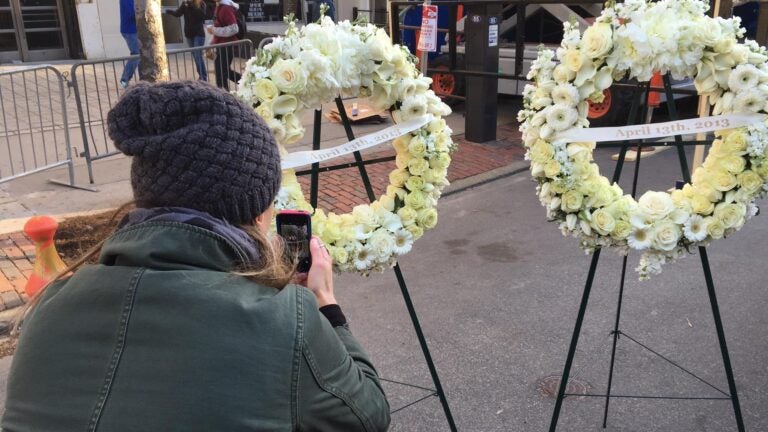 The city of Boston and the Boston Athletic Association (B.A.A.) will host two remembrance events — and more than a dozen volunteer activities will take place citywide — to mark the 10-year anniversary of the Boston Marathon bombings, the city announced Monday.
The remembrance events honoring the victims, survivors, and first responders of the 2013 Boston Marathon will take place on Saturday, April 15, beginning with an early morning private gathering and wreath laying at the memorial sites for the families who lost loved ones. Honor guards, including the Boston Fire Department, Boston Police Department, Boston Emergency Medical Services, and Suffolk County Sheriff Department, will be present at the memorial sites throughout the day. After the B.A.A. 5K race, the city will open Boylston Street between Dartmouth and Fairfield Streets so that members of the public can visit the sites.
At 2:30 p.m., the public is invited to a dedication of a new commemorative Boston Marathon finish line, the ringing of bells, and the unveiling of a One Boston Day marker on Boylston Street along with Gov. Maura Healey, Mayor Michelle Wu, B.A.A. leadership, members of the One Fund community, first responders, hospital leaders, and local running groups.
"Every year we come together on One Boston Day to remember the courage, strength, and resilience shown by our city's people in 2013," Wu said in a statement. "As we mark 10 years, we will gather together in community on April 15 to remember the lives that were lost, the many injured, and the spirit of humanity displayed that day. As we honor those forever impacted, people in all corners of our City will be giving back in a number of ways, and I encourage everyone to get involved."
Neighborhood civic groups, hospitals, city departments, and more are hosting service events for the public on One Boston Day, which range from neighborhood cleanups to a shoe drive. A full list is available on boston.gov/one-boston and will be updated as more volunteer opportunities are added.
Those interested in registering events for One Boston Day may do so here. People are encouraged by the city to take part in their own individual act of kindness by checking out the city's 2023 One Boston Day Acts of Kindness Checklist, where ideas range from buying a cup of coffee for a stranger to donating blood. Folks can share reflections and service plans on social media using the hashtag #OneBostonDay.
Newsletter Signup
Stay up to date on all the latest news from Boston.com