Local News
One dead, several injured and displaced after New Bedford fire
Five people were brought to local hospitals, with three in serious condition. At least 24 residents have been displaced.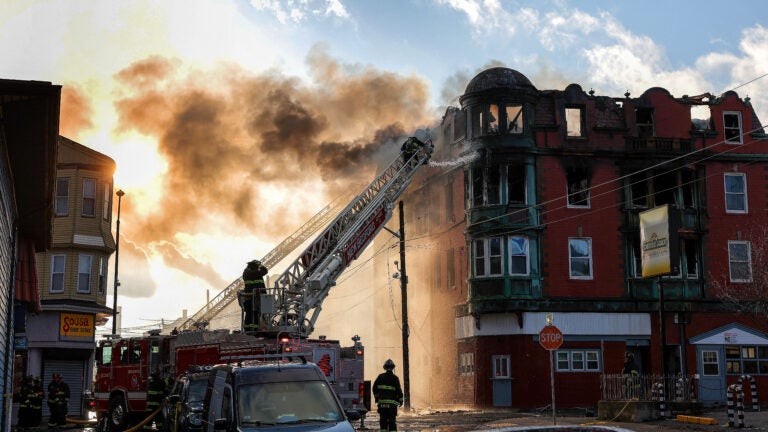 One adult man is dead and multiple others are injured and displaced after a 5-alarm fire tore through a rooming house in New Bedford Tuesday afternoon.
The fire, which was first reported around 3:15 p.m. on Tuesday, quickly engulfed Royal Crown Lodging, a four-story, 31-room building on the corner of Acushnet Ave. and Tallman St. As the fire trapped residents inside and heavy smoke billowed above the building, some jumped and hung from windows to escape, Jake Wark, a spokesman for the Massachusetts Department of Fire Services told Boston.com
The fire was "under control" as of 6:30 p.m. with firefighters still working to extinguish hotspots at 8:30 p.m. Firefighters will remain on scene overnight to ensure the safety of the location.
The victim, now confirmed by New Bedford Mayor Jon Mitchell as an adult man, will be identified by the Office of the Chief Medical Examiner for a formal identification before the family is notified, Wark said. Mitchell told members of the media at the scene that two residents of the building were missing, but Wark could not confirm that information.
Five people were brought to local hospitals, with three in serious condition, and at least several residents have been displaced, officials said Tuesday night.
"Their lives have been turned upside down and we will do everything we can to ensure they are well cared for," Mitchell said at the scene, as reported by CBS Boston.
Dozens of firefighters and emergency response crews from the New Bedford Fire Department, New Bedford Police Department, State Police Fire Marshalls, and surrounding areas arrived at the building, but because the building had partially collapsed, they were unable to enter safely. The firefighters doused the building in water, using drones to locate residents, and waited for the smoke to settle before entering the building. Wark said that no other buildings were affected due to "remarkable efforts to protect surrounding buildings from a raging fire."
The cause of the fire is still unknown and Wark said investigators will return tomorrow with heavy equipment to investigate.
Newsletter Signup
Stay up to date on all the latest news from Boston.com