Local
Rep. Moulton has some tips for the new MBTA GM. Here's what's in his 3-page memo.
Moulton's memo outlines projects to bolster access to rail transit throughout Massachusetts, including the long-considered East-West Rail.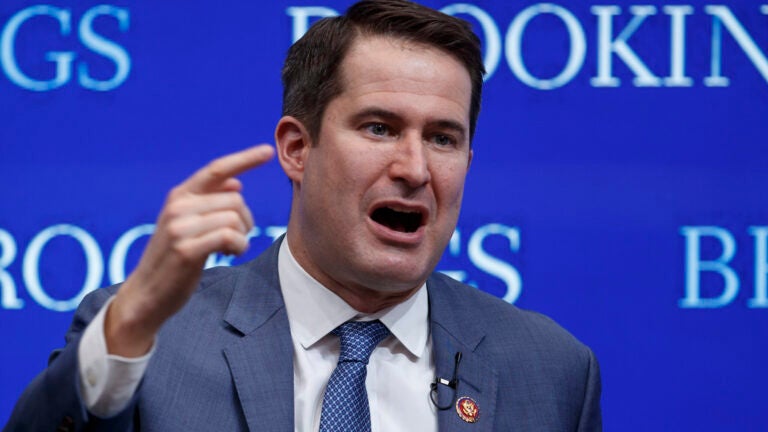 Between slow zones, service cuts, and crumbling infrastructure, incoming MBTA General Manager Phillip Eng already faces a lengthy to-do list as he prepares to take office in the coming weeks.
Congressman Seth Moulton has an idea of where Eng should start.
Calling the T "an epic mess" in its current state, the Salem Democrat and frequent critic of the MBTA outlined his vision for Massachusetts rail transit in a three-page memo earlier this week.
"We're both stuck in traffic and stuck in the past," Moulton wrote. "This has to change."
Fixing the T's staffing issues should come first, he argued. MBTA leaders have previously stated that they hope to fill about 2,000 vacancies in the coming years, and Eng has said he plans to ramp up hiring.
"The MBTA's transformation starts with a wholesale culture shift at the organization under the leadership of Mr. Eng," Moulton wrote.
He offered an initial plan that he said will help reduce travel times in the Boston area, decrease traffic congestion, and increase regional job and housing opportunities.
"Consider this: If you could get from Springfield to Boston in 45 minutes, and connect seamlessly to any of our existing commuter or subway lines — with fast, reliable service — housing options would grow exponentially," Moulton wrote.
What's included in Moulton's memo?
Capital projects outlined in Moulton's memo include the long-debated North-South Rail Link, which would connect Boston's North and South stations; the East-West Rail, which would bolster rail access in western parts of the state; and steps to transform the commuter rail into a regional rail system through electrification and more frequent service.
"This is a pivotal moment for the MBTA," Moulton wrote. "Under new leadership, we must invest in smart projects that don't squander the opportunities in front of us. Because we face unprecedented failures at the T at the same time as unprecedented federal resources are available for investment, only transformative change can meet the moment."
Speaking at a press conference at Newton's Riverside Station Monday afternoon, Eng acknowledged the need for change.
"The status quo is not acceptable, and moving forward, we will be innovative, open to new ideas, and think of outside-of-the-box solutions," he said, emphasizing the importance of the "basics": safety, reliability, and clear communication.
The MBTA is "the best transit system in the world, and that's why I'm here," Eng said when asked to rank the T given his experience with other transit agencies.
He added: "We are going to work every day to provide the service that the public expects."
Newsletter Signup
Stay up to date on all the latest news from Boston.com