Local
Meet the 19-year-old Northeastern student running to be mayor of Woburn
Omar Mohuddin, a 19-year-old born and raised in Woburn, is running a platform of youthful energy and change.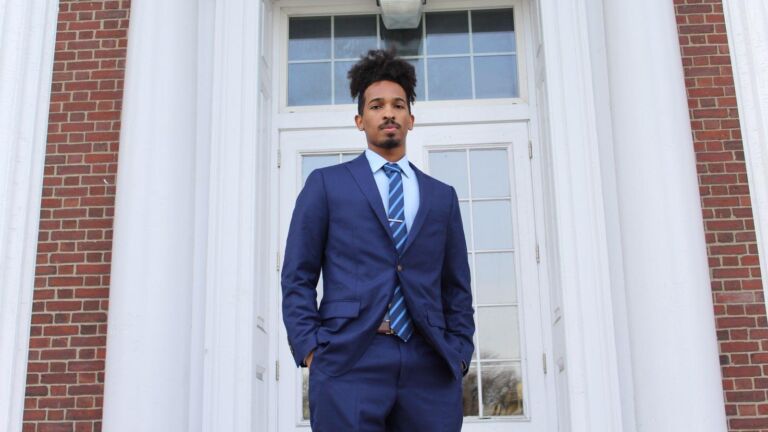 A 19-year-old first-year Northeastern University student is planning to run for mayor of Woburn. And to Omar Mohuddin, his youth is nothing but an advantage.
With a youth-centered, intimate knowledge of Woburn's communities, Mohuddin says his campaign is focused on three priorities: investing in schools and educators, supporting first responders, and beautifying streets, sidewalks, and public spaces for the city's 40,000 residents.
But don't mistake his youth — the 19-year-old would be the youngest mayor in the history of Massachusetts if he were to win in November — for inexperience or ignorance, Mohuddin says. Born and raised in Woburn, the 19-year-old says residents spend their lives complacent about the city's flaws. Now, he hopes to change that.
"I know that a lot of people have kind of just accepted things in Woburn the way they are, because that's what we know and that's what we have," Mohuddin said. "And I think it'd be pretty big, putting my voice out there, and letting people know that we don't have to accept things the way they are. We can take on the status quo and make sure that things are shaped … the way that we want them to be shaped."
Raised by his mother, who Mohuddin says thinks her son's candidacy is "a little crazy," the Woburn native grew up in the city with his three brothers. On his campaign website, he notes he was class president at Woburn Memorial High School, where he graduated in 2022 before receiving a full-ride scholarship to Northeastern; there, the 19-year-old currently studies business administration, with a concentration in finance. Mohuddin says his experience working with finances has prepared him to handle the intricate budgets and expenses of Woburn.
"A big role of being mayor in Woburn is handling the budget, and my coursework has thrown maybe a million budgets my way in a year," Mohuddin said. "And so that I think is going to come into play within the business aspect."
In his first year, Mohuddin made the Dean's List, and worked with other first generation college students. During high school, Mohuddin says he was part of the embRACE program at WMHS as well as Woburn Welcomes and Social Capital Inc.
With his three key priorities — investing in education, respecting and advocating for first responders, and improving the aesthetics of the city — in place, Mohuddin says he will start forming more specific policies as he goes door to door asking what issues people care about.
Education sits atop Mohuddin's checklist, and he says that the recent Woburn teachers strike, which closed classrooms for several days, is a prime example of the neglect some public employees face in Woburn. And while wages for Woburn's teachers are determined by the school committee — the organization that eventually granted the city's educators a 13.75% wage increase — Mohuddin says that when he is mayor, educators in the city will no longer be overlooked.
Working with a 15-person team of young, though experienced, volunteers, Mohuddin says that his campaign has the youthful energy and insight needed to help Woburn exceed expectations. And he says that this will come by bringing the city's youth to the table.
"I'm not bogged down by day-to-day activities of someone midway through their career," Mohuddin said. "I'm not in the middle of raising a family, or a 9-to-5 job, so I have enough time to understand the problems that affect the community. And I also am able to engage the youth in a way that they've never been engaged with before. And [I can] make sure that they're involved with the community and the things going on in the community, because they also are part of the community."
While the November election day is over 200 days away (222 as of Thursday, according the ticker on Mohuddin's website), the 19-year-old says that he is laying the groundwork now to prepare for campaign season. And despite still being in classes, if elected he says the university will count his new position toward Northeastern's co-op program, before he starts taking classes part time.
With nominating papers not due until May, no other candidates have formally announced their campaigns. But the Daily Times Chronicle of Woburn and Patch.com have both reported that seven-term mayor Scott Galvin intends to run again, meaning Mohuddin could face some stiff competition.
In the meantime, Mohuddin says he will continue to knock on doors before throwing a large kick-off fundraiser.
Newsletter Signup
Stay up to date on all the latest news from Boston.com