Local News
Right whale dangerously entangled amid large gathering in Cape Cod Bay
The North Atlantic right whale has been entangled since at least February. Her location is being monitored, but weather has prevented further disentanglement efforts.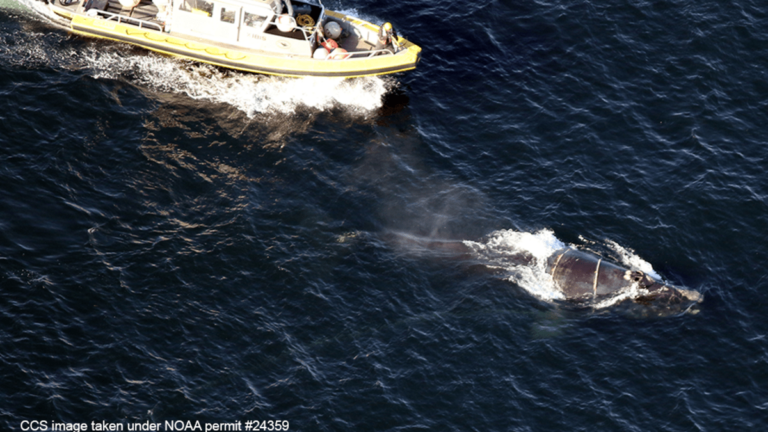 As nearly 100 North Atlantic right whales gather in Cape Cod bay, one particular creature is in grave danger. A female, identified as #4545, has been badly entangled since at least February. She is one of only 350 or so North Atlantic right whales on the planet.
The Marine Animal Entanglement Response (MAER) team from the Provincetown-based Center for Coastal Studies has been working on the whale and monitoring it since last Wednesday. MAER Director Scott Landry confirmed that #4545 was still entangled as of Sunday evening. Landry and his colleagues are monitoring weather conditions for an opening to continue working on the whale. In the meantime, her location is being constantly tracked using a telemetry buoy.
She was found entangled south of Nantucket in February, but the team could not respond due to distance and a lack of daylight, the organization said. At the time, all they could determine was that she had a long piece of heavy rope caught in her mouth.
She was spotted once again last week, feeding with a large group of the endangered whales in Cape Cod Bay. Since February, her entanglement has developed into a "highly complex and lethal" situation, according to the Center for Coastal Studies. They believe rope is still wrapped dangerously around the whale's body and flippers.
Last Wednesday, the team was able to remove about 200 feet of thick rope from the whale and attach the tracking buoy. Further disentanglement efforts are expected to be complicated, and the proper weather conditions for such a rescue effort are rare this time of year.
"This is obviously a difficult situation. We worked very hard for this whale on Wednesday and she did all she could to avoid us. With the telemetry buoy in place on her entanglement all of our attention will be focused on trying again," Landry said in a statement.
The whale known as #4545 is just one of at least 79 right whales currently swimming in Cape Cod Bay, The Boston Globe reported. About half of them were gathered near the Cape Cod Canal Saturday.
The waterway was closed Sunday around noon so that a right whale mother and her calf could swim safely. The Massachusetts Environmental Police escorted the whales through the canal, the Globe reported.
John Chisholm, a scientist with the New England Aquarium, documented the sight on Twitter. The canal was opened back up by 5 p.m. Sunday, WHDH reported.
While the whale and her calf swimming through the canal were unimpeded, the continuing entanglement of #4545 highlights the dangers facing these animals. The MAER has freed more than 200 large whales and other marine animals from entanglements since 1984.
"Whales can pick up gear from anywhere within their range and drag it around for weeks and months. Their range is huge, stretching from Canada to Florida. Using disentanglement as a tool for conservation is helpful but has its limitations. We have no control over when or where an entangled whale will be discovered," Landry said in a statement.
North Atlantic right whales are some of the most endangered whales on the planet. They got their name because whalers viewed them as the "right" whales to hunt due to the fact that they floated after dying, according to the National Oceanic and Atmospheric Administration. They were hunted to the brink of extinction by the 1890s.
While commercial whaling is no longer a problem, entanglement in fishing gear and vessel strikes are the leading causes of North Atlantic right whale mortality, according to NOAA. Officials estimate that over 85% of right whales have been entangled in fishing gear at least once. On top of that, rising levels of ocean noise caused by human activities interfere with their communication and increase their stress levels.
Only about one third of North Atlantic right whale deaths are documented, and the species has experienced a spike in deaths since about 2017. Just 57 new calves have been born since then, according to NOAA.
Newsletter Signup
Stay up to date on all the latest news from Boston.com