Local
A popular Cape beach is banning alcohol this summer
Visitors to Cahoon Hollow beach in Wellfleet will not be able to drink there this summer.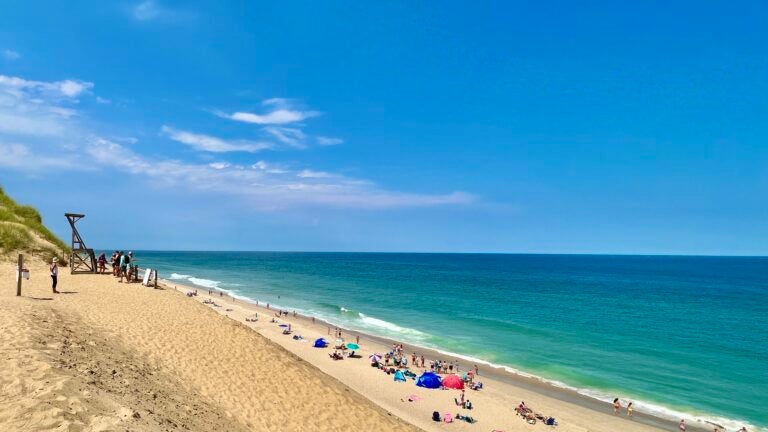 Visitors to one of Cape Cod's busiest beaches will have to forgo alcohol there this summer.
Officials will be implementing a ban on consuming alcohol at Cahoon Hollow Beach in Wellfleet from May 20 through Sept. 10, The Provincetown Independent reported. The ban is a response to a significant uptick in drinking and rowdy behavior at the beach, officials said.
The ban will continue during future summers until "the drunken behavior is under control," National Seashore Chief Ranger Michael Valora told the Independent.
Cape Cod National Seashore did not immediately return a request for comment from Boston.com. The Wellfleet Police Department could not immediately confirm the report.
Drinking will reportedly still be allowed on Cape Cod National Seashore beaches, and the ban will only affect Cahoon Hollow. Alcohol is prohibited on beaches owned by the town of Wellfleet.
Wellfleet Police Chief Michael Hurley told the town's Select Board that traffic to the beach had grown about 20% each year since 2017, the Independent reported. As a result, officials saw a serious rise in excessive drinking, disorderly conduct, public intoxication, and improper disposal of waste.
The ban is an effort to get ahead of these issues before it results in something far worse.
"Before these identified problems become tragedies, we have developed a phased approach to address the situation beginning this summer," officials said in a statement to The Boston Globe. "The risk to our visitors, lifeguards and police officers is too great and must be minimized with thoughtful action."
Those that break the new rules could face a fine of up to $5,000 and imprisonment of up to six months, the Globe reported.
Cahoon Hollow Beach is situated down the dunes from the Wellfleet Beachcomber, a popular restaurant and bar.
Parking is limited at the beach, and long lines of cars begin forming as early as 6 a.m. on popular summer weekends. Many beachgoers take rideshare apps to the beach, and charter buses make hundreds of trips to Cahoon Hollow to drop off passengers. In 2022, officials recorded a 46% increase in the number of charter bus trips to the beach compared to 2021, the Independent reported.
As a result, Wellfleet Police are sometimes forced to rely on backup from other departments on the Cape to manage the crowds. Hurley told the Independent that, even though the ban does not directly affect traffic, he expects crowds to die down if alcohol is not allowed there.
"If it keeps growing at the rate it has been in years past, it will become unmanageable," Hurley told the paper. "We are a small police department as it is, and if we're dedicating all these resources to one area, we still have a whole town to patrol."
Newsletter Signup
Stay up to date on all the latest news from Boston.com