Local News
Heads up drivers: A new Mass. law on passing cyclists and pedestrians is now in effect
The legislation sets new parameters around passing "vulnerable" road users.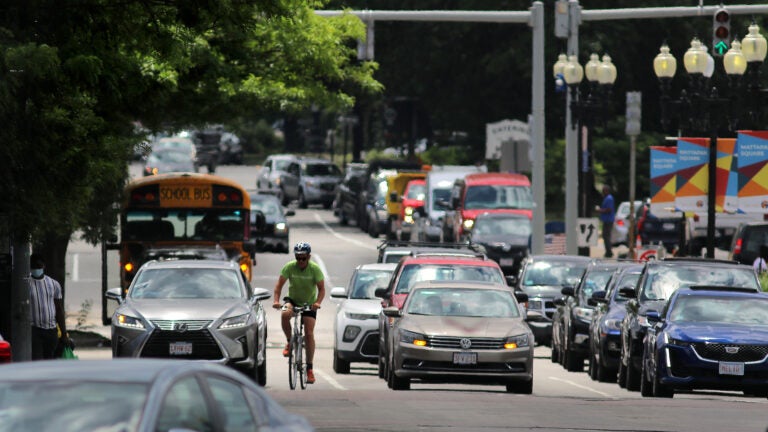 Massachusetts drivers must be more mindful of "vulnerable" road users such as cyclists and pedestrians under a new state law that took hold Saturday.
The legislation, signed earlier this year, sets boundaries around how much space motorists must give to others they share the road with.
"[The law] speaks to the idea that you shouldn't get near a vulnerable road user when you're driving a 5,000-pound vehicle," state Sen. William Brownsberger, a Belmont Democrat and a lead sponsor of the bill passed in January, said last month during a webinar hosted by MassBike, the cyclist advocacy organization. "You should give them a wide berth.
"I think anybody who's been sort of grazed by a moving vehicle knows how big a deal this is and how important the concept behind this is," he added.
Under the law, Massachusetts now defines vulnerable users as people who are walking or biking; roadside workers; people using wheelchairs; people riding motorized bicycles, scooters, skateboards, roller skates, or other micro-mobility vehicles; horse riders and horse-drawn carriages; and farm equipment, according to MassBike.
As of Saturday, drivers are now required to provide a "safe passing distance" of at least four feet when passing vulnerable road users. The provision makes Massachusetts the 36th state in the country to set a safe passing parameter of at least three feet, MassBike says.
"This is absolutely key because we did not have this before," MassBike Executive Director Galen Mook said during the March 15 webinar. "We had a very vague and amorphous safe passing distance in statute, and it never said safe for whom, never said any way to have enforcement."
An earlier version of the legislation proposed to then-Gov. Charlie Baker in September initially included a sliding mechanism that would have required drivers to pass at a distance of at least three feet when traveling 30 mph or less, with one additional foot of distance for every 10 mph traveled above 30 mph.
Baker, however, proposed a standard three-foot requirement not tied to speed, and lawmakers eventually sent back a bill with the four-foot rule included — a change Brownsberger considers an improvement over the initial proposal.
Mook said he and Brownsberger both feel the safe passing distance element of the law will not necessarily be strictly enforced, but rather, it will serve to educate motorists of safe driving practices, especially once the Massachusetts Department of Transportation rolls out corresponding signage around the commonwealth.
The law also now officially allows for motorists to cross a double-yellow line in order to pass other road users "when it is safe to do so" so long as they adhere to the posted speed limit, MassBike says.
Additionally, the legislation requires cyclists to use a front white light and rear red light and rear reflector while riding in the dark.
Mook said the previous statute required either a rear reflector or a light, but not both.
Notably, the law stipulates authorities cannot use a light violation to stop a cyclist, he said.
"It is an offense, but it can't be a reason for a police officer to pull somebody over," Mook said. "And lack of lights cannot be used as 'conclusive evidence of contributory negligence' in the case of a civil action" such as when an insurance claim is filed.
Other components of the law clarify the process for cities and towns to change speed limits, require police use a standardized analysis tool to report crashes involving a cyclist or pedestrian, and require certain state-contracted trucks to be quipped with safety devices to reduce pedestrian and cyclist fatalities, according to MassBike.
Sorry. This form is no longer available.
Newsletter Signup
Stay up to date on all the latest news from Boston.com