Are Philadelphia and Boston really the most neighborly cities in America?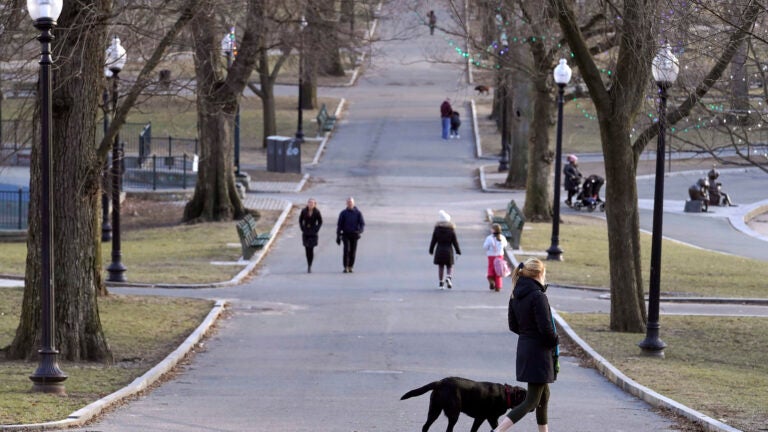 At the risk of being pilloried as the Department of Crude Urban Stereotypes, we'll admit we were astounded and confounded to read that one of our favorite federal data sets named Boston and Philadelphia as the most helpful major cities in America.
A recent report found that the Northeastern duo — better known as places where people repeatedly punch police horses and sling racial slurs at athletes — have the highest "informal helping rate" among 12 large metros.
The report relies upon the Current Population Survey, conducted by the Census Bureau. Every other year, our friends at Census add a set of questions about volunteering and civic life to their superstar survey, which underlies such critical statistics as the nation's unemployment rate.
The question that drew us in, informal helping, asks how often in the past year you and your neighbors did "favors for each other such as house sitting, watching each other's children, lending tools, and other things to help each other."
In 2021, Philadelphia and Boston led the pack. And it doesn't appear to have been a fluke: On other measures of neighborliness – including joining organizations, volunteering and donating – the City of Brotherly Love and Beantown rank almost as high. When we looked at pre-pandemic data, from 2017 and 2019, they were also near the top of the listings.
But 12 metros is a pretty limited universe. If we look at states, Pennsylvania and Massachusetts ranked in the middle of the pack on all four measures from 2017 to 2021. Most of the states that bested them on helpfulness do not have metros big enough to be included on the top-12 city list.
If we squish the four horsemen of helpfulness – donating, joining, volunteering and doing favors for neighbors – into a rough index of civic-mindedness, Utah rises to the top. The Beehive State, which gets its nickname in part from the titular insects' organization and cooperation, leads the nation in formal civic participation such as volunteering and membership in groups, organizations or associations.
Minnesota ranks as the second-most-consistent standout, led by charitable giving so generous that it sustains the nation's most robust classical music system. Nebraska and Oregon also do unusually well. Montana ties Utah as the most helpful state, but it doesn't rank quite as high on other measures.
As a rule, northern rural states excel by these metrics, while urbanized states in the southern half of the country struggle. Nevada, Florida and California settle to the bottom in just about any measure.
If we apply what we learned from states back to cities and combine data from 2017 to 2021, we can expand our analysis to include rough-and-ready estimates of helpfulness in 88 metro areas. And all we can say is: Step aside, Philly and Boston. Because a single metropolitan statistical area leads in every category.
(Here we'll pause for dramatic effect. Also to wait for Bradley, a lifelong friend who, as he reads each column, texts us his guesses at the data mysteries therein. This one is tricky, but we have a feeling it'll come naturally to Brad and any other Brigham Young University alumni in our readership.)
The most civically minded metro in the United States is of course Provo, Utah!
Strung along the Wasatch Range south of Salt Lake City, Provo ranks among the most-educated 10 percent of U.S. metros thanks in large part to BYU and the even larger Utah Valley University in nearby Orem, also part of the metro area. The next-highest-ranking metro, Portland, Maine, is also particularly well-educated, as is highly ranked Minneapolis. The other metros that do well based on our ad hoc index – Grand Rapids, Mich., Salisbury, Md., and Omaha, have lower education rates, but they're still above average.
So what predicts an area's civic engagement? In general, it rises steadily with income and northerliness. But education is the big one: Having a graduate degree is the strongest signal you'll be a major civic participant, with bachelor's degrees not far behind. Other good indicators include a family income above $150,000, work in management or professional jobs, and work in the nonprofit sector.
Blue-collar workers are less likely to be civically engaged, as are noncitizens and young people. Volunteering peaks in middle age – 45 to 54 – but most other measures of civic activity rise steadily as you get older and peak in your 70s.
By many of these metrics, Philly and Boston rise above the 10 other large metros in the initial chart. They're both in the top three for nonprofit and professional workers and for people in their sixties, three very engaged groups. They're at the bottom for 16- and 17-year-olds, and for high school dropouts, two of the least-engaged groups.
But the decisive factor, based on our analyses of all available metros and states, may be that, relative to other world-class American cities, greater Boston and Philadelphia just aren't that diverse: They're among the Whitest major cities in the nation.
James Prieger of Pepperdine University finds that race strongly predicts civic engagement, even after controlling for education, income, citizenship and a host of other variables. In a 2013 California Journal of Politics and Policy paper with Kelly Faltis, then a Pepperdine graduate student, he laid out one possible explanation for the trend.
"Hispanics or other minorities may be less civically engaged because they lack the necessary time, money, and civic skills inculcated by education that are more readily available to whites," Prieger wrote.
When we called Mike Hanmer, director of the Center for Democracy and Civic Engagement at the University of Maryland, he was hardly surprised by our hard-won findings.
"We've known this for a while," he said (somewhat dispiritingly): Decades of research have shown that less-White places have lower civic participation.
"It comes down to time, money and civic skills," Hanmer told us. "And we know that those things are not evenly distributed throughout the population. . . . Systematically, certain groups – particularly members of underrepresented racial and ethnic groups in our society – haven't had the same access and the same opportunities."
In his previous career with the agency now known as AmeriCorps, Hanmer's U-Md. colleague, Do Good Institute professor Nathan Dietz, helped write many of the original versions of the survey questions we used in this analysis.
"When you try to measure participation rates for most civic activities, especially activities that happen through organizations, you usually see racial and ethnic gaps," Dietz told us. "That tells me that there are structural reasons why some people are much more likely than others to get involved in these types of activities."
To understand those structural reasons, we continued our virtual tour of the Maryland campus, calling political scientist Janelle Wong. Wong's work focuses on Asian Americans who, despite higher average incomes and education levels, are less civically engaged as a group than their White friends. Many of her findings apply to Hispanics as well.
"Unlike other groups, Asian Americans are a majority immigrant group," Wong told us. "So their exposure to the U.S. political system and experience is going to be lower. Once they have more years in the U.S. . . . they do participate at higher rates."
Wong points out that civic participation often isn't driven by individuals pushing to get involved. It's driven by institutions pulling individuals in. And while that has changed somewhat in recent years, some institutions still don't recognize less-established groups such as Asian or Hispanic Americans as potential volunteers, donors and allies.
To be willing to engage, you have to believe it'll make a difference. And for many marginalized groups in America, that isn't guaranteed.
Tell us: How helpful are Bostonians?
Loading...