Local News
Retailers say a sales ban on mini-booze bottles won't help Boston. But Chelsea leaders say their law was transformational.
What Boston city councilors learned Monday as the council considers a potential ban of their own.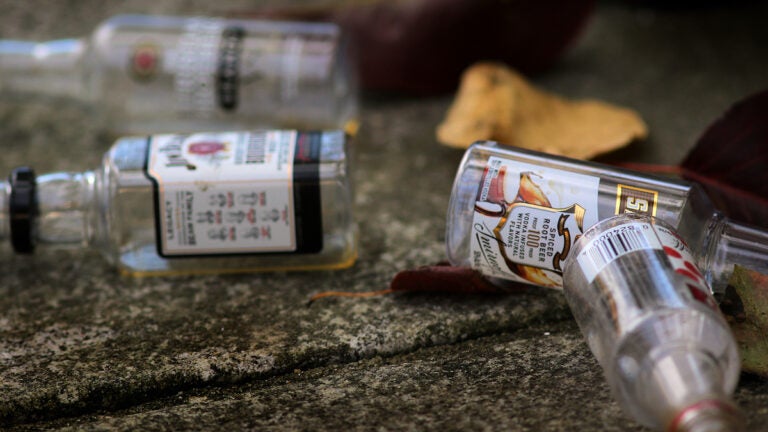 A potential ban on the sale of mini bottles of alcohol in Boston could either be a disastrous blow to the city's package stores or a transformational approach to tackling alcoholism and litter.
That's at least what Boston city councilors heard during a hearing Monday, where testimony from a director of the Massachusetts Package Store Association and from Chelsea city leaders, who put in place a similar ban in 2018, offered dueling visions of what a ban on retail sales of alcohol bottles of 100 milliliters or less may bring about.
"A ban of this nature has proven to generate no measurable impacts on systemic littering or public intoxication, but they would directly harm and potentially ruin small and minority-owned businesses, and there's so many in the city of Boston," Steve Rubin, of the package store association and owner of Huntington Wine and Spirits in Fenway. "These businesses are highly stressed as is."
But former Chelsea City Councilor Roy Avellaneda and Chelsea Police Chief Keith Houghton said a ban in their city proved otherwise.
Alcohol-related emergency calls have dropped, data shows, while Chelsea's downtown has seen less panhandling and cleaner streets, and, as a result, has enjoyed an overall better atmosphere in recent years as restaurants and other businesses thrived, they said.
"I've noticed a transformation of the community," said Jason Owens, a community outreach worker in Chelsea, who works to connect individuals with substance use disorder and mental illness to appropriate services. "It's absolutely beautiful now."
The hearing, sponsored by Councilor Ricardo Arroyo, brought together the city's public health and licensing officials, along with leaders from Chelsea and Newton — communities with their own retail bans — to consider how this kind of law could have a positive impact on public health and litter.
There is no specific law currently proposed.
There are at least 70 stores that already do not sell the small bottles as set by a condition imposed by the Boston Licensing Board when granting a retail liquor license, Arroyo said.
He noted how litter alone from the mini bottles is widespread and cited how one local group in his district, Keep Hyde Park Beautiful, was able to collect 10,000 bottles in less than two months.
Being able to address two issues at once is "an overwhelming reason to move forward with something like this," Arroyo said.
The argument from retailers
Last month, Robert Mellion, executive director and general counsel for the Massachusetts Package Store Association, told Boston.com the ban would likely be more of "a political issue than it is a practical solution."
"If the purpose to banning, let's say 100 milliliters [and] down, is to prevent public drunkenness, then that's not going to do it. That's not going to address the issue," he said. "… That's just because, you know, a 200 milliliter or 250 milliliter bottle can be hidden just as well as a 100 milliliter bottle can [be] so all you're going to do is incentivize somebody … to just buy several sizes up."
It's a point Rubin reiterated Monday.
He recalled how the city has before asked retailers to refrain from selling the bottles the day of the South Boston St. Patrick's Day parade — a move that has backfired.
"What happened was the worst thing for alcoholism," he said. "Everyone went up to the next size."
With a ban on 100 milliliter bottles, the next available size for customers will be 200 milliliters.
"That's a container that you can't drink in public," Rubin said. "So what's going to happen to that container of 200 [milliliters]? It's going to be a big problem. So that's going to increase alcoholism for most."
Rubin said the solution lies in public-private partnerships between retailers and municipalities.
He offered, for example, that officials should seek to expand the state's "bottle bill" — the law that provides for a 5-cent recycling deposit on select bottles and cans — to include the small bottles. The package store association has supported legislation to do so on Beacon Hill for the past three legislative sessions.
He also said the industry often sponsors anti-littering campaigns and initiatives and wondered aloud where the government-funded anti-littering campaigns are to help with the issue.
Meanwhile, a ban, Rubin said, would put Boston package stores at a disadvantage to neighboring cities and towns, where retailers would still be able to sell the miniature bottles.
Rubin, citing data from suppliers, said sales increased 63.9% in East Boston, 25.8% in Revere, and 13.8% in Everett after the Chelsea ban took hold.
"Revenues at stores plummeted," he said. "No, they didn't go out of business. But ask them how bad their sales have been."
What happened in Chelsea
Avellaneda, the former Chelsea city councilor, said since the city rolled out its ban on mini bottles of alcohol in 2018, there was a large drop in the number of alcohol-related emergency calls.
Before the law in 2015, Chelsea logged 720 calls; 521 calls in 2016; 400 calls in 2018; and 216 calls in 2020, he said.
"That's an incredible amount of resources no longer used by public safety officials because we simply banned [the bottles]," Avellaneda said.
The city also got cleaner — something he described as an "immediate overnight success."
Chelsea's downtown in particular "transformed," he said. He credited the law, along with wraparound services and supports for those struggling with alcoholism, with helping to reduce panhandling in the area.
"Once the ban went into place downtown Broadway is now revitalized," Avellaneda said.
Families and residents have been attracted to the neighborhood in a way they weren't in the years before the ban, he said.
"The restaurant scene is booming," he added. "We've had an increase in meal taxes. We've had increases in jobs and we have less vacancy in our storefronts downtown."
According to Avellaneda, no package stores closed after the ban took effect.
Last year, a liquor license for retail sold for five times the value of what it was before the COVID-19 pandemic, he said.
"Obviously there is still money to be made," he said.
According to Houghton, the police chief, Chelsea continues to see 20% fewer instances where authorities must place an intoxicated person into protective custody than in 2018.
"Chelsea is rejuvenated," he said.
Newsletter Signup
Stay up to date on all the latest news from Boston.com