Local News
Some Mass. schools are locking up phones. Students aren't happy about it.
Teachers, on the other hand, have found the lack of phones improve student engagement and academic performance.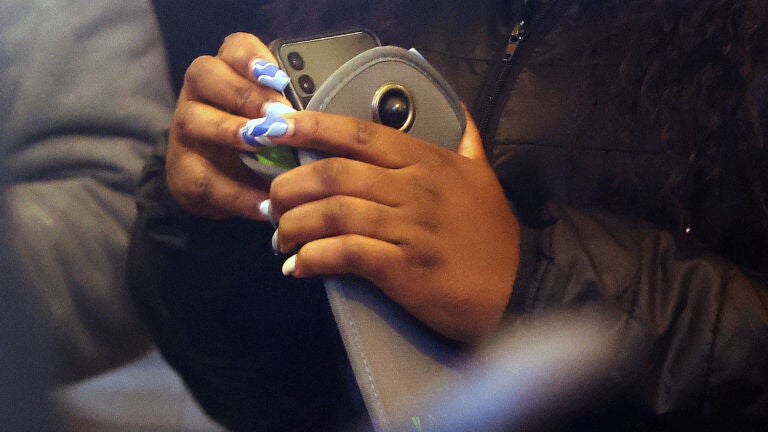 When Kaitlyn Jenco, a junior at Western Massachusetts's Chicopee Comprehensive High School — or Comp., as students call it — passes the flag poles outside the school's entrance and walks into the building, she gets in one of two lines.
The line most students stand in — the one the school says they're supposed to stand in — is made up of students who have arrived at Comp. with their backpacks, school-provided laptops, and a magnetically-sealed pouch that locks their cell phones inside until the end of the day.
At the front of the line, school administrators check to make sure students have brought their pouches and locked their phones before starting the day. Students in the other line, depending on how often they forget their pouches, might end up in lunch detention — as strike one.
The pouches, created for schools in 2014 by the company Yondr, have been implemented in 45 schools across Massachusetts including in Springfield, Greenfield, Brighton, and other schools in Chicopee. And while Comp.'s zero-tolerance phone policy may be stricter than other schools, it comes at a time where teachers across the state — and the country — seem to be fighting a losing battle for students' attention against social media, and students have yet to adjust to sitting in in-person high school classrooms post-pandemic.
How does the pouch work?
At the front of the line, students at Comp. place their phones in the pouch and click a magnetic button that rests on the top of the pouch, locking the phone inside. Users can remove their phones using a magnetic unlocking device.
Some schools keep the unlocking device in each classroom, while others only have them by the entrances. But for almost all Yondr schools, students are unable to access their phones at any point during the school day, including breaks or lunch.
"It was important to find a solution where a person is intentionally going through the action of putting their phone away in the space that is designated to be phone-free," Julia Gustafson, Yondr's Director of Education Partnerships, told Boston.com in email correspondence.
"Long term, our hope is that this intentional process impacts the person's behavior when they aren't using Yondr. For example, maybe a student really enjoyed the lunch they had with their friends when their phones were Yondred, so that evening they decide put their phone away for dinner, or intentionally begin leaving their phone behind when they go on a walk," she said.
Of 900 schools partners, Yondr reports that 65% saw an improvement in academic performance, 74% saw an improvement in student behavior, and 83% saw an improvement in student engagement in the classroom.
"People had a hard time putting their phones down."
While these changes might still take some time — most schools in Massachusetts only started using the pouches over the past two to three years — for most teachers, the pouches were the much-needed cavalry in the fight against classroom distractions.
Comprehensive High School didn't start with Yondr pouches; it came after years of battling with students to put phones away during class. Like many schools in Massachusetts, and around the country, phone-use in class often led to conflict between teachers and students that was unproductive and took away from class time.
"Coming out of [the pandemic], people had a hard time putting their phones down," Comprehensive High School Principal Andrew Lamothe said. "We were noticing it with our students. Student communication was a lot more difficult to maintain and manage coming back into the building after remote learning. And it was becoming a consistent argument with kids."
And while Comp. wasn't the first high school in the area to implement Yondr pouches — Chicopee High School started locking up students' phones in Spring 2022 — teachers at both schools have found the pouches to improve student engagement and social skills.
According to Jenco, if students are found with an unlocked phone, the school doles out an escalating series of punishments starting from lunch detention, to notifying parents, and culminating in a prohibition on students bringing phones into the building at all. But Lamothe says these punishments are worth it to keep distracting phones away from classrooms.
"I think we've been successful without question," Lamothe said. "Taking the argument about the cell phone away, it's putting more focus on what's going on in the class. [Teachers] are getting more out of the students as far as responses and interaction."
And students are also able to continue to engage with technology, Lamothe says. Every student at Comp. has a school-provided Chromebook, allowing them to use technology without being distracted by cellphones.
According to data collected by Comprehensive High School and Chicopee High, 96% of 51 polled teachers said that Yondr Pouches better student engagement and learning, and 84% said that they help cut down on classroom discipline and distractions.
"What I love the most is the interactions they have with each other."
"Before the pandemic, cell phones were definitely common. Most students have them and they definitely like to use them during the school day. So typically, as teachers, we would have to ask the students to put the phones away to reduce distraction," Comp. high school English teacher Tara Minns told Boston.com. "When they returned from the pandemic, we didn't have the pouches yet. So I noticed that there was even more distraction."
But soon after Comp. started using the pouches about a month into the 2022-2023 school year, Minns started noticing social and academic improvement. She noted how there were less arguments between students stemming from social media, increasingly lively class discussions, and an overall reduction in students' screen use.
"There's more engagement in the classroom, there's more engagement with each other," she said. "Even if it got a little loud … or they were chatting, I would take that over the silence that was there when they had their phones and when they weren't engaged in class.
"It's awesome. It's a really good feeling to watch students in the cafeteria talking to each other — [and also] in class," she added. "There's always time in class where kids are excited, they're coming back from a vacation or a weekend, and they're not on their phones. They're really excited and hyped, and they're talking to each other. For me, that's that's what I love the most. If you were to quote me, what I love the most is the interactions they have with each other."
Minns also pointed out that she understands that removing access to phones is a challenge for Comp.'s high schoolers, but feels the positives of a cell-phone-less class outweigh the negatives.
"Most students are capable of managing to use their phones."
While the policy has proven popular among teachers, students tend to see the pouches as a punishment for all, based on the actions of a few.
"I feel as though it's a good idea for the students who can't stay off of their phone," Jenco said. "Those students, I feel as though should have those pouches."
A student advisory group — comprising five students from Chicopee High, Comp., and Chicopee academy to represent student opinion in meetings with administration — conducted a survey to gauge Yondr's popularity among students. While some respondents expressed an understanding for the difficulties that teachers face regulating cell phones, most students want the school to nix the pouches.
"This is an instance where most students are capable of managing to use their phones," said Joel Forson, a senior at Chicopee High and member of the student advisory group. "Generally, students are able to control themselves. But of course, there is a select group of students who don't have that control and are almost unwilling to adapt to that."
While Jenco and Forson noted that they, and most other students, have become used to the pouches — "We just don't care," Jenco said — it is clear that students would prefer to walk through the school day with access to their phones.
Of nearly 500 responses, 82.4% of students from both schools stated that the pouches were not better for student learning, and suggestions from the survey varied from removing the pouches completely to only using them to as punishment.
"I feel it punishes students who were never really part of the problem," Forson said. "When you're not even in class, the phone is still locked up. So even in the cafeteria, even walking through the hallway, even when there's nothing to do in class instead of just waiting around, there is no access to your phone at all, which was kind of extreme. For me, I really enjoyed being able to listen to music or whatever in the hallways. It was kind of just something helpful."
Forson says that he used to use his cell phone to keep in contact with friends at other schools, who often keep their phones with them throughout the day. Now, he says, he can't do that.
Forson and Jenco also argue that the policy fails to teach high schoolers how to self-regulate, removing students' ability to learn how to navigate technology that they will be using for the rest of their lives. And while the two high schoolers understand why the school has decided to use pouches, they believe it should have been a last resort rather than immediately implemented.
"I think it's more about self-control because I feel like Yondr pouches, it's an extreme," Jenco said.
"When you have your phone in the pouch, it absolutely does just remove that aspect of self-control, and learning to be able to hold yourself accountable, which is something that I think definitely needs to be learned throughout high school," Forson said. "Which is why … I wish there was a different alternative taken before moving to this extreme.
"Overall, students, I feel, are able to show a form of self-control. And I feel like the idea of Yondr doesn't really provide the opportunity for students to to develop further," he added.
Parents express concern
And while disgruntled students walk through their classroom hallways without access to their phones, parents have their own set of problems with Yondr.
With hoax school shooting calls and a general concerns for their children's safety, removing parents' ability to contact their kids — which is what often motivates parents to buy their children cellphones in the first place — has caused frustration with some Yondr schools.
"I bought my kids cellphones to know where they're going to be, how they're doing, if they are OK," Viamaris Mateo, a Chicopee High School parent, told Western Mass News after a hoax call in February. The News said that many parents spoke to them about how they purchased their children phones to use in unsafe situations like hoax calls.
Similarly, when Springfield Central High School received a threatening call in January, students were not permitted to unlock their phones. But the school argues that a clear, consolidated line of communication stemming from the school rather than its students provides parents with immediate and accurate information.
"We have direct access to the parents. So we immediately did a Connect-ED call to all the parents, notifying them of what was happening," Springfield Central High School principal Thaddeus Tokarz told Boston.com.
While phone access varies — Lamothe says that on a few occasions Comp. students are permitted to unlock their phones — for the most part, if parents want to contact their students, they must do so through the school.
Other schools take note
Of the nearly 1,700 schools in Massachusetts, Yondr says that 45 have implemented pouches. Greenfield schools, Springfield schools, Chicopee middle schools, and a private school in the Boston Public School district have all moved to lock up phones.
Some schools in Mass., like the isolated boarding Buxton School in Western Massachusetts, have taken an even more restrictive approach, completely removing smart phones from their campus. And because students at Buxton remain on school grounds year-round excluding seasonal breaks, they spend their time in classrooms, social settings, and weekends without smart phones.
"I don't understand why every school is not fully banning smartphones. It just makes teaching so much more enjoyable," said John Kalapos, associate head of school at Buxton.
While Kalapos understands not all schools can practically eliminate all phones from classrooms, he does hope that schools take note of Buxton's improved levels of student happiness, social engagement, and academic performance.
"As a teacher, I have found that students are more engaged in my classes," Kalapos said. "And because of that, their academic performance has significantly increased. It's hard to quantify, I can't [say] the average grade went from an 82 to an 85, but more qualitatively, I can tell you that people are more engaged."
And for students who may suddenly walk into school one day and find themselves forced to stand in line with a phone locked in a pouch, Gustafson recommends giving it a few days.
"Give it two weeks, it's not that bad — you might even enjoy some freedom from your phone," she said.
What do you think? Let us know in the Boston.com poll below.
Should students be required to lock up their phones?
Newsletter Signup
Stay up to date on all the latest news from Boston.com