Local News
Green Line service partially suspended, delayed on Marathon Monday
A train was disabled at Boylston Street Monday afternoon, making transit even more chaotic on an already busy day.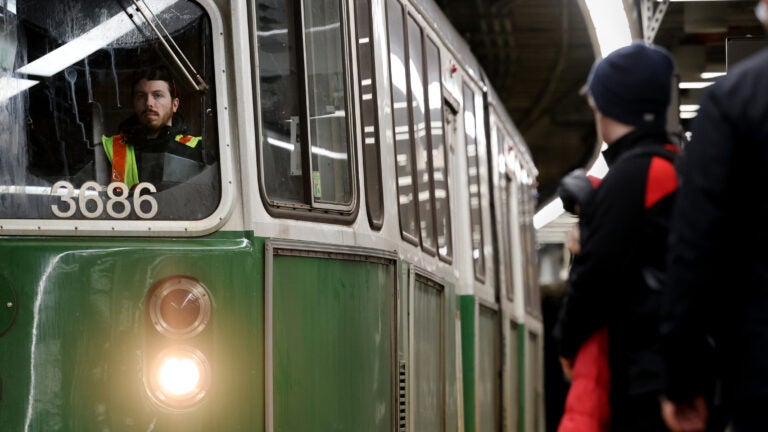 MBTA riders can expect delays and general chaos whenever the Boston Marathon brings thousands of runners and spectators to Boylston Street. But travel during this year's marathon was even more hectic when service was suspended for part of the Green Line.

A Green Line train went out of service at the Boylston Street platform at 2:50 p.m., MBTA spokesperson Joe Pesaturo told Boston.com in an email.
Service was suspended for an hour between Arlington Street and Haymarket while crews attempted to get the train moving again. The MBTA offered shuttles in place of the trains, and encouraged riders to use the Orange Line to get between Back Bay and Haymarket and North Station.
Other trains were forced to wait between stations. "While service was suspended, some trains were held in between stations until MBTA personnel made arrangements to safely move the trains back into station platforms where passengers exited," Pesaturo said. "The MBTA apologizes for the disruption in service."
The disabled train began moving again and service resumed at 3:50 p.m. The MBTA is investigating the cause of the mechanical failure.
MBTA riders took to Twitter to voice their dismay at the incident. One user joked that it was a good thing this was not an important day, saying "that would be a nightmare!!"
Another, who appeared to have been stuck on one of the trains for an hour, asked the MBTA to please evacuate the trains around 3:30 p.m.
"People have to use the bathroom, and someone tried to urinate in his cup," they tweeted. "Please let us off!"
Newsletter Signup
Stay up to date on all the latest news from Boston.com